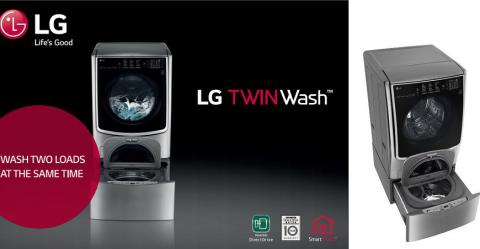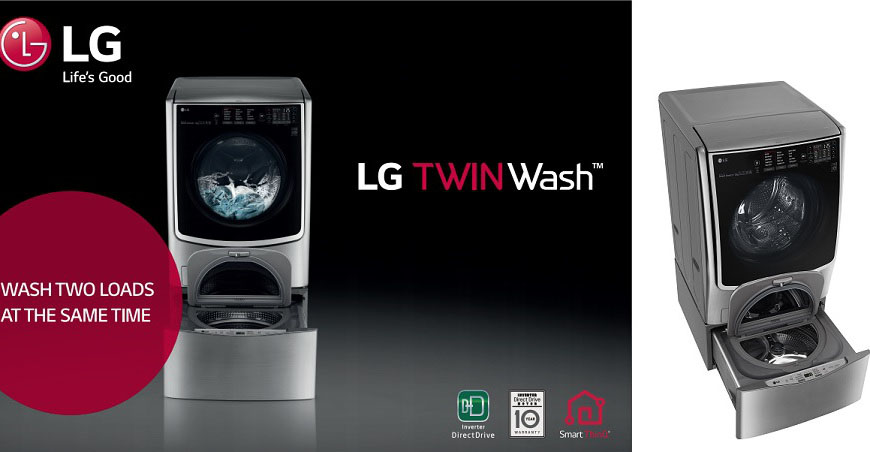 LG Electronics (LG) showcased its latest in innovative clothing care solutions at its long-awaited regional launch event for partners and retailers across the Middle East and Africa. Featured among the clothing care lineup was LG's all-new TWINWashTM washing machine, which uses the most innovative washing technology to take care of more loads in less time. The LG TWINWashTM will roll out across various countries across MEA over the following quarter.
"Innovative home solutions introduced by LG to the region take personal clothing care to entirely new heights. The LG TWINWashTM washing machine is an example of LG's innovation at its best, always putting the consumer at the forefront of development while showcasing the best in durability and convenience for customers in the Middle East," said Mr. Kevin Cha, President of LG Electronics in the Middle East and Africa.
LG TWINWashTM enables two separate loads to be washed simultaneously by combining a full-sized front load washing machine with a mini washer in a hide-away pedestal, generating a whole new set of washing options. The powerful main washing machine handles the bulk of the laundry, while the mini washer can be set to run a different wash cycle. Smaller loads can be washed when needed without having to wait until a full load has accumulated. The mini washer is perfect for delicate or specialized items that require a unique wash setting, such as lingerie or baby clothes.
The LG TWINWashTM delivers powerful but stable performance with its innovative suspension. With exceptional features such as Inverter Direct Drive motors that ensure simultaneous cleaning and a 6+ motion technology for more advanced washing performance, the LG TWINWashTM has been redesigned to change the paradigm of washing.  With convenience in mind to the highest level, the LG TWINWashTM also incorporates a wide glass door that is easy to load and unload as well as a large capacity for big loads to be done without any hassle.
Exuding premium elegance and design, the LG TWINWashTM has an ergonomic touch with its on-door control panel, elevated and angled door, and a recessed and spacious dispenser. Users can also control monitor the washer at anytime from anywhere thanks to its SmartThinQ application.
LG has always had a long-term focus on bringing to the MEA region the most innovative technologies and exquisite designs catering to high-end users and unique lifestyles. LG's InnoFest 2017 highlighted the brand's continued effort in being a leader in the premium market category by showcasing its latest premium line-ups planned for MEA across the variety of LG's business units, including home appliances, home entertainment and others.
Categories