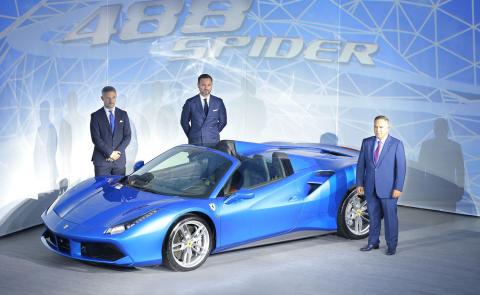 In an exclusive event, Scuderia Lebanon s.a.l., the Official Ferrari Importer in Lebanon, unveiled the new Ferrari 488 Spider at The Villa in Dbayeh, bringing together the most elite crowd in Beirut's society, and those with the passion for the Prancing Horse.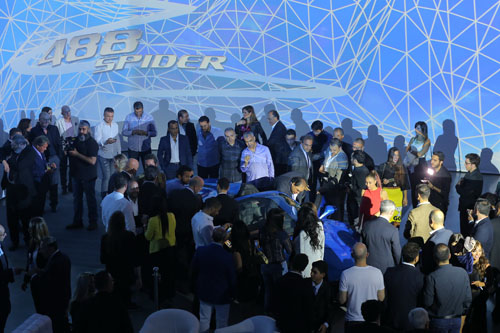 The event offered an unforgettable experience for guests, where the latest Ferrari open-top V8 model was exposed following an impressive 3D video show and mapping depicting the evolution of the Spider line starting from the 308 GTS in 1977 leading up to the 488 Spider. The project developed together with the 3D Mapping Factory, utilized the most advanced projection mapping and technology allowing guests to fully indulge in each scene as if real, even taking them back to the production year of the models.
During the event, Mr. Hassan Haidar, Owner of Scuderia Lebanon, expressed enthusiasm towards the arrival of the 488 Spider to Lebanon and said "It has been an excellent year for Scuderia Lebanon, receiving the award of "Best Ferrari Importer 2015" in the region, and having Mr. Gilberto Medici joining the team as General Manager, are signs of guaranteed excellence and constructive development".
Mr. Medici also mentioned that, "It is a great opportunity to join Scuderia Lebanon while the company is launching the Ferrari 488 Spider. The company has presented the best results in the region with the professionalism and dedication of the team along with customers' confidence and satisfaction, our core values that are in line with Ferrari brand."
As the representative of the Regional Ferrari Office, Mr. Giorgio Turri, Sales Director of Ferrari Middle East and Africa, shared the excitement and satisfaction towards the latest model, "The Ferrari 488 Spider is a breakthrough in innovative technology and pioneering design, and features performance and sophistication, of which I am certain will suit the Lebanese taste".
The most powerful mid-rear-engine V8 car, the 488 Spider showcases the highest level of technological innovation in a cutting-edge design, and introduces the first of its kind RHT (Retractable Hard Top) on a car of this particular architecture.
 Adding to its astonishing performance, a maximum power output of 670 horsepower combined with maximum torque of 760 Nm at 3000 rpm sent the 488 Spider sprinting from 0 to 100 Km/h in 3 seconds flat and from 0 to 200 Km/h in 8.7 seconds. Continuing with its exceptional efficiency, the engine has lower CO2 emissions from the previous V8 engines.
Invitees learned more about the new Ferrari 488 Spider specifications and about the coming inauguration of the Ferrari Approved Pre-Owned and Aftersales facility. Moreover, Scuderia Lebanon pledged to continuous developments and numerous milestones in the years to come.
Categories