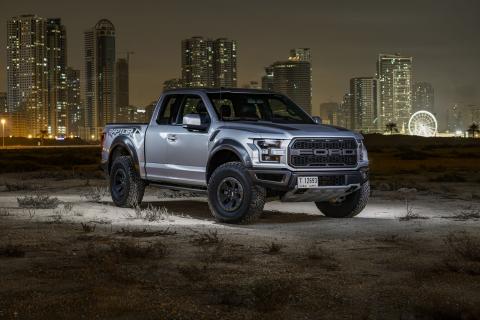 Toughest: All-new, purpose-built high-strength steel frame unique to Ford F-150 Raptor, and high-strength, aluminium-alloy body help save 227 kg of weight for improved performance and capability
Smartest: Powered by all-new, high-output 3.5-litre EcoBoost® engine with more horsepower and torque than previous Raptor's 6.2-litre V8; all-new 10-speed transmission; advanced LED lighting, camera technology for improved visibility day or night
Most capable: Redesigned, larger FOX Racing Shox with more suspension travel and all-new terrain management technology help F-150 Raptor tackle toughest offroad trails
Check out a video of the All-New 2017 F-150 Raptor in action here - http://ford.to/2ovWIZZ
Eagerly anticipated and still unmatched by any auto manufacturer, Ford – America's truck leader – introduces the all-new 2017 F-150 Raptor to the Middle East, adding agility, versatility and roominess to the toughest, smartest, most capable F-150 Raptor ever. Developed with the DNA of a Baja race truck, F-150 Raptor is unique among off-road and performance vehicles, with a purpose-built engine, chassis and suspension that enables it to travel fast over challenging desert landscapes or crawl over rocky terrain. Using the same high-strength, aluminium alloy body and a fully boxed high-strength steel frame as the current F-150 trucks, the 2017 Raptor is up to 227 kg lighter than the 2014 model. Combined with a new high-output second-generation EcoBoost engine and 10-speed transmission, it delivers a 21 per cent improved average torque-to-weight ratio and a 23 per cent improvement in EPA-rated combined fuel economy compared with the previous generation Raptor. The new engine produces more power with greater efficiency than the current 6.2-litre V8, delivering 421 PS* at 6,000rpm and 678 Nm of torque* at 3,750rpm. "Raptor was designed to be a no-compromise, off-road performance machine," said Thierry Sabbagh, managing director of Ford Middle East. "The 2017 Raptor is the best high-performance off-roading pick-up truck available, and as one of the most successful and popular trucks in the world, represents Ford's willingness to consistently sit on top of the truck food chain."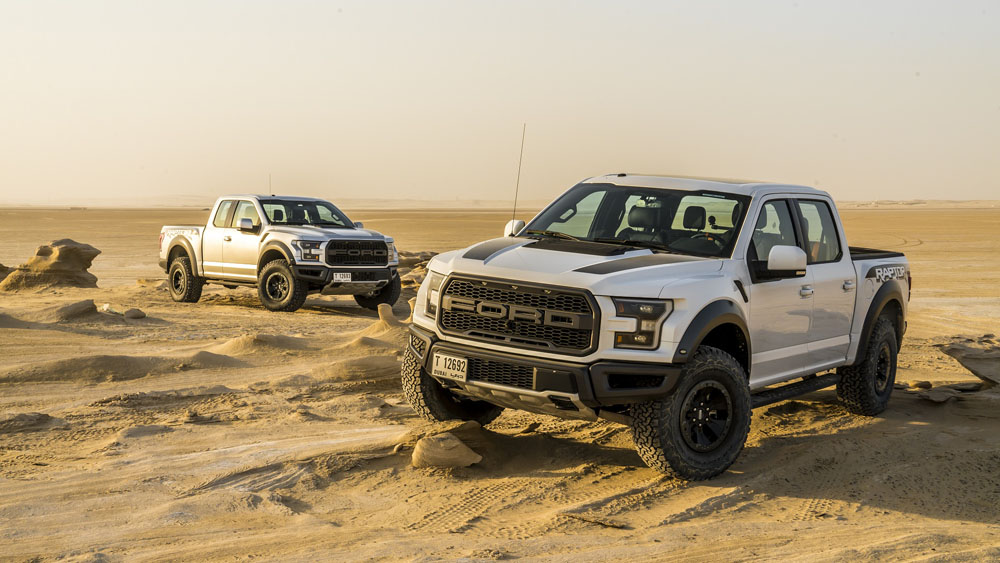 Toughest F-150 Raptor ever
The all-new F-150 Raptor starts with a purpose-built fully boxed frame – the backbone of the truck – that is the strongest in the F-150 line-up, featuring more high-strength steel than the outgoing Raptor.
The F-150 Raptor's chiselled looks are reminiscent of Trophy Trucks – the fastest and most powerful class of off-road pickups. F-150 Raptor is more than 150 mm wider than the standard F-150 for enhanced stability off-road. The all-new F-150 Raptor also boasts its first-ever dual exhaust and new 17-inch wheels with next-generation BFGoodrich All-Terrain tyres designed for off-road performance.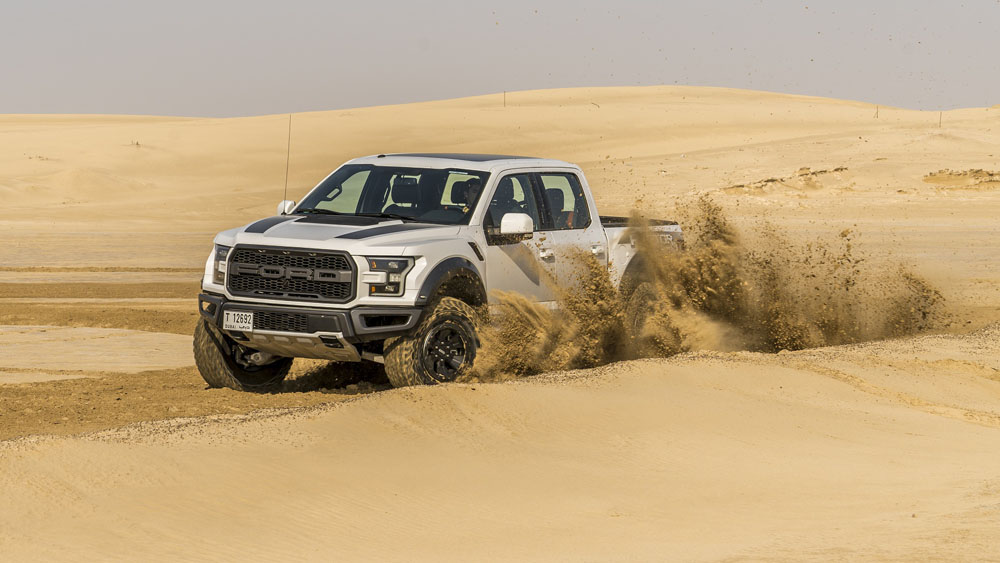 Smartest F-150 Raptor ever F-150 Raptor is powered by Ford's all-new, second-generation high-output 3.5-litre EcoBoost® engine that produces more power with greater efficiency than the outgoing 6.2-litre V8. Within performance circles, Ford's EcoBoost engine has gained a following among truck enthusiasts and racing fans alike. Already robust and efficient, Ford developed the second-generation 3.5-litre EcoBoost, which the Ford Performance team then tuned specifically for the new Raptor.
Key 3.5-litre EcoBoost engine improvements include a new twin direct and port-fuel injection strategy, stronger and lighter crank and valvetrain components, a redesigned twin-turbocharger system with electronic wastegate, and a redesigned valvetrain and variable-displacement oil pump. Among the high-output EcoBoost performance enhancements for Raptor are more aggressive turbo compressors with increased boost calibrations, cast stainless steel manifolds and full dual exhaust, oil-cooled pistons and more aggressive engine control calibrations.
An all-new four-wheel-drive, torque-on-demand transfer case, with advanced, easy-to-use off-road mode driver-assist technology, further improves Raptor's performance so it is easy to drive off-road across varying terrain.
F-150 Raptor's new transfer case, which manages power distribution between the front and rear wheels, combines the best attributes of clutch-driven, on-demand all-wheel drive with durable, mechanical-locking four-wheel drive to send power to the wheels in slippery conditions.
The pioneering off-road driving mode technology has evolved into an all-new Terrain Management System™ that enables the driver to select modes to optimise driving dynamics to environmental conditions – from snow to mud, sand and more.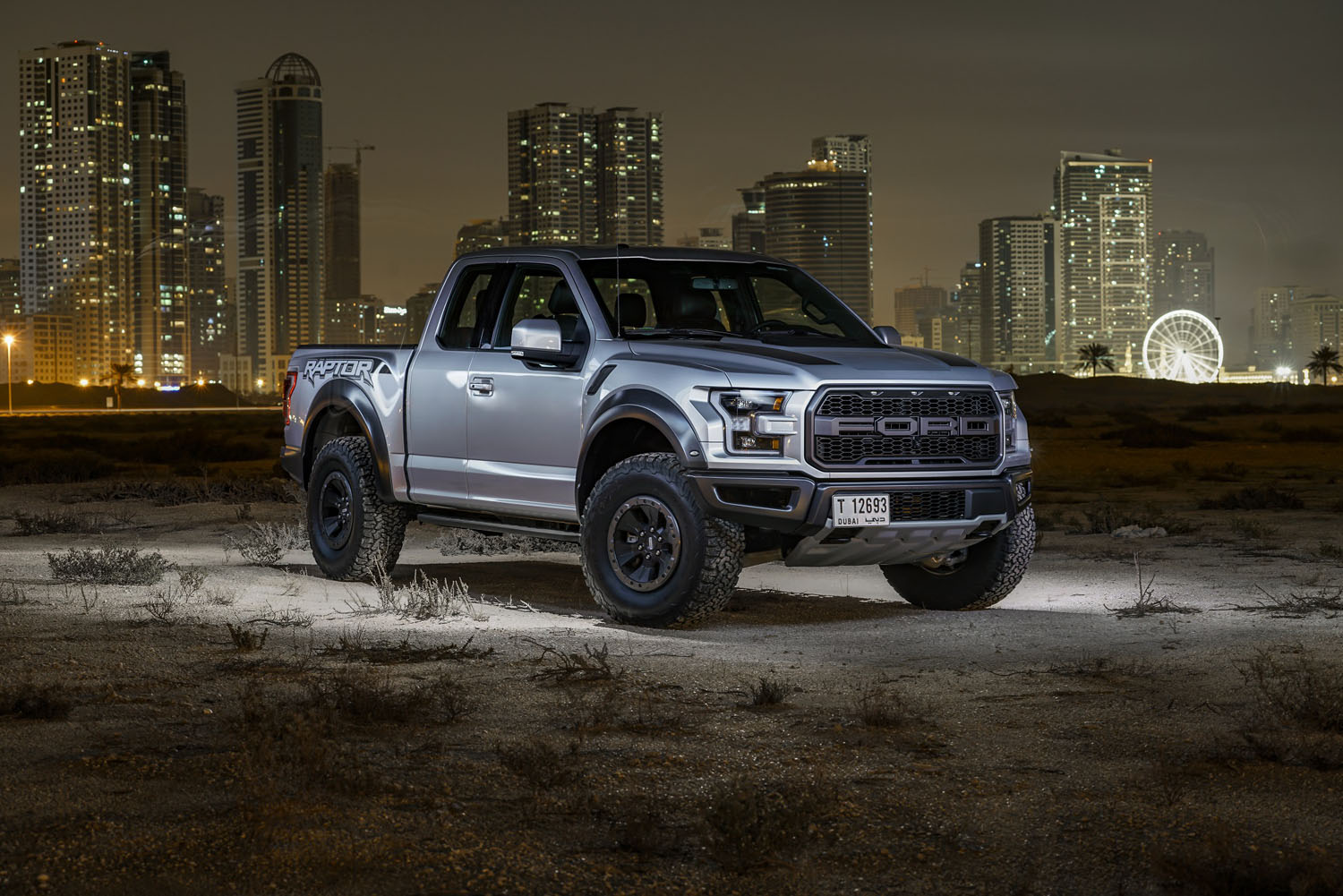 All-new 10-speed automatic transmission
The all-new 10-speed automatic transmission, standard on the 2017 Raptor, features Auto Start-Stop and an integrated electric pump that improve driving efficiency.
The transmission's closer ratio between gears and Ford-patented hydraulic control system better optimise the power and torque curves of the new 3.5-litre high-output EcoBoost engine.
Raptor's all-new adaptive shift algorithms monitor more than a dozen powertrain and driver control signals in real time – ensuring the right gear at the right time for an engaging driving experience, including Raptor's normal, sport, weather, mud/sand, rock/crawl and Baja modes. In addition, a high-speed, one-way clutch allows for non-sequential shifting.
Weight savings play a key role in improved shift performance. The 10-speed gearbox – the first from Ford not to employ cast-iron components – uses advanced materials and alloys that result in less weight. Additionally, an integrated torque converter/turbine clutch helps shed around one kilogramme, while also reducing the packaging footprint. By re-engineering almost every part, Ford proudly introduces its ultimate high-performance off-road pickup truck, the all-new 2017 Ford F-150 Raptor, across the Middle East now.
* As per Gulf Standardisation Organisation (GSO) ratings.
Categories