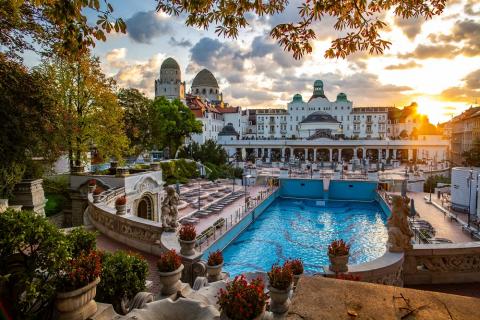 Home to more than 1,300 thermal springs, the 'Land of Waters' invites visitors to discover the healing properties of its natural spas.
Visitors to the Hungary Pavilion at Expo 2020 Dubai will be able to immerse themselves in a relaxing, healing and rehabilitative experience as the country spotlights its unique, mineral-rich thermal springs.
Known as the 'Land of Waters', Hungary is located in the Carpathian Basin where the earth's crust is particularly thin, and is brimming with thermal hot springs – more than 1,300 in total and 123 in the capital Budapest alone.
The Hungary Pavilion, under the theme 'Aqua Roots of Hungary', will shed light on the healing power of water and balneotherapy – the ancient treatment of ailments or disease by bathing in thermal mineral waters.
In an interactive exhibition that reveals the origins of Hungary's thermal springs, visitors will soak up the country's wellness and spa culture – and how it is buoying its country's health tourism industry – and discover the medical applications of balneotherapy in treating all sorts of health conditions, including burnout and stress.
Source: www.expo2020dubai.com