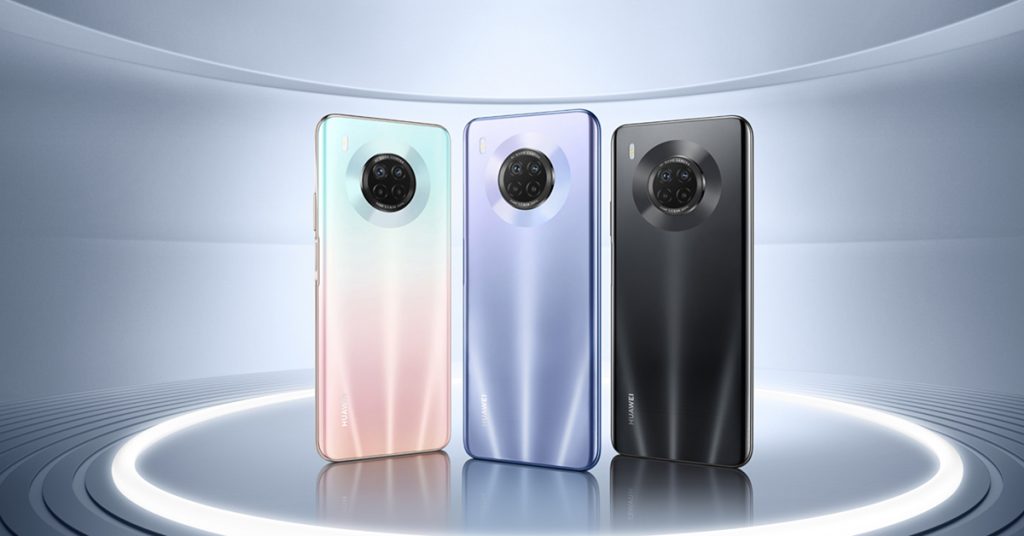 Huawei has done it again. The recently launched HUAWEI Y9a raises the bar in the entry-level segments. Traditionally HUAWEI Y Series is known for throwing mid-range and high-end features every now and then in its models. Continuing in this trend, the HUAWEI Y9a packs a SuperCamera, SuperCharge, the phone comes with abundance of storage and sleek design to top it off with. Here are a few of the hidden tips and tricks that will help you to make the most of your new HUAWEI Y9a.
64MP Quad Camera: Ready for every shooting scenario
Most of us check out the camera's clarity and features when we get a new phone. You will be glad to know that the HUAWEI Y9a comes with a 64MP Quad Camera that comprises of a 64MP main camera, 8MP Ultra Wide Angle Lens, 2MP Depth Lens and a 2MP Macro Lens. These four cameras seamlessly work together to provide you with an excellent photography experience. With the 64MP main camera, you can high definition photos and videos with exquisite details. The 8MP Ultra Wide Angle Lens can be used for snapping landscape photos or huge group photos with a field of view reaching 1200 you would not have to leave anyone out the photo. The 2MP Depth Lens works in conjunction with the Main Camera to blur the background, creating layering and a shallow depth-of-field effect to highlight subjects. Lastly, the 2MP Macro Lens allows you to take photos from up to 4cm up close. This lens can help you capture objects with tiny details such as flower buds, beads, food etc.
We all love taking night photos as the effects of the lights can truly be mesmerising, thankfully the HUAWEI Y9a comes with AIS Night Mode 2.0, which in return drastically enhances the quality of photos captured at night or in dark surroundings.
As for your selfies, the 16MP Pop-up selfie camera is ready to portray you in your best form. The selfie camera features AI beauty 5.1, which works on your appearance according to your age and gender for perfect selfies anytime and anywhere!
To wrap it up, HUAWEI Y9a comes with Anti-shake video Technology, which stabilise recording when filming. Basically, if you are recording a video of a subject in motion the outcome would be clear, undistorted and stable.
40W HUAWEI SuperCharge: Never run out of power
No one wants to be charging his or her phone every now and then, or use it with a charger plugged in. Thankfully, HUAWEI Y9a comes with a 40W HUAWEI SuperCharge for super-swift charging which literally charges the battery from 0-nearly 70 percent in just 30 minutes only! Speaking of battery, the phone comes with a large 4200 mAh which has the capacity to last all day long. Either ways, it is a win-win situation!
Store whatever you want
All them videos, photos, games, and apps you are going to download, run and store need space, right? The HUAWEI Y9a provides you with ample of it. The phone comes with an 8GB RAM for smooth processing in addition to a large 128GB storage, which is sufficient for all your memories and entertainment as well.
A smartphone with strong and solid features is great, but a smartphone with strong and solid features plus looks good is greater! Having said so, the HUAWEI Y9a comes with a large 6.63-inch Ultra FullView display which delivers an immersive viewing experience, whether you are watching your favourite show, on a video call or simply surfing the net, this large display shows it all. On the side of the HUAWEI Y9a, you will notice the two-in-one fingerprint reader and power button. With 85% improved sensitivity, it takes 0.35s only to unlock the phone. The HUAWEI Y9a adopts the classic Halo Ring design from the flagship HUAWEI Mate 30 Series. Stimulated by four-point principle headlights, the sleek square camera arrangement is surrounded by an outer ring engraved through a unique coating process. You are also going to enjoy staring at the HUAWEI Y9a because it features a 3D Arc Design. Catching light from all angles, the back cover is mesmerising to look at and comes in three colourways of Black, Space Silver and Sakura Pink.
HUAWEI Y9a runs on EMUI 10.1, which is based on Android 10. The user interface comes with a bunch of innovative features such as an upgraded Game assistant, which provides you with an enhanced gaming experience. In addition to smart gestures like knuckle screenshots, Multi-window split screen, puzzle templates, an innovative EBook Mode, which transforms your phone into a virtual book and offers a paper-like reading experience, and many more.
HUAWEI Y9a comes pre-installed with HUAWEI AppGallery - the third largest app marketplace in the world. HUAWEI AppGallery lets users download a wide selection of global and local apps, as well as quality entertainment media on HUAWEI Video, HUAWEI Music and HUAWEI Reader. You can also choose to download your favourite apps from Petal Search, which is already available for download via AppGallery. This new search tool offers Huawei users an open gateway to a million apps, a place where you can get all the apps you are looking for!
These are just a few of the hidden tips and tricks, which can help you, make the most out of your new HUAWEI Y9a. With its SuperCamera, every shooting scenario is just a click away. You can rely on the 40W HUAWEI SuperCharge to charge the huge battery in an instance. Additionally the huge space makes for smooth processing when recording videos or gaming!
Categories