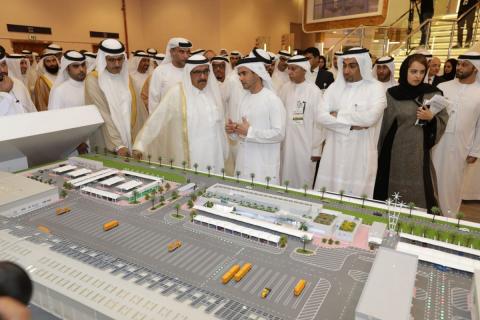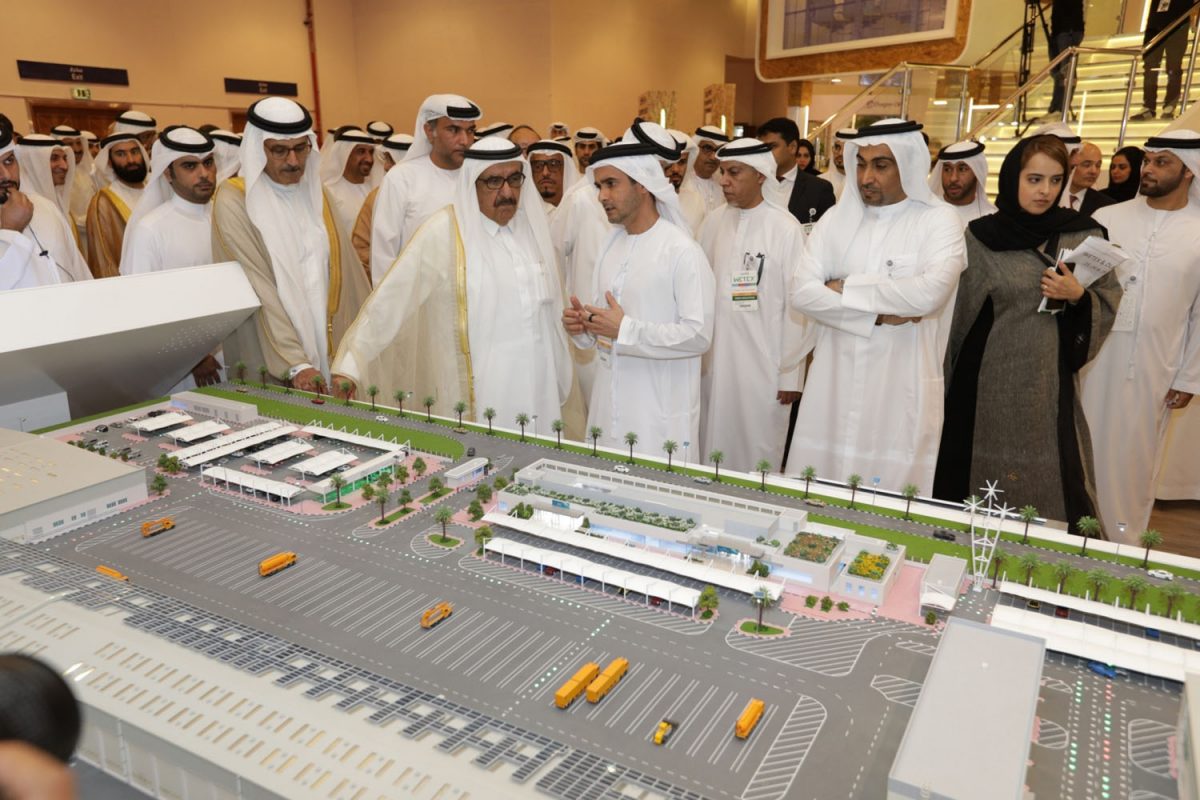 HH Sheikh Hamdan bin Rashid Al Maktoum, Deputy Ruler of Dubai, Minister of Finance and President of Dubai Electricity and Water Authority (DEWA), yesterday inaugurated the 20th Water, Energy, Technology and Environment Exhibition (WETEX 2018) and the 3rd Dubai Solar Show. His Highness was accompanied by HE Matar Humaid Al Tayer, Chairman of DEWA. DEWA organised the exhibition under the directives of HH Sheikh Mohammed bin Rashid Al Maktoum, Vice President and Prime Minister of the UAE and Ruler of Dubai; and under the patronage of HH Sheikh Hamdan bin Rashid Al Maktoum.
Both events will be held until 25 October 2018 at the Dubai International Convention and Exhibition Centre (DICEC). The theme is 'At the forefront of sustainability,' and under the umbrella of the 5th Green Week. The exhibitions cover 78,413 square metres with over 2,100 exhibitors from 53 countries and in conjunction with the 5th World Green Economy Summit.
Also present during the WETEX opening ceremony were Lt. General Dhahi Khalfan Tamim, Deputy Chief of Police and Public Security in Dubai; HE Rashid bin Fahd, HE Saeed Al Kindi, HE Afra Al Basti, Member of the Federal National Council; HE Ahmed Al Muhairbi, Secretary General of the Dubai Supreme Council of Energy; HE Dawood Al Hajri, Director General of Dubai Municipality; HE Helal Al Marri, Director General of Dubai Department of Tourism and Commerce Marketing; HE Mohamed Saleh, Director General of the Federal Electricity and Water Authority (FEWA); HE Abdullah Al-Falasi, Director General of Dubai Government Human Resources Department; HE Abdulrahman Al Saleh, Director General of the Government of Dubai's Department of Finance; HE Dr Hamad Al Shaibani, General Director of the Department of Islamic Affairs and Charitable Activities in Dubai; HE Sultan Butti bin Mejren, Director General of Dubai Land Department; HE Dr Abdulla Al Karam, Chairman of the Board of Directors and Director General of the Knowledge and Human Development Authority (KHDA); HE Saif Al Falasi, CEO of Emirates National Oil Company (ENOC); HE Mohamed Jameel Al Ramahi, CEO of Abu Dhabi Future Energy Company (Masdar); HE Ahmad Bin Shafar, CEO of Emirates Central Cooling Systems Corporation (Empower); HE Jamal bin Huwaireb. CEO of the Mohammed Bin Rashid Al Maktoum Knowledge Foundation; HE Abdulnasser bin Kalban, CEO of DUBAL Holding; and Dr. Rafia Ghubash, Founder of the Women's Museum. Ambassadors, Consul Generals, DEWA's board members, Abdullah Mohammad Al Hashmi, Majid Hamad Al Shamsi, and Nabil Abdul Rahman Arif, senior government officials, DEWA's Executive Vice Presidents, as well as officials from the Dubai Supreme Council of Energy and the media also attended the inauguration.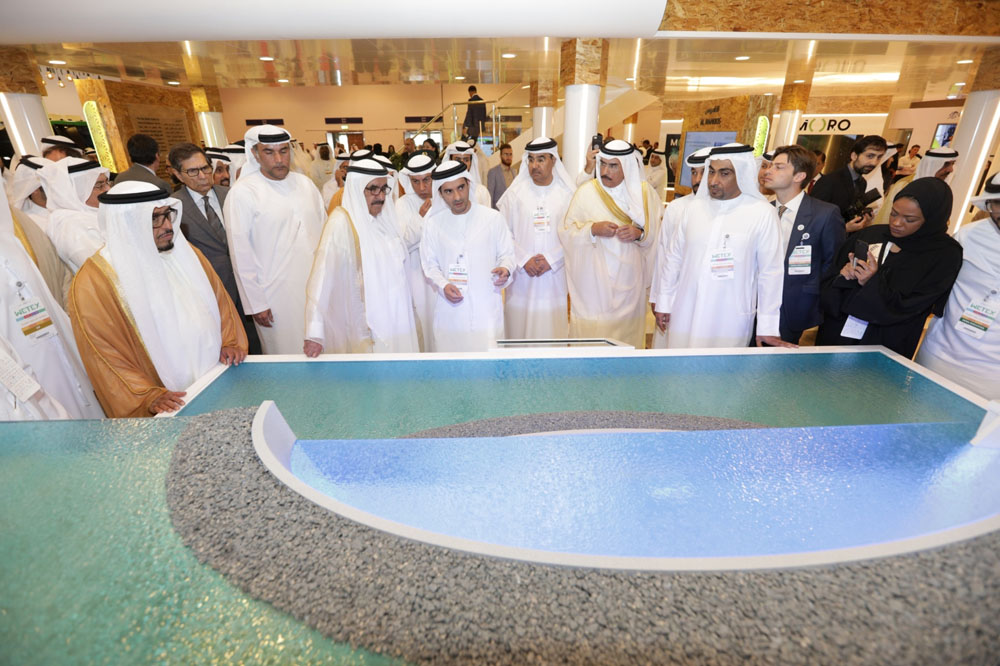 After the ceremonies, HH Sheikh Hamdan bin Rashid Al Maktoum, the Chairman of DEWA and other VIPs, toured the exhibition and were briefed about various innovations, solutions and new products such as energy and water desalination, green technologies, clean and renewable energy, environmental sustainability, and oil & gas.
During the tour of the exhibition area, His Highness visited the DEWA stand, which has a scale model of the Mohammed bin Rashid Al Maktoum Solar Park, the largest single-site solar park in the world based on the Independent Power Producer (IPP) model. The solar park's capacity is expected to reach 5,000MW by 2030, with investments of up to AED 50 billion. Upon completion, the solar park will help reduce over 6.5 million tonnes of carbon emissions annually.
HH Sheikh Hamdan bin Rashid Al Maktoum was also briefed on the model of the pumped storage hydroelectric power station, the first-of-its-kind in the Arabian Gulf that uses water stored in the Hatta Dam to generate up to 250 MW, the 400MW pumped hydro storage island in the Arabian Gulf, with 2,500MWh of storage capacity and a model of the region's first solar-driven hydrogen electrolysis facility at DEWA, in cooperation with Siemens, DEWA's outdoor testing facilities at the Mohammed bin Rashid Al Maktoum Solar Park in Dubai.
DEWA stand also displays a Smart Grid Station (SGS) model, a modular concept that connects smart grids to smart buildings. DEWA is exploring the concept of SGSs, which connect smart buildings to each other to share information, to help improve energy and water efficiency and make optimal use of renewable energy within a smart city. In addition to the 40 Million Imperial Gallons per Day (MIGD), Sea Water Reverse-Osmosis (SWRO)-based desalination plant, the third phase of the 590MW K-Station at Jebel Ali, and DEWA's latest innovations and technologies in smart transformation, smart services and the continuous development of its operations, are also on display.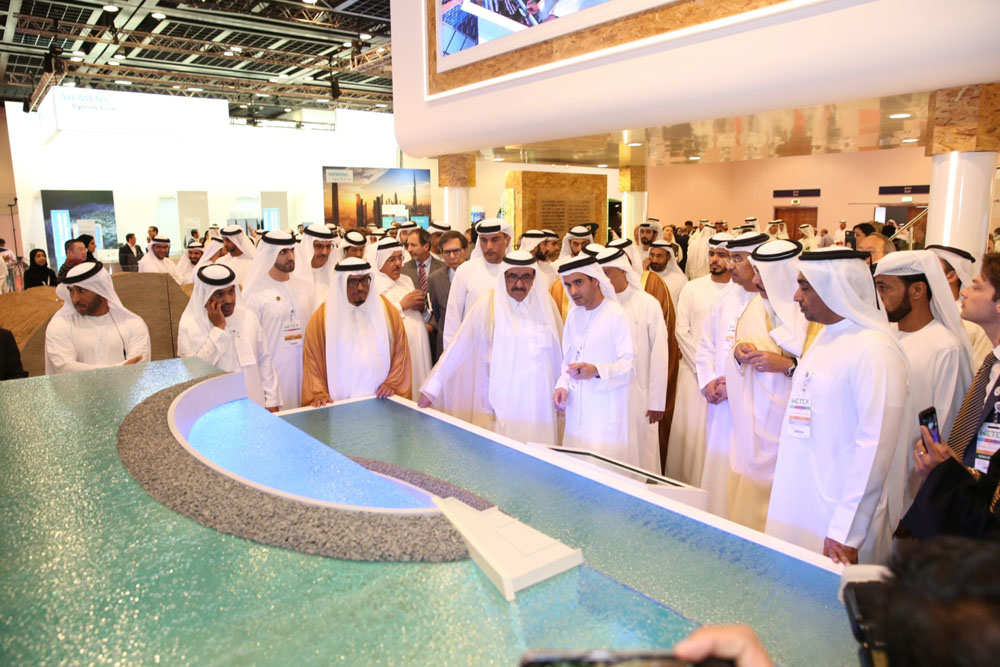 DEWA's projects and initiatives include a GPS-guided autonomous bus, the Ma'rifa Collaboration Platform, DEWA smart applications, and Rammas, its virtual employee that answers customer queries in both English and Arabic on its smart app, website, Facebook and Amazon Alexa's system and Google's Artificial Intelligence (AI) platform, in addition to Ebtikari, which encourages inventors and innovators from all over the world to send their innovations and ideas. The Afkari portal allows DEWA's staff to present their innovative ideas and vote on the best ideas, similar to social media sites. DEWA is also demonstrating its MORO Data Hub, a world-class data centre that offers services and managed business solutions to public and private companies in the UAE and the region, and a model of its Future Centre for Customer Happiness with its smart self-service booths, which aims to simplify transactions for customers.
At WETEX 2018, DEWA is also presenting the Solar Decathlon Middle East 2018 (SDME 2018), a global competition to design, build, and operate sustainable, cost- and-energy-efficient models of solar-powered homes, which will take place at the Mohamed bin Rashid Al Maktoum Solar Park at Seih Al Dahal in Dubai. SDME 2018 is under the patronage of HH Sheikh Hamdan bin Mohammed bin Rashid Al Maktoum, Crown Prince of Dubai and Chairman of the Executive Council of Dubai, from 14 to 29 November 2018. 15 teams representing 28 universities from 11 countries around the world are taking part. Dubai is hosting the first and second competitions through a partnership between the Dubai Supreme Council of Energy and DEWA with the US Department of Energy. The second competition will happen in 2020 in conjunction with Expo 2020 in Dubai.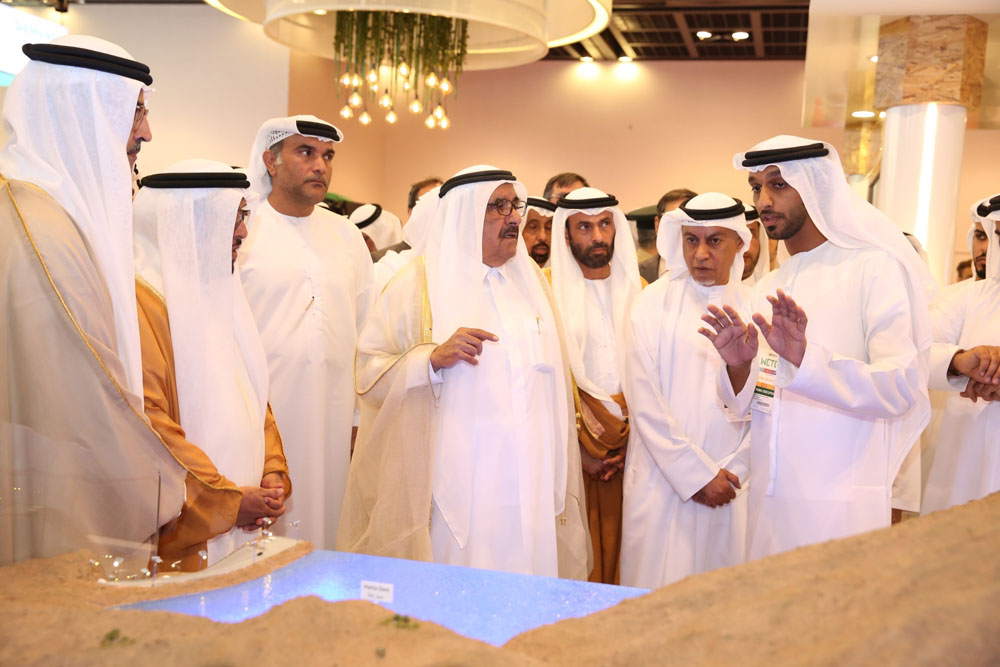 DEWA also presented its Al Namoos service, which has been especially developed to provide consultants and contractors with electricity connections of up to 150 kilowatts (kW) in one step within 7 days. Also on display are DEWA's smart initiatives to promote sustainable development. These include Shams Dubai, which was created to encourage customers to connect solar power in buildings by installing photovoltaic panels to produce electricity, with the surplus exported to DEWA's grid. To date, DEWA has connected its grid to 1,177 solar systems placed on the roofs of buildings in Dubai, including residential, commercial and industrial facilities, with a total capacity of 54.7MW. DEWA will increase this in the future to reach all buildings in the Emirate by 2030. The Green Charger initiatives install electric vehicle charging stations to encourage people to buy environmentally-friendly cars. Recently, DEWA finished the installation of 200 electric vehicle charging stations at various locations in Dubai. DEWA is also showing the Women's Museum, which displays the history of women in the UAE, their present, and everything related to the various aspects of their lives.
HH Sheikh Hamdan bin Rashid Al Maktoum then visited the ENOC, ACWA Power from Saudi Arabia, Siemens, ABB, Masdar, Empower, the stands of the Abu Dhabi Department of Energy, the Sustainable City, the Roads and Transport Authority (RTA), Emirates Global Aluminium, the World Green Economy Summit, Ducab, Dubai Silicon Oasis Authority and many others. His Highness also visited a number of national and international pavilions including the Italy pavilion and the China pavilion, which hosts the largest number of companies working in water, energy and environment.
His Highness visited the Innovation Hall, which hosts 17 universities and highlights their scientific and knowledge role in solving environmental issues. He also visited energy halls that include electricity companies and other companies specialising in water, desalination and water treatment, in addition to stands covering rationalisation and other specialised stands and pavilions of national and international companies.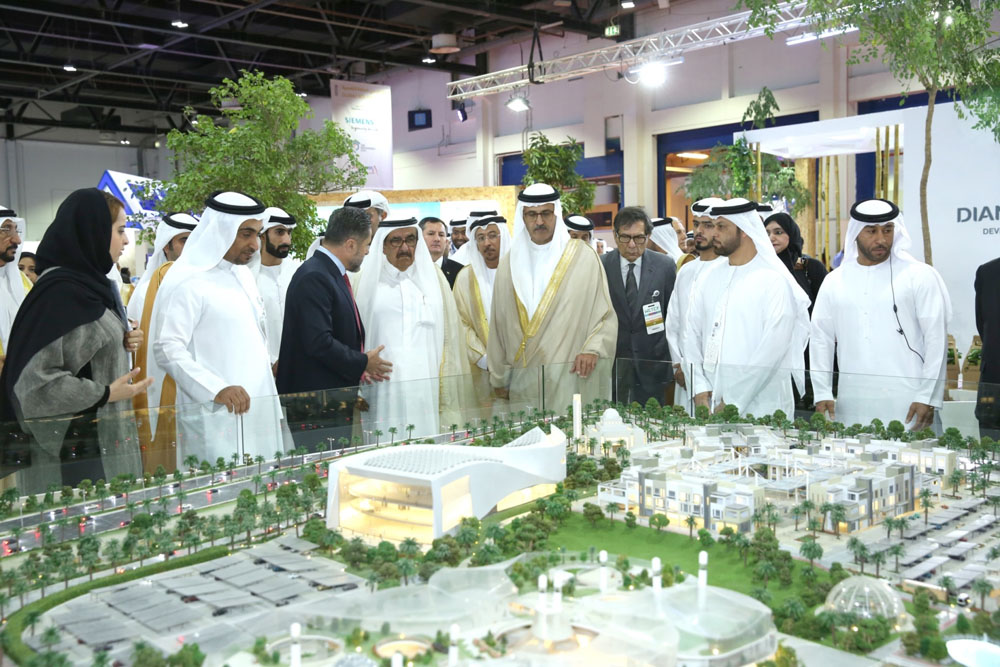 Organising WETEX in Dubai is a great boost to DEWA's efforts to achieve the objectives of the long-term national initiative launched by His Highness Sheikh Mohammed bin Rashid Al Maktoum, Vice President and Prime Minister of the UAE and Ruler of Dubai, under the title 'Green Economy for Sustainable Development' to transform the UAE into a hub for exporting and re-exporting green products and technologies; and Dubai Clean Energy Strategy 2050 to make Dubai a global hub for clean energy and green economy by saving 75% of Dubai's energy from clean energy by 2050.
Over the last 19 years, WETEX has achieved great success and has managed to establish itself as one of the world's leading and most important exhibitions in water, environment and energy. In 2017, there were 1,950 companies from 50 countries exhibiting, while the area of the exhibition covered 70,000 square metres, attracting around 31,000 visitors and 75 sponsors. To strengthen Dubai's position as a global model for investing in clean and renewable energy, WETEX has brought in best practices from across the region and around the world to display models of disruptive technology, the most advanced technologies for conserving energy and water, and research and development on clean energy and its uses. The exhibition is an ideal interactive platform for international companies and institutions specialised in technologies of water, environment, oil and gas, traditional and renewable energy, and it provides investors with a unique opportunity to build business relationships and enhance business opportunities through meetings with representatives of major players, and decision-makers from around the world under one roof.
WETEX focuses on a variety of events related to energy and water conservation, environment protection, waste management, green building, carbon reduction, and highlighting the latest technology and the most successful innovations in conserving natural resources, enhancing environmental security and stimulating innovation and scientific creativity in energy. This supports the concepts of environmental, social and economic sustainability. The exhibition also shows how the leadership of the UAE is adopting clean energy solutions and transforming the nation into a green economy.
WETEX has become a much-awaited annual event for organisations, entities, and companies specialising in energy, water and environment from the region and around the world to show their solutions and green products and to identify the typical investment opportunities in these important and vital areas. WETEX also provides a unique opportunity for investors to build business relationships and enhance business opportunities by networking with representatives of major companies and decision-makers from around the world under one roof.
Meanwhile, the Dubai Solar Show is an impetus to the international efforts to develop the solar power sector, which is a cornerstone of sustainability. The event highlights the most important energy initiatives in Dubai that are main pillars in implementing the Dubai Clean Energy Strategy 2050. The show will focus on the solar projects led by Dubai and the UAE. The Dubai Solar Show is also an ideal platform for service and municipal institutions, universities and educational institutions, manufacturers, suppliers, distributors and specialists of solar systems installation, solar storage, developers of solar power projects the IPP model, and research and development (R&D) institutions, and engineering and consulting firms, to learn about the latest innovative technologies and modern trends in this promising industry.
The exhibition allows companies to familiarise themselves with other institutions, products and brands, to reach out to the world's solar power pioneers, and to forge outstanding relationships with decision makers, entrepreneurs, investors, and buyers. Foremost among them is DEWA, the organising body of the exhibition and the exclusive provider of energy and water services in Dubai. In addition, the exhibition allows exhibitors to explore current and future solar power projects in the region, the latest market trends, and the legislation, laws and regulations established by the relevant authorities.
The exhibition offers exclusive benefits to participants, such as free registration of the company and products at DEWA, obtaining letters of recommendation on the products participating in the exhibition, and exclusive field visits to the Mohammed bin Rashid Al Maktoum Solar Park. The benefits include public speaking and product reviews at conferences and seminars accompanying the exhibition.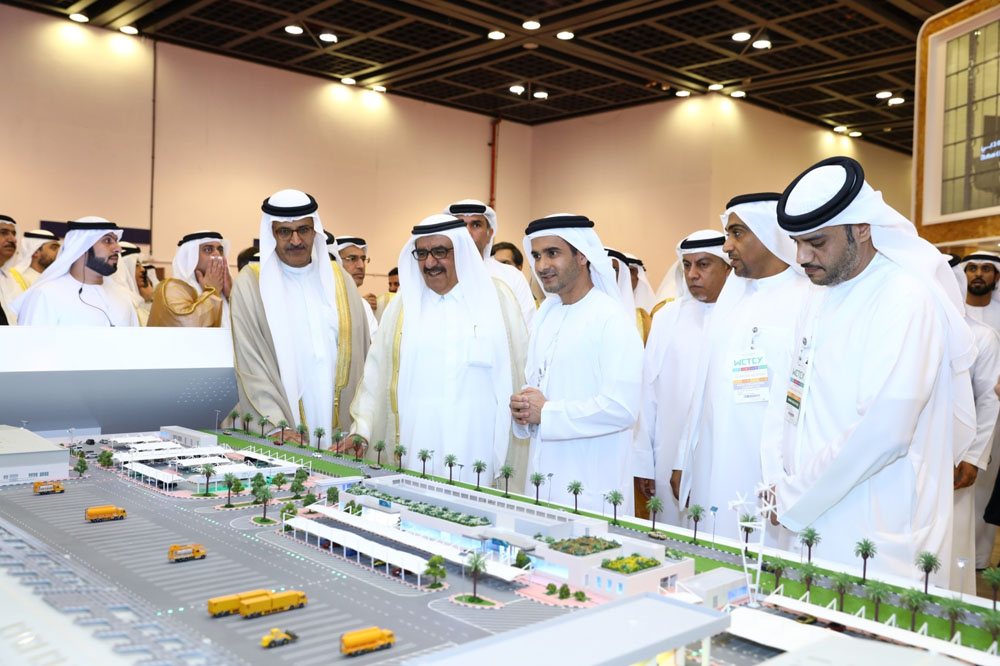 WETEX has a dedicated hall for the Green Week, an event to raise awareness about the importance of saving water and electricity. Green Week provides effective initiatives and workshops for various segments of society to help them to better understand the importance of green practices. The event is expected to bring together a number of specialised electricity, water and environmental organisations to discuss the most important issues related to the conservation of natural resources and energy, which is an urgent requirement for building a safer and more sustainable future for generations to come. Events happening at Green Week include workshops for government employees, social networking events, competitions and presentations for the public in commercial centres, youth seminars, volunteer awareness campaigns, and dedicated sessions for People of Determination in the Innovation Hall, as well as hosting meetings for public and private entrepreneurs.
Green Week is based on a clear vision of spreading a culture of sustainability among all groups and communities, especially school and university students. The focus of Green Week is on educating students as the mainstay of development and as future builders, through a series of workshops and educational events, to instil a culture of creativity and innovation in the next generation. Our rational leadership considers this to be the nation's real wealth to anticipate and make the future. Green Week also focuses on the development of young talented Emiratis who are helping to create a sustainable future energy system that supports the national trend towards establishing Dubai and the UAE's leadership in the Green Revolution.
WETEX 2018 is being supported by over 70 sponsors across six categories--diamond sponsors, titanium sponsors, strategic sponsors, platinum sponsors, gold sponsors, as well as media sponsors and partners, government sector partners, and a wide range of supporting institutions.
Categories