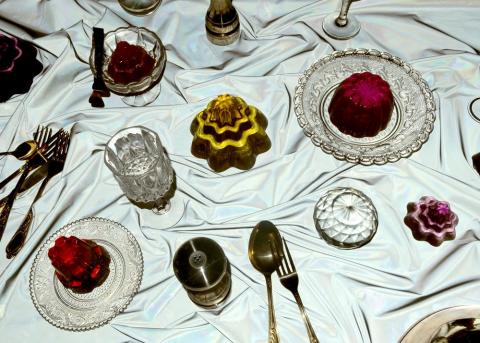 Immersive culinary experts Bompas & Parr to present never-before-seen experience, from glow-in-the-dark creations to flavour-changing desserts.
New dining experience The Future of Food: Epochal Banquet is coming to Expo 2020 Dubai, serving numerous world firsts – from super-light delicacies formed using the same technique used by NASA to collect comet dust, to edible creations that glow in the dark, flavour-changing desserts, ultra-rare ingredients including new-to-the-plate plants, and much more.
The  ground-breaking foodie adventure – inspired by space, microbiology, artificial intelligence and hyperintelligence – has been cooked up by immersive culinary masterminds Bompas & Parr.
'Novacene', a new era hypothesised by eminent 102-year-old scientist and inventor James Lovelock, plays a key role in the food odyssey. The new age, he prophesises, will take over from the 'Anthropocene' era, in which humans have been able to make large-scale changes to the planetary environment, and introduce a future where robots and artificial intelligence will rule. 
The curated experience features a multi-course exploratory menu, designed to entertain and inspire, while exploring important themes involving the future of food, including how humans and artificial intelligence can combine to sustainably feed a growing global population and tackle food waste, as well as the implications for future nutrition.
Available throughout the six months of Expo 2020, tickets for the two-hour culinary journey are expected to sell fast. They will be available on the Expo 2020 website from September 2021, starting from AED 550.
Note: The experience is not suitable for guests under 14 years of age and features strobe lighting that may affect those with sensory sensitivities. As part of the shared experience, diners are seated at a communal table, which conforms to COVID-19 measures.
 
Source: www.expo2020dubai.com