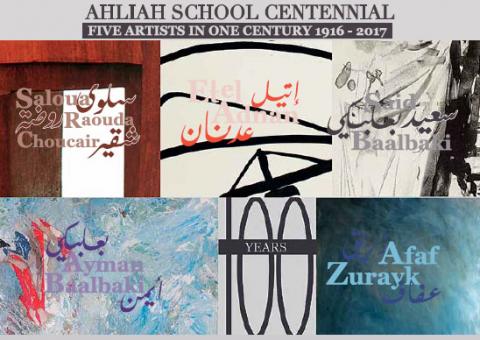 Honoring world renowned artists who graduated from Ahliah School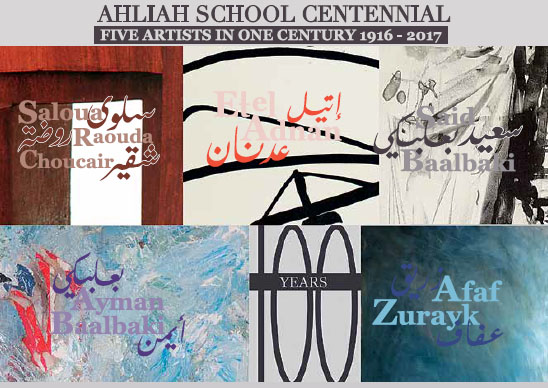 For the occasion of its 100-year anniversary, Ahliah School in Downtown Beirut, celebrates its centennial with an art exhibition that brings to you the art work of world-renowned artists. The exhibition opens on February 24 and lasts till March 4, 2017. It includes the art work of four artists who graduated from Ahliah and one that taught there.  Their presence at Ahliah spreads throughout its 100 years, from the 1930s through the 1960s till the mid 1999s.
This exhibition organized by Ahliah School in coordination with Mr. Saleh Barakat, features the artwork of Etel Adnan who was a teacher at the school, Salwa Rawda Choucair, Afaf Zreik, Ayman and Said Baalbaki whose work is found in museums and galleries all over the world, spreading the heritage of their country and the legacy of their school. The participation in the exhibition with around 30 pieces of art work, reflects the deep relationship between the artists and the school. The school is proudly honoring each one of them and they honored the school that played a significant role in shaping their personality, careers and personal life. Their legacy is engraved within the school that contributed to their empowerment and nurtured the expression of their skills and potentials.
Dr. Nadim Cortas, Chairman of the Board of Trustees of Ahliah School, said: "From 1916 till today,, Ahliah School focused on giving individual attention and support to each student to develop their talents and self-confidence to nurture and express their potentials to the fullest." The centennial celebrations brought out that Ahliah fielded leaders in all the performing arts, academia, politics, and a host of other careers.
During the last decade, Ahliah achieved a major transformation in its education programs and facility to meet the demands of the 21st century and its successes earned it dual accreditation by the top education bodies in the USA and Europe respectively: The New England Association of Schools and Colleges (NEASC) and the Council of International Schools (CIS). Ahliah is one of two schools in Lebanon with such dual recognition. The Centennial celebrations were launched in October 2016 by the Vanessa Redgrave performance of "A World I loved: the Story of An Arab Woman" based on a book written by Wadad Makdesi Cortas, principal of Ahliah (1934-75).
Categories