Last updated
11 months ago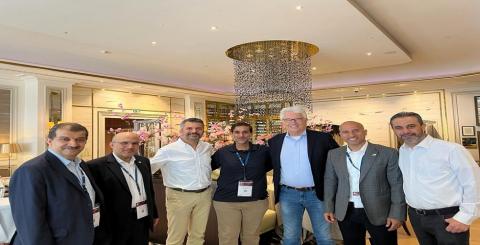 The Expo Centre Sharjah participated in the "Global CEO Summit 2022," organized by the Global Association of the Exhibition Industry (UFI) to improve international cooperation, forecast the future of the exhibition and conference sector, and reassess its working mechanisms, in Hamburg, Germany from June 22 to 24.
The Centre stressed that its presence at the three-day summit reflects its keenness to follow up on the latest developments related to the global exhibition and conference industry.
HE Saif Mohammed Al Midfa, CEO of Expo Centre Sharjah, Chairman of the Arab Union for Exhibitions and Board Member of the Global Association of the Exhibition Industry (UFI), represented the centre at the event.
While meeting a number of CEOs taking part in the summit, Al Midfa discussed the most recent developments in the exhibition and conference industry, its reality and future, and the importance of developing innovative strategies to increase the industry's competitiveness, improve its performance and sustainable growth, and empower it to play its primary role in promoting economic recovery as well as revitalizing the tourism and trade sectors.
The CEO of Expo Centre Sharjah also outlined how the UAE is using cutting-edge methods and approaches to strengthen the exhibition and conference industry both domestically and internationally.
He further shed light on Sharjah's outstanding success in reviving the exhibition business via the lens of Expo Centre Sharjah, which went to great lengths to establish new models of innovative work mechanisms to add value to the events sector.
"We constantly strive to diversify the Center's agenda by hosting as many events as we can, with over 40 exhibitions held annually," he stated.
HE Al Midfa emphasized that the conference and exhibition sector is regarded as a significant contributor to national economic growth and has grown to be one of the most significant industries for attracting and supporting business and industrial investments as well as igniting the travel and tourism sectors.
To that aim, the UAE has made every effort to improve the exhibition industry both locally and globally, fueled by the insightful vision of the UAE's wise leadership, which puts an emphasis on supporting it.
The summit provided an ideal platform for positive and productive dialogue among CEOs from around the world. It has also allowed them to discuss the present and future of exhibitions, as well as methods for developing sustainable practices for this vital sector as it becomes more reliant on cutting-edge technology such as virtual reality and metaverse technologies.
In addition to a group of prominent experts and professionals in this industry, several CEOs, executives, and directors of companies operating in the exhibition and conference sector from around the world attended the forum.