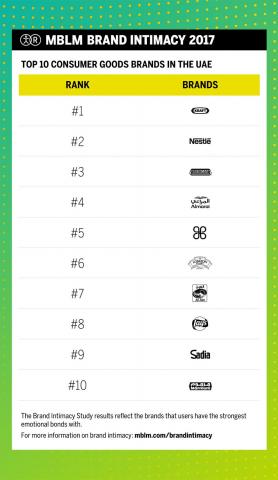 The latest Brand Intimacy 2017 Report by MBLM Dubai reveals that UAE consumers have strong emotional connections with local dairy brands, Patchi chocolate and Americana products
The heart wants what it wants, and the average UAE consumer wants milk, cheese or chocolate – most probably, all three.
The most comprehensive study of brands based on emotions has revealed that UAE consumers have strong emotional connections with brands that include the 50-year-old Kuwaiti mega-corporation Americana, three GCC dairy farms and Patchi, the Lebanese chocolatier.
Overall, an impressive five of the top ten most intimate consumer goods brands in the UAE are local or regional brands, competing well with global heavyweights Kraft, Nestlé and Lays. The Brand Intimacy 2017 Report analyzed responses of 6,000 consumers and 54,000 brand evaluations across 15 industries in the US, Mexico and UAE.
Along with measuring the intensity of emotions people have with the brands they use, the study also goes a little deeper to uncover the characteristics of that bond, like if a brand makes a person feel nostalgic or deeply fulfilled. Called "archetypes", these characteristics tell us more about the nature of the connections between brands and consumers.
Understandably, the archetype most strongly associated with this category is "indulgence", meaning that the brands give consumers consistent moments of gratification or pampering. Given the various relationships people have with the food they eat – whether related to stress, social engagements or cultural events – "indulgence" comes as no surprise.
But "identity"? This descriptor might not be one you'd put side by side with the dairy or snack aisle. An archetype strongly associated with automotive brands, "identity" implies that a brand reflects ideas or values that resonate deeply with consumers – so much so, that the brand can be a symbolic part of who they are.
"Identity" ranks unusually high in the consumer goods industry, with many of the top ten having above-industry average scores, implying that we may place more personal (and emotional) weight on food brands than we might think.
Higher brand intimacy plays out in several ways – the most notable being that brands with higher intimacy outperform less intimate brands in both revenue and profit growth. The study also delves into consumers' willingness to pay more for the brands they are intimate with. It's worthwhile to note that Americana and Almarai have above industry averages for consumers willing to pay 20% more for their product – with figures slightly higher than mega global brands Kraft and Nestlé.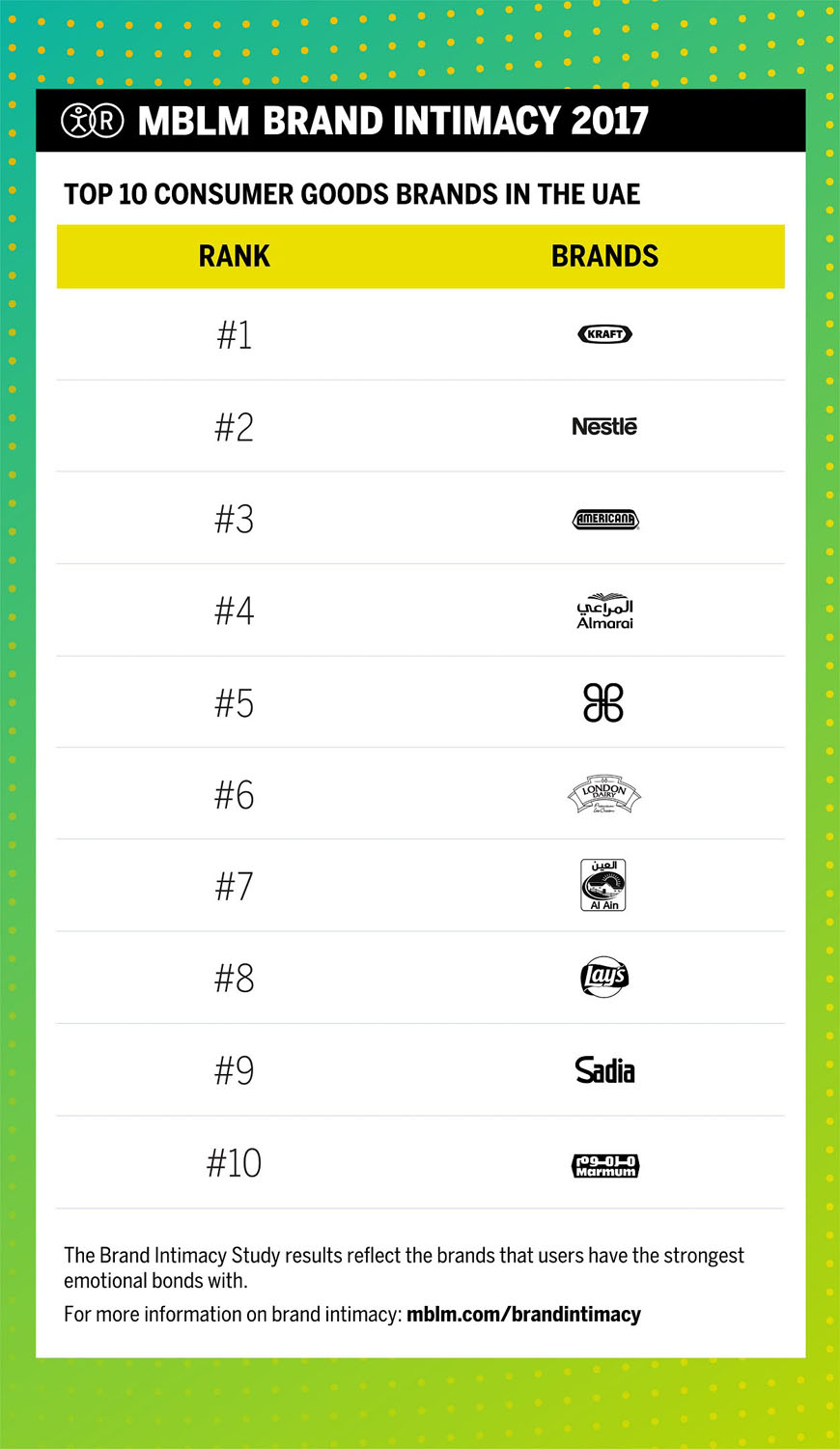 Top Ten Most Intimate Consumer Goods Brands in the UAE
Brand Intimacy quotient in brackets. Local or regional brands are marked (**) 
Kraft (47.1)
Nestlé (46.9)
Americana (34.9)**
Almarai (32.4) **
Patchi (32.3) **
London Dairy (31.7)
Al Ain (31.4) **
Lays (29.5)
Sadia (22.0)
Marmum (19.7) **
Categories