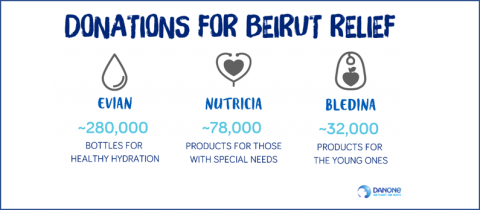 Since the day of the explosion, Danone's teams in Paris and Beirut have been mobilized to support the Lebanese people and help the most vulnerable.
Brands like Evian water, Blédina and Nutricia (water, infant nutrition, and specialized nutrition) have stepped up by donating more than 390,000 products to provide hydration and healthy food in these difficult times.
A CMA CGM boat has arrived from the port of Marseille on September 1st and the goods have been entrusted to selected NGOs.
"Bravo to the companies that have been able to mobilize their crew to provide the necessary assistance to the CMA CGM initiative. The #UnBateauPourLeLiban operation shows that cooperation between the public and private sectors and NGOs can enable strong and rapid mobilization." - Emmanuel Faber Chairman & CEO Danone.
Categories