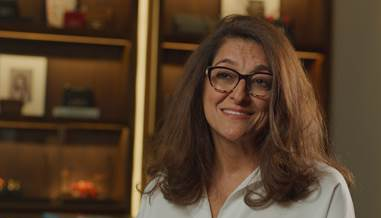 In a global effort to support the fight against breast cancer, CH Carolina Herrera launches it's annual "CH PINK" campaign – an initiative aimed at raising awareness, support, and funding during Breast Cancer Awareness Month.
This year, CH Carolina Herrera continues to celebrate women who are instrumental to the cause by highlighting UAE national Dr. Houriya Kazim,  the country's first female surgeon and the founder of the first  breast cancer support group  in the UAE "Brest Friends." Dr Houriya first founded the group in 2005 for patients and survivors to interact, learn, share experiences and support one another. Today, in partnership with Al Jalila Foundation, Brest Friends continues to fulfil its goals and raise funds for breast cancer research and treatment in the UAE.
Through her inspiring work, Dr. Houriya brings hope and strength to women in the region. "The thing about breast cancer is, if there is such a thing, it's a 'good cancer.' Most breast cancers are curable if caught and treated in the early stages." says Dr. Houriya.
In the UAE, KSA and Kuwait , CH Carolina Herrera has pledged to donate a portion of all RTW sales made on 19th October, 2019 to breast cancer associations in the region – namely Brest Friends (UAE), Zahra Association (KSA), and Hayatt (Kuwait).
Great improvements have been made in recent years with regards to treatments and therapies. Moreover, due to the enormous rise in awareness and visibility, and to the multiplication of regular check ups, early detection has grown, which has increased the chances of survival and of a better cure. "in 20 years, it's rare that I see women with very advanced breast cancer," add Dr. Houriya.  
The brand's powerful motto –We won't give up– is aimed at uniting, cheering up and comforting patients and their loved ones.
Prevention and early detection through self-exploratory exams are crucial and will continue to be the main issues promoted by CH PINK. The importance of love, family, friendship, hope are crucial in the daily fight against breast cancer.  
Categories