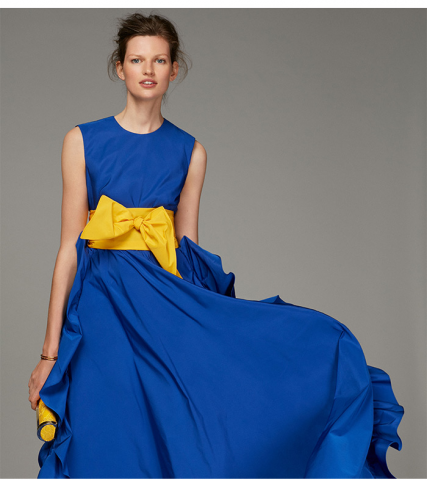 Metropolitan Insignia clutch, with its unique format and artisanal finishes, is an inseparable companion of the Herrera woman. Its structure is framed by a metallic piece that mirrors the bracelet Carolina Herrera designed to launch the Insignia collection, commemorating her 35 years in fashion. Featuring an intersection of the brand's initials, the C and the H, this clutch becomes both a bag and a jewel, conceived to enhance beauty.
Its name and inspiration stem from the striking façade of the Metropolitan Opera House in New York, which has hosted some of the most influential women in the world. Its design hints at the façade's sequence of C letters, one of the House's initials, and it is the perfect frame for the Fall Winter 2019 collection.
Ruffles, dramatic contrasting bows, pleats or surprising sleeves, which are a brand signature, appear on gowns, cocktail and shirt dresses and versatile two-piece combinations.
The prominent use of noble fabrics such as crepe, taffeta, lace or brocades is enveloped in vibrant colors such as mimosa yellow, emerald green, peony, CH Red, Klein blue or the essential black and white, featured in refreshing sequins, feathers and lurex.
An explosion of color and elegance which represents the Herrera woman and her "Alegría de Vivir".
Categories