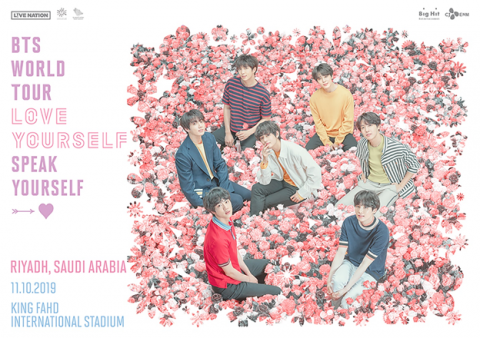 Global superstars, BTS has announced that they will be performing at King Fahd International Stadium for their first Saudi Arabia show ever on Friday, October 11th, as part of the Riyadh Season. The highly anticipated show will be an addition to their record-breaking BTS WORLD TOUR 'LOVE YOURSELF: SPEAK YOURSELF' which was crowned as the top-grossing tour for May, amassing over $50 million during that month alone, cementing BTS' position as the biggest pop act on the planet.
BTS WORLD TOUR 'LOVE YOURSELF: SPEAK YOURSELF' kicked off its monumental stadium run on May 4 at the Rose Bowl Stadium in Los Angeles/CA.
The global superstars recently made history as the first Korean act to present at the GRAMMY Awards. BTS scored three #1 albums on the Billboard 200, embarked on a sold out stadium tour, landed on the TIME 100 list of most influential people of 2019, and had the highest-grossing event cinem with Burn the Stage: the Movie.
Show Information:
Ticket information will be announced at a later date. 
BTS WORLD TOUR 'LOVE YOURSELF: SPEAK YOURSELF'
Date: October 11, 2019 (Friday)
Show Time: 7:30 PM
Location: King Fahd International Stadium
Address: 3398 Prince Bandar Bin Abdulaziz, Al Maizilah, Riyadh 13233, Kingdom of Saudi Arabia
Tickets: More details will be revealed soon
Age rating:  Open to all ages
 *Subject to local regulations.
For more information, check out the General Entertainment Authority @GEA_KSA on Twitter or @GEAKSA on Instagram, and Ticketmaster @ticketmasterME on Instagram & Twitter.
Categories