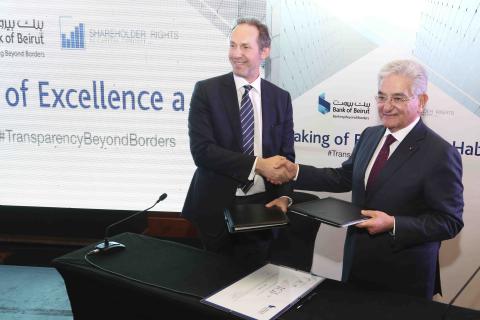 Bank of Beirut held a press conference at the Four Seasons Hotel for the signing of the Investors for Governance & Integrity (IGI) declaration hence highlighting its commitment to environmentally and socially responsible corporate practices. 
In the presence of the esteemed members of the press, academics, clients, board members, investors, representatives of the Central Bank, IFC, EBRD and UN Lebanon, and the bank's senior managers, Dr. Salim Sfeir – Chairman and CEO of Bank of Beirut signed the Shareholder-Rights IGI declaration along with Mr. Yasser Akkaoui – Founder of the Shareholder-Rights initiative, hence reconfirming the bank's commitment to best in class corporate governance and becoming a role model in responsible corporate practices.
Developed in collaboration with UN Lebanon, IFC and EBRD, Shareholder-Rights' initiative puts at the disposal of Lebanese corporates its proprietary Environmental, Social and Governance (ESG) methodologies that are fully aligned with UN's guiding principles and SDGs, as well as international development funds' investment expectations.
In his address, Dr. Sfeir noted that "Bank of Beirut's success relies on its corporate confidence. It is our role to encourage Lebanese corporates to adopt and adhere to the principles we uphold to build their confidence. We believe in leading by example."
"Bank of Beirut's membership comes at a time where corporates, more than ever, need to focus on their core purposes, which requires adhering to best corporate practices.  One can only respect Bank of Beirut's enlightening role in showing the path to a more resilient and attractive corporate Lebanon," stated Mr. Akkaoui.
Mr. Cristiano Pasini, Regional representative of UNIDO: "Corporates that operate in highly regulated industries like banking demonstrated the highest commitment to best practices. Hence, better risk posture and increased resilience. Companies like Bank of Beirut that are ambitious, alert, responsible, risk averse and attentive seek distinction though quality; they are attractive to investors, clients and employees. They innovate, they grow wealth and value and make Lebanon proud and safe everywhere they operate.
Mr. Saad Sabra, Country Head Lebanon and Syria, IFC highlighted the importance and added value of Corporate Governance, noting that it is a focus for IFC as an investor and development institution. He then emphasized the role that the Lebanese banking sector should have in leading by example in Corporate Governance.
Mr. Mohammad Baassiri, Vice-Governor, Central Bank of Lebanon reaffirmed his firm belief and optimism in the future of the Lebanese economy, especially after the difficult period that Lebanon went through. Mr. Baasiri also believes that Governance begins at the very top, starting with states, and extending to corporations and then individuals. HE commanded the role of Lebanese banks in applying best in-class practices.
Now that Bank of Beirut is a signatory of the IGI Declaration, it will be launching initiatives to help encourage corporations to adhere to best ESG practices.
Categories