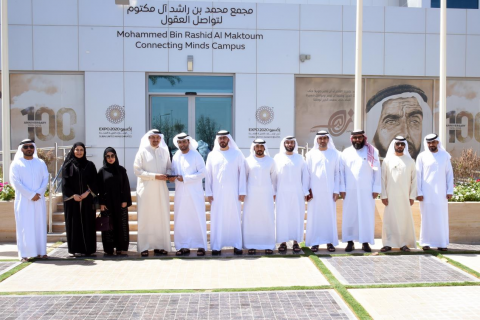 A delegation from Awqaf and Minors Affairs Foundation (AMAF) visited the Expo 2020 Dubai site to understand first-hand the latest developments on the mega project and explore potential opportunities for collaboration between the two entities, specifically focusing on AMAF's participation in the world expo when it takes place next year.
Najeeb Al-Ali, Executive Director of the Dubai Expo 2020 Bureau, welcomed the AMAF delegation that included His Excellency Ali Al Mutawa, Secretary General, His Excellency Khaled Al Thani, Deputy Secretary General, and members of the AMAF leadership team.
The meeting examined ways for the two entities to boost synergies during Expo 2020 that will witness the participation of more than 190 countries and help enhance the status of Dubai and the wider UAE as a global destination for connecting minds and creating the future.
AMAF's delegation also gained insights on the latest project updates, including the construction works at the main buildings that are slated to conclude later this year.
AMAF delegates suggested creating innovative endowment projects to support Expo 2020's humanitarian message for a better and more sustainable future that will help instill the culture of endowment and its humanitarian role in enabling societies globally.
The AMAF team also highlighted the initiatives undertaken by the Mohammed Bin Rashid Global Centre for Endowment Consultancy that the Foundation currently manages under the umbrella of the Mohammed bin Rashid Al Maktoum Global Initiatives, explaining the center's role in expanding the scope of endowment mandates to serve humane societies. 
Categories