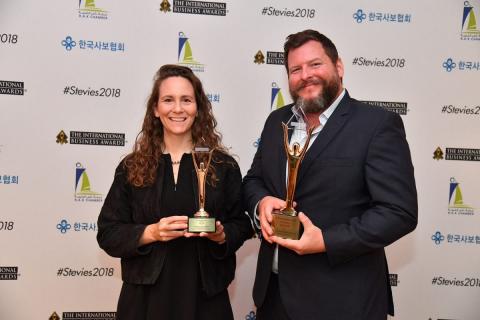 28 award wins, with five Gold, 10 Silver and 12 Bronze, including 'Grand Stevie' for 'Most Honoured PR Agency' at International Business Awards ceremony in London 
ASDA'A BCW continues its winning streak at the International Business Awards 2018 – known as 'the Stevies'. The agency collected a total of 28 awards, with five Gold, 10 Silver and 12 Bronze medals in the PR Category, including a Gold for PR Agency of the Year for the Middle East region, and a special 'Grand Stevie' for being the 'Most Honoured Public Relations Agency' globally.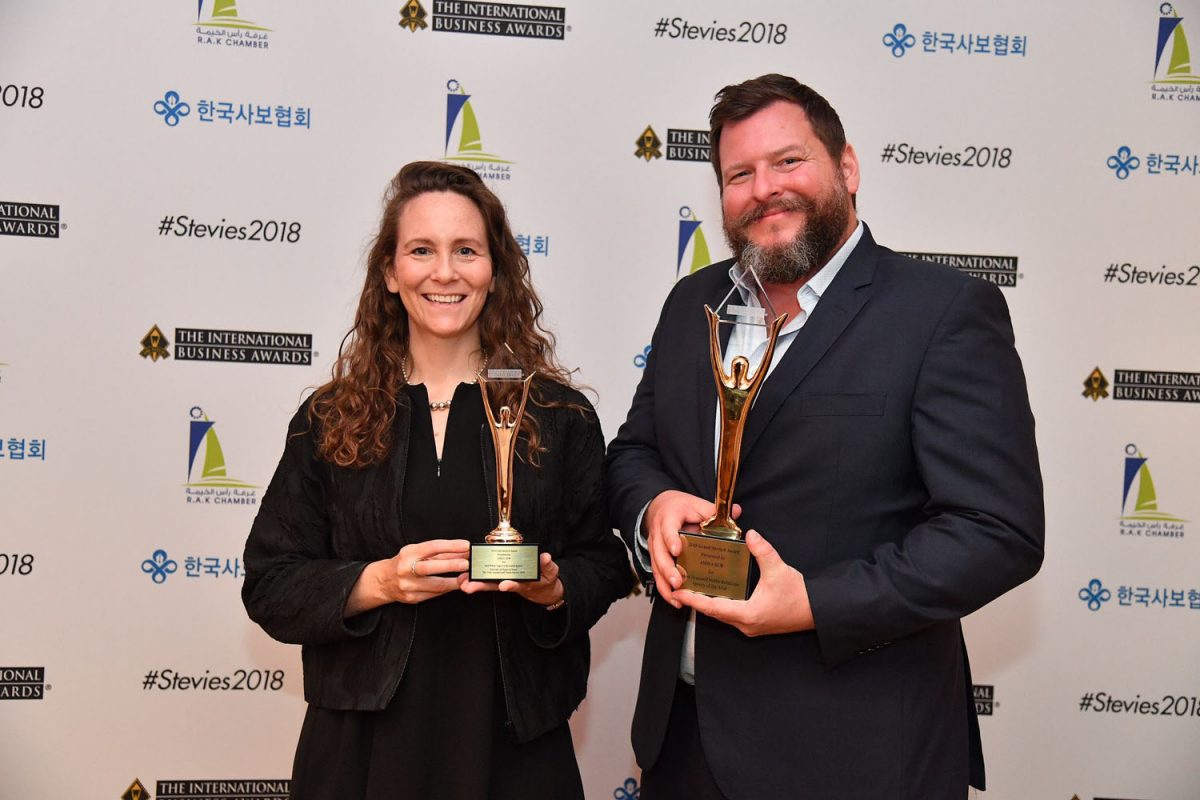 ASDAA BCW Chief Strategy Officer Margaret Flanagan and Senior Director - Regional Operations Nathan Wilson collecting the awards in London
'We See Genius in Every Child', an initiative for GEMS Education, clinched two Golds, for 'Marketing: Consumer Services' and for 'Reputation/Brand Management', along with two Silver awards for Corporate Communications and Community Relations.
Ford Middle East's 'Women in the Driving Seat' campaign, which focused on the recently-lifted ban on women driving in the Kingdom of Saudi Arabia, won the Gold in the 'Communications or PR Campaign of the Year - Global Issues' category.
The 10th Annual Arab Youth Survey was awarded a Gold Stevie for 'Best White Paper or Research Report' for the 2018 edition 'A Decade of Hopes and Fears', which chronicles the findings of the survey on the region's largest demographic, Arab youth. The Agency's pioneering thought leadership initiative also took home three Bronze awards for 'Communications Research', 'Global Issues', and 'Public Service'.
Projects by ASDA'A BCW that earned Silver and Bronze Stevie wins include the launch of Jebel Jails Flight: The World's Longest Zipline for Ras Al Khaimah Tourism and Development Authority (RAKTDA); Dubai Fitness Challenge; Zabeel House MINI by JumeirahTM; work on the Global Education & Skills Forum and Global Teacher Prize 2018 for Varkey Foundation, and the Emaar New Year's Eve event, Light Up 2018 Downtown Dubai at Burj Khalifa.
The International Business Awards are the world's premier business awards programme, with the 2018 edition receiving 3,900 entries from 74 nations.
Sunil John, Founder & President of ASDA'A BCW, said: "This year has been one of change and growth for us as an agency, both regionally and globally. What remains consistent throughout is our endeavour to raise the bar of excellence within our industry. Our focus has always been on delivering the highest quality for our clients, and we're delighted to have our team's fantastic work and dedication recognised at such an esteemed international platform."
The Grand Stevies are awarded on the basis of a points system, with a Gold Stevie win counting for three points, a Silver Stevie win for two points, and a Bronze Stevie win for 1.5 points. ASDA'A BCW was declared the 'Most Honoured Public Relations Agency' with an impressive total of 53 award points.
This year's International Business Awards ceremony and gala dinner took place at the InterContinental London Park Lane Hotel in London on Saturday, October 20th.
---
About ASDA'A BCW ASDA'A was founded in 2000 as an independent integrated communications agency by Sunil John, who continues to lead in the agency's 19th year. In 2008, WPP acquired a majority stake in the firm. ASDA'A became an integral part of the Burson-Marsteller global network. After the recent merger of Cohn & Wolfe and Burson-Marsteller, ASDA'A Burson-Marsteller is now ASDA'A BCW.
About BCW
Burson Cohn & Wolfe (BCW) is a top three global integrated communications agency that combines Cohn & Wolfe's expertise in digitally-driven, creative content and integrated communications with Burson-Marsteller's strength in public affairs, corporate and crisis management and research. BCW is a network of more than 4,000 employees in 42 countries.
Categories