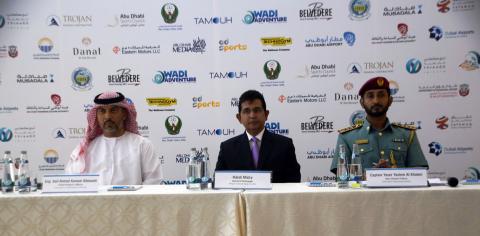 The Championship is being held under the patronage of H.H. Sheikh Nahyan bin Zayed Al Nahyan, Chairman of Abu Dhabi Sports Council
Wadi Adventure, the Middle East's pioneering whitewater rafting, kayaking and surfing destination, has officially announced hosting the first-ever UAE edition of the World Rafting Championship (WRC) during a press conference today. The speaker's panel was attended by Nilesh Mistry, General Manager - Wadi Adventure, Engineer Saif Al Bloushi, Chief Projects Officer - Tamouh Investments Group, and Yaser Yaslem Al Khateri Captain, Abu Dhabi Police General Headquarters.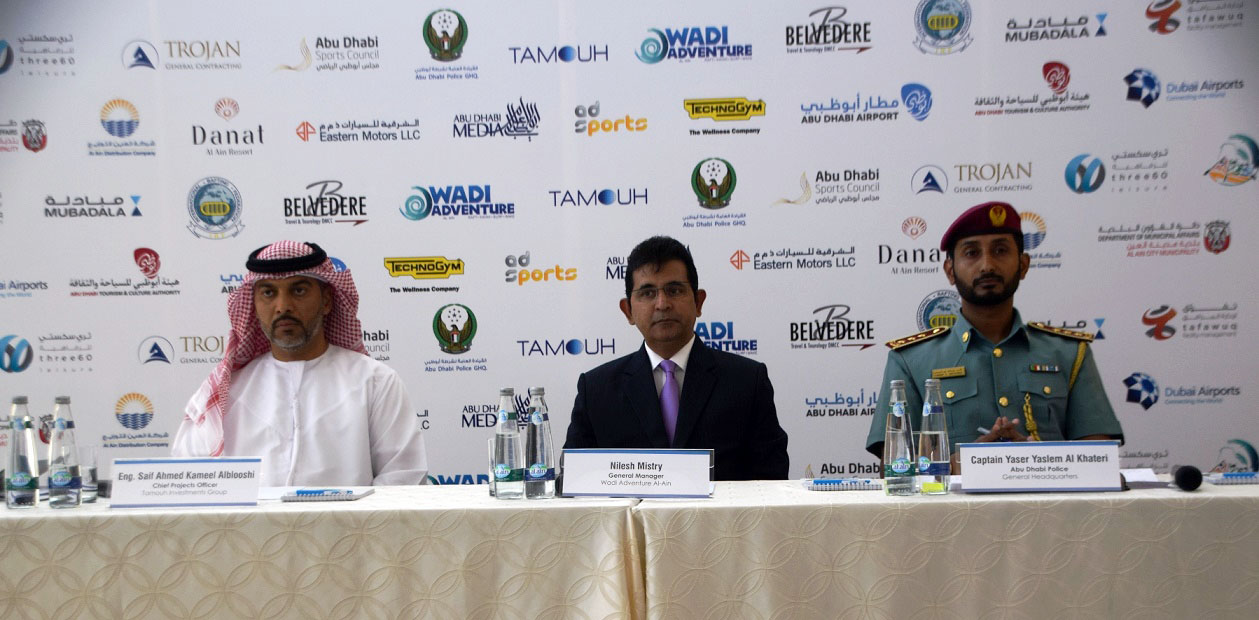 During the press conference – (From Right to Left): Captain Yaser Yaslem Al Khateri, Abu Dhabi Police General Headquarters, Nilesh Mistry, General Manager - Wadi Adventure, and Engineer Saif Al Bloushi, Chief Projects Officer - Tamouh Investments Group.
The inaugural UAE leg of the WRC is being co-organized by the International Rafting Federation (IRF) and Three60 Leisure while Tamouh Investments Group, Abu Dhabi Sports Council and Abu Dhabi Police are the main partners.
Set to commence from November 1 to 5, 2016 at Wadi Adventure, WRC 2016 will welcome 85 rafting teams from 28 countries, competing under the R4 (four-man raft) tournament's Sprint, Head-to-Head (H2H), Slalom and Downriver disciplines. For the first time ever a UAE National Rafting Team comprising officers of the General Directorate of Abu Dhabi Police – Department of Public Safety & Emergency whose identities were revealed during the conference, has been formed to represent the UAE and compete in the event. The UAE National Rafting Team is being sponsored by Wadi Adventure and is undergoing rigorous training at the Wadi Adventure facility in Al Ain.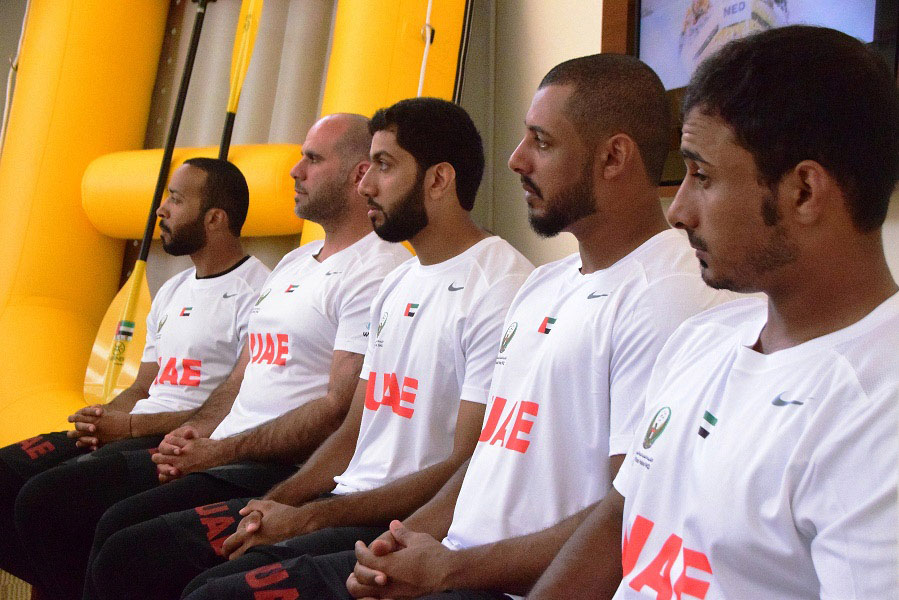 UAE National Team
Saif Al Bloushi, Chief Projects Officer - Tamouh Investments Group stated: "We acknowledge your presence and support for the UAE's inaugural hosting of the World Rafting Championships. We welcome everyone to come over and cheer the first ever UAE National Rafting Team for their debut in the world of rafting. I salute the Abu Dhabi Police for encouraging its officers to lend their talents and compete for the UAE's honour and pride. I applaud all of this year's other contestants as well for their dedication, hard work, and love of the sport of rafting. We are very proud and honored of Wadi Adventure success in highlighting the beauty of Al Ain and establishing the emirate as a preferred leisure and lifestyle destination while proving its worth as one of the region's premier water adventure brands. We wish all the contestants the very best and look forward to a long and fruitful partnership with the International Rafting Federation."
"The World Rafting Championships is considered one of the rafting community's most challenging tournaments, gathering the best in the sport to compete in four grueling disciplines. The R4 or four-man raft championships have been held since 2010 in some of the world's most scenic and yet demanding courses, and this year it is the UAE's turn to be included in this illustrious company of host nations. We take great pride in being chosen as the venue of WRC 2016, which is a testament to the ability of our world-class facilities, amenities and services to accommodate the toughest water adventure sports and activities. We greatly appreciate the International Rafting Federation's full confidence in our capabilities and assure competitors, guests and viewers a memorable event", added Nilesh Mistry, General Manager – Wadi Adventure.
 Aside from placing the UAE on the global rafting map, WRC 2016 will further boost Al Ain's and Wadi Adventures' appeal among regional and global adventure seekers. Wadi Adventures in particular will highly benefit from the international exposure as one of the region's leading adventure sport-themed destinations and home to the Arab World's first-of-its-kind adventure sports facility.

In addition to the Championship, visitors and spectators can also enjoy the Kids and Sports Show zones to be set up during the event aside from Wadi Adventure's staple attractions which include the world's longest manmade whitewater channels, the world's largest surf pool, and an aerial obstacle course featuring a two-storey airpark, zip line, climbing wall and giant swing.
Abu Dhabi Media is the main media sponsor for the event, while Trojan and Belvedere are Silver Sponsors. Mubadala, Tafawuq Facility Management, Al Ain Water and Jobe Watersports are under the Bronze Sponsors category, while Green Mubazzarah Chalets, Danat Al Ain Resort, Al Ain Distribution Company, Al Ain City Municipality and Hemaya Security Services  are among other valued partners.
Categories