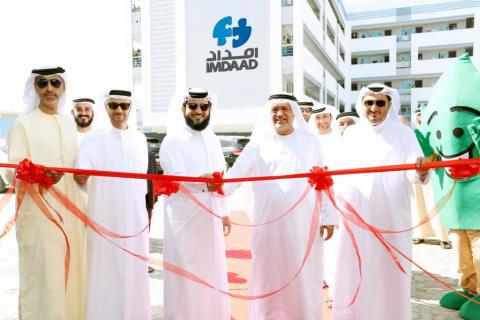 Imdaad, a leading provider of integrated facilities, waste, and energy management solutions in the GCC, has officially opened its new state-of-the-art Imdaad Manzeli staff accommodation in Jebel Ali that is set to house its 3,000 employees. Manzeli, which is Arabic for 'My Home,' demonstrates the company's continuing efforts to provide its employees with a housing accommodation that can offer the feeling and experience of living at home—complete with all the essential facilities and comforts.  The company's Chairman, Board of Directors, CEO, and COO were present during the inauguration ceremony to show full support for the groundbreaking project.
According to the company's senior executives, the housing facility reflects Imdaad's commitment to ensure the welfare and high quality of life of all its staff members. The 500-room landmark building comprises world-class amenities and recreation facilities for the residents' enjoyment and comfort. With functional spaces, the entire four-storey premises measuring 299,902 square feet are fully equipped with modern technologies and equipment such as solar system for hot water, air cooling chillers, central gas system, water treatment station, WiFi connection, and central television services.
Jamal Abdullah Lootah, CEO, Imdaad, said: "We are proud to inaugurate the new Imdaad Manzeli Staff Accommodation, which has been developed because we want our employees to live in a fully functional living space that can offer them that bespoke feeling of home. The high-technology staff accommodation has been designed to cater to our employees' needs to make sure that they are well taken care of. Imdaad wants its employees to be safe, secure and comfortable and this is evident by the building's amenities not only in phase one but in the succeeding phases as well."
A central laundry station is available for the employees' use as well, while the roof top can be utilized as an area to wash and dry clothes. Additionally, the building is manned by security guards round the clock to ensure the safety of all residents. The building, including parking areas, is equipped with a closed-circuit television system controlled from the site supervisor room on the ground floor. Imdaad Manzeli's construction works for the second, third and fourth phases are expected to be completed in the next two months.
"We are confident that our employees will feel right at home as they move in to their new place. The efforts to keep our staff happy is expected to help drive in increased productivity and enhanced efficiency. Such an important project demonstrates our core value of 'People' that focuses on putting the well-being of our staff as one of our main priorities and as a fundamental pillar of our success as an organization. This project is only a start for us and we will be rolling out more similar initiatives to attract more talent to join Imdaad," concluded Lootah.
Categories