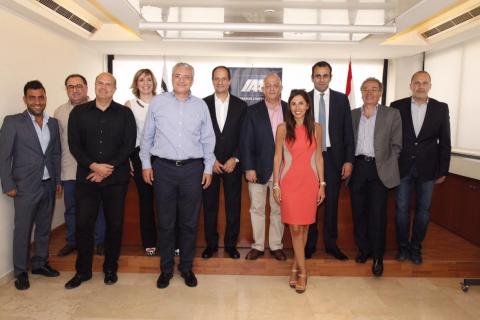 The Lebanon chapter of the International Advertising Association (IAA) held an ordinary general assembly in the presence of its members, and elected a new board for a two-year mandate 2015-2017. The executive committee includes:
Mr. Naji Irani: President
Mrs. Ghada El Khatib: Vice President
Mrs. Liliane Maroun: General Secretary
Mr. Claude Hajjar: Treasurer
And Messrs. Joe Ayache, Ralph Bacha, Kamil Kuran, Joseph Sfeir, George Jabbour, Georges Slim and Alain Yazbeck: Members.
During the general assembly, the last board headed by Mr. Joe Ayache presented the achievements of the chapter during their vigorous mandate and the financial report.
The IAA members, then, praised the new committee and the President who promised to have a prominent mandate ahead with new achievements and active events. Irani also stated that the new committee will carry on the ongoing projects and said "We will work together as board and IAA members to achieve all what we aim for in the industry".
Moreover, the IAA has delivered the prize of "Inspire Award" to one of its former presidents, Mr. Rony Jazzar and to Mr. Melhem Rechdan on behalf of the parent organization for their commitment to the IAA and their prominent roles in the industry. The results were announced during a gala dinner held at the "IAA Leadership Forum" held in London on May 18.
Categories