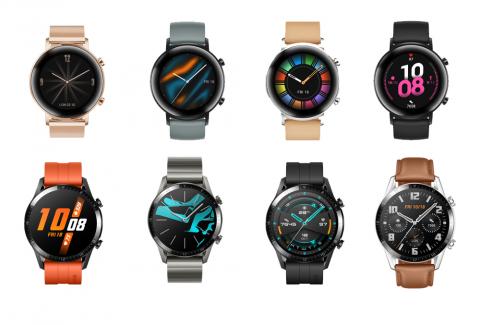 Firstly introduced during the Huawei Mate 30 lineup, the new Huawei WATCH GT 2 has made a big buzz globally with many promising reviews. What's so special about this innovation? The watch builds on the original Watch GT, taking the fascinating tech of the original watch and employing it in a far more premium-looking device with upgraded features, creating something that looks and feels like a high-end timepiece.
Let's start by objectively saying that the smartwatch is gorgeous. Design-wise, the new watch comes in two modern and fashionable models featuring unique looks, ideal for those pursuing superior quality of life: The 46 mm series and the more compact 42mm series, both available in "Sport" and "Classic" versions.
Being the first smartwatch to be powered by Huawei's in-house designed Kirin A1 chipset, the Huawei WATCH GT 2 promises an extremely powerful performance at low-power consumption – Indeed, Huawei's innovative new addition has a two week long battery life on a single charge, even under intensive use which means that users will never have to worry about running out of battery. It's safe to say that Huawei has done a brilliant job at combining their in-house hardware with the software to create this amazing battery life.
Remarkable heart rate monitoring technology, advanced work-out features, upgraded fitness tracker, proactive health management with sleep, stress and heart rate monitoring…. Name it, you have it!  Indeed, the Huawei WATCH GT 2 boasts endless workout functions and daily services, bringing Huawei fans and exercise enthusiasts quality and a healthier lifestyle. It is the only fitness and health tracker you'll ever need to wear!
What's particularly new about the Huawei WATCH GT 2 it that it has been optimized with improved Bluetooth connection and call functionality, allowing users to answer their calls via Bluetooth. Also, Huawei offers users an all-new impressive music experience, allowing them to enjoy a super high-capacity internal storage space, as well as the ability to pair Bluetooth headphones!
To sum up, The Huawei WATCH GT 2's extremely beautiful external design coupled with an efficient and powerful internal hardware makes it an ideal choice for everyone today.
Categories