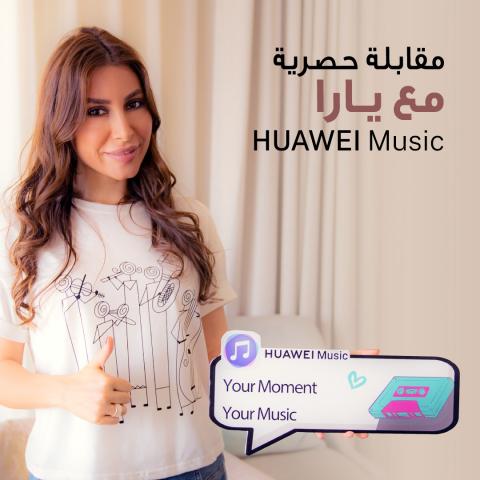 Huawei is offering music fans across Lebanon the chance to win a wide range of prizes by logging onto the HUAWEI Music app on their smartphone and watching an exclusive interview with YARA.
The Lebanese singer has won a huge following with her brand of music and now her fans in Lebanon can learn more about her by watching an exclusive interview on the HUAWEI Music app.
The app is available to Huawei users and is part of a wider and ever-growing eco-system of features and services on the HUAWEI Mobile Services platform.  
To take part, users simply open the HUAWEI Music app on their Huawei smartphones and go to the interview. Once they watch the video, they will be in with a chance to win a variety of Huawei devices and products all signed by YARA herself.
HUAWEI Music has been gaining popularity recently as the platform continues to evolve with new and exciting content. Now users can also take advantage of a special three-month free trial and experience first hand how a growing number of users are enjoying music on their Huawei smartphones.
Once users are signed up, they can enjoy their favourite music at higher audio quality above 320kbps and stream millions of tracks free of ads. In addition, new featured sound effects have been added and there is a host of new content including Ahwet El Madi –Elissa; Stuck with U –Ariana Grande/Justin Bieber; Baashaek –Assi El Hallani.
YARA rose to fame after winning the LBC music competition "Kass el-Nojoum" in 1998 by singing "Awedak." Since 2004 she has released five hugely popular albums including "Twassa Feyi" and "La'ale' Khaleejiya."
About Huawei Consumer BG
Huawei's products and services are available in more than 170 countries and are used by a third of the world's population. Fourteen R&D centres have been set up in the United States, Germany, Sweden, Russia, India and China. Huawei Consumer BG is one of Huawei's three business units and covers smartphones, PC and tablets, wearables and cloud services, etc. Huawei's global network is built on over 32 years of expertise in the telecom industry and is dedicated to delivering the latest technological advances to consumers around the world.
For more information please visit: http://consumer.huawei.com
For regular updates on Huawei Consumer BG, follow us on:
Facebook: https://www.facebook.com/huaweimobile/
Twitter: https://twitter.com/HuaweiMobile
Instagram: https://www.instagram.com/huaweimobile/
YouTube: https://www.youtube.com/user/HuaweiDeviceCo
Categories