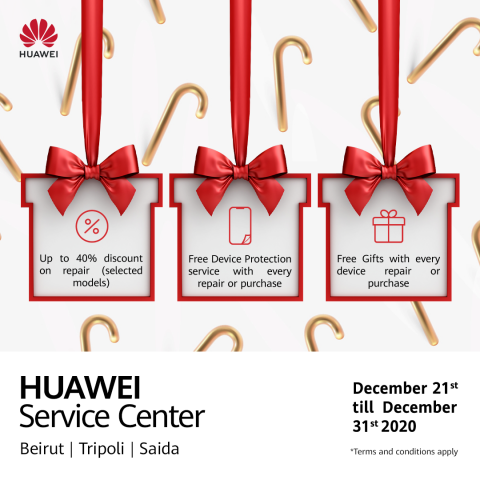 As part of its commitment to the Lebanese market, Huawei Consumer Business group (CBG) announced today its Holiday season Service Campaign, offering consumers great savings and promotions.
Held exclusively at Huawei service centers in Beirut, Saida and Tripoli, from December 21st till December 31st 2021 the service campaign allows users to  have their out-of-warranty devices checked, diagnosed by a Huawei expert as well as spare parts replacing on devices ( ) and tablets  at an up to 40% discounted fee . As part of the promotion, screen protectors will be available at a reduced prices, starting from LBP 20,000( ) (cost will vary depending on device model).
During the campaign, customers visiting the Huawei service centers will be offered a gift with the purchase of a device or any repair service. To top it all, Huawei customers will still benefit from the one-hour-only repair service and free pick up and drop off services by calling the hotline on 1279.
Huawei service centers are located in Sin El Fil, Saida and Tripoli and operate from Monday till Friday from 9AM till 5:30PM. While the Saida and Tripoli centers are also open on Saturdays from 9AM till 1PM.