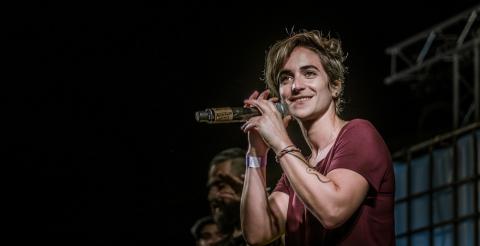 Expo Beats festival and Late Nights @ Expo will transcend cultural barriers and bring people together.
Visitors can join the party at Expo 2020 Dubai and be part of two live music series that will take place throughout the 182-day mega event, as they get to know local, regional and international talent via a variety of performances at Jubilee Stage.
Expo Beats is a unique monthly festival that takes visitors on a journey around the globe through music, dance and culture. It will present a feast of colour, creativity and culture throughout Expo 2020 Dubai, from the island influences of the Caribbean, Hawaii and the Philippines to the tribal rhythms of Bangladesh and Tanzania. The monthly series will blend genres, create fusions and invite the world to experience traditional and contemporary sounds in new and exciting ways.
Late Nights @ Expo will connect artists and people from across the world every Thursday and Friday night during Expo 2020, breaking barriers between musical styles, generations and cultures. Performers include Jordanian singer-songwriter Dina Stars; funk-rock band Carl & The Reda Mafia; Chilean musician, songwriter and singer Sergio Catalan; Serbian singer-songwriter Aleksandra Krstic; and Jaye & Foe, a six-piece multi-instrumentalist Dubai band known for brassy, jazzy tinged folk sounds with elements of reggae, ska and gypsy rhythms.
Expo 2020 Dubai invites visitors from every corner of the globe to join the making of a new world, including the chance to discover a wide range of cultural and artistic initiatives dedicated to broadening horizons and bringing together people, communities and nations.
 
Source: www.expo2020dubai.com