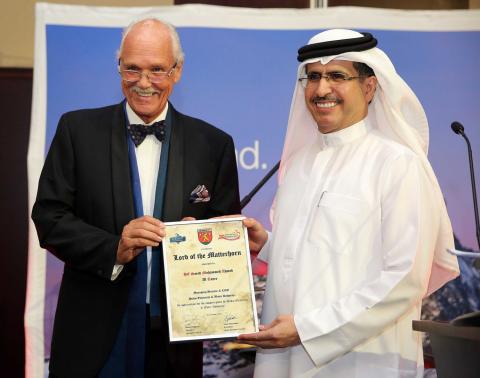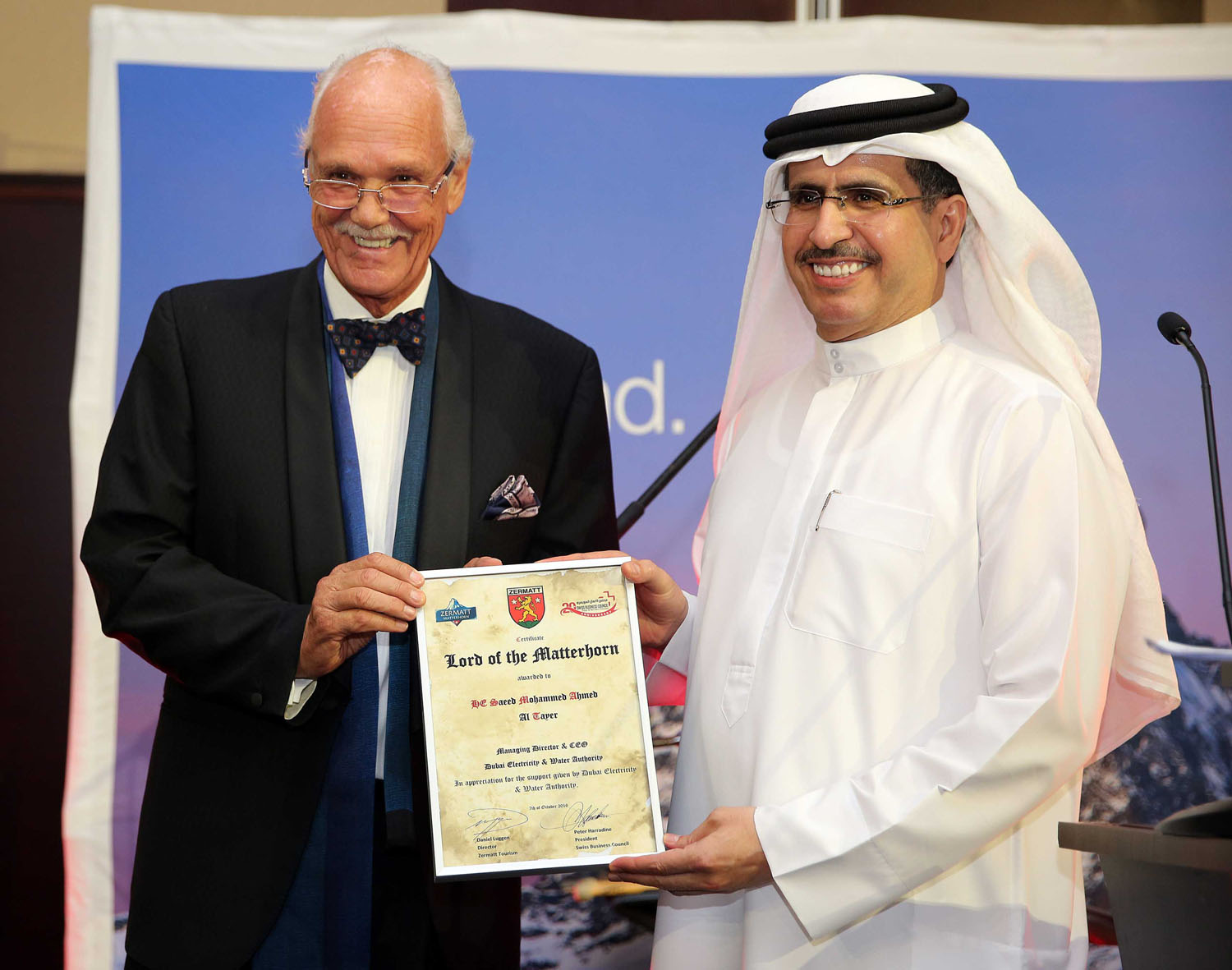 HE Saeed Mohammed Al Tayer, MD & CEO of Dubai Electricity and Water Authority (DEWA), received the prestigious Lord of Matterhorn Award from Peter Harradine, President of the Swiss Business Council, Dubai & Northern Emirates. The ceremony at Fairmont Palm Hotel and Resort, Dubai witnessed the attendance of HE Maya Tissafi, Swiss Ambassador to the UAE, HE Christian Watts, Consul General of the Consulate General of Switzerland, in addition to a number of Swiss companies and business representatives.
The Lord of Matterhorn award is awarded annually to a select few UAE citizens who have contributed towards enhancing business relations with the Swiss Business Council and in turn towards Switzerland and its presence in the UAE.
"It is my pleasure to receive the prestigious Lord of the Matterhorn Award, by the Swiss Business Council. I understand that this prestigious award was named after Switzerland's most famous mountain, which is hard to conquer, but then again, here in the UAE, we do not believe in the word 'Impossible'. We are guided by the vision and initiatives of HH Sheikh Mohammed bin Rashid Al Maktoum, Vice President and Prime Minister of the UAE and Ruler of Dubai, in all our endeavours," said HE Saeed Mohammed Al Tayer, MD & CEO of DEWA.
"In line with DEWA's vision to become a sustainable innovative world–class utility, innovation is the cornerstone and integrated approach we follow to achieve the UAE Vision 2021, which aims to make the UAE among the best countries in the world by 2021. This in turn, strengthens the UAE's global competitiveness, especially in renewable energy, and green economy technologies and products. Dubai has a comprehensive vision for a sustainable future, which is pivotal to the success of building a green economy. Receiving the Lord of the Matterhorn award is a proud moment and honour for me, while reflecting DEWA's success in strengthening its ties with its partners to ensure Dubai's global competitiveness," added Al Tayer.
"Finally, I would like to thank HE Maya Tissafi, Ambassador of Switzerland to the UAE, and Mr. Peter Harradine, President of the Swiss Business Council and the organisers for the success of this evening and all their efforts," concluded Al Tayer.
Categories