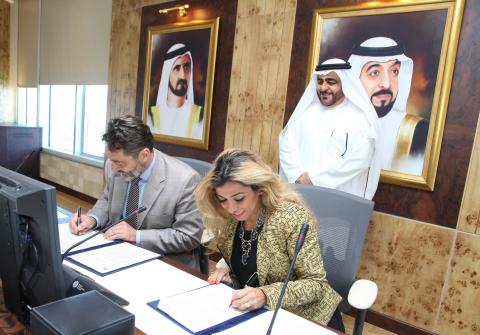 [UAE, November 10, 2014] – Hamdan Bin Mohammed Smart University (HBMSU) and Paris Dauphine University (UPD), a renowned French public research and higher education institution, have entered into a landmark agreement to extend cooperation in Islamic Finance education and training. Both parties will work closely to design programs and initiatives in Islamic Finance tailored for the GCC and MENA regions. They will also jointly develop curricula that will give full credit for courses taken in either of the institutions.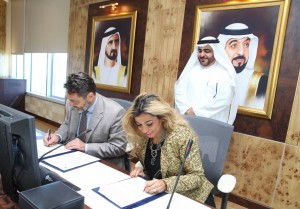 Serine El Salhat, HBMSU's International Cooperation & Corporate Communication, Assistant Chancellor, and Prof. Arnaud Raynouard, UPD's Vice President for International Affairs, signed the Memorandum of Understanding (MoU) during a brief ceremony at the HBMSU campus.  The joint venture is timely given the growing global influence and popularity of Islamic finance. HBMSU and UPD provide excellent facilities for masters and research students to specialize in the field. Their world-class curricula and renowned faculty members help learners develop advanced and structured analytical and research skills to work in a wide range of Islamic Finance specialties.
The two institutions will also collaborate on other student and faculty exchange programs and jointly conduct faculty research. UPD's Masters in Islamic Finance students will present papers before well-respected international academicians in HBMSU's annual Innovation Arabia 8 conference, where UPD faculty and students can exchange ideas with their HBMSU counterparts and meet industry leaders and representatives. HBMSU learners, on the other hand, will join UPD students in their annual international trips. Since 2009, UPD has been offering the Masters in Islamic Finance degree locally and to other French-speaking nations.
Categories