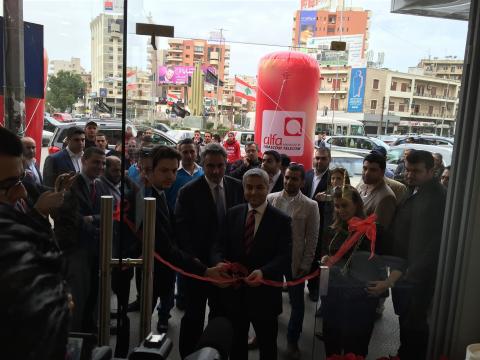 expansion of customer service network and catering for subscribers' needs Beirut - December 10, 2014: alfa CEO and Chairman, Mr. Marwan Hayek, inaugurated a series of franchised alfa stores in Zalka, Zouk Mosbeh (Telia shop), Kosba and Tripoli (IPIN shop). alfa Tripoli store was also inaugurated during the visits.
Accompanied by alfa officials, Hayek toured these franchises with the aim of inspecting their proper functioning and checking the quality of service provided to alfa subscribers.
Hayek Hayek said at the end of the tour, "The franchised alfa stores that we inaugurated today are part of 22 franchised stores geographically distributed in all regions and provinces with the aim to service the company's customers wherever they are, thus bringing alfa closer to them".
He added, "This plan is part of alfa's expansion strategy in sales services, with the franchise stores offering most of the company's services presently being offered in alfa stores. This enhances our services in all regions and expands our customer service network in major cities and suburbs, consequently easing congestion at our alfa store branches." He added: "This allows us to serve our subscribers better, especially that cell phones have become an essential part of our everyday life, and hence it has become more necessary for us to closely keep up with subscribers' needs and cater to them".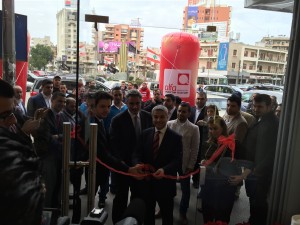 He pointed out that the four franchised alfa stores that were launched will serve about 20,000 alfa subscribers per month.
About alfa
alfa is the first Lebanese mobile network owned by the Republic of Lebanon and managed by Orascom Telecom, Media and Technology (OTMT). alfa capitalizes on the vast know-how and international expertise of OTMT in order to deliver quality and professional solutions for the mobile sector in Lebanon. On October 25, 2011, alfa was the first mobile operator to launch 3G+ mobile broadband services in Lebanon. In a new technological achievement, alfa has become the first operator that launches 4G-LTE commercially in Lebanon on May 15, 2013. alfa currently serves 1.9 million subscribers and its network covers 99% of Lebanon. For more information, please visit: www.alfa.com.lb
About Orascom Telecom Media and Technology
OTMT is a holding company that has investments in companies with operations mainly in Egypt, North Korea, Pakistan, Lebanon and other North African and Middle-Eastern countries. The activities of OTMT are mainly divided into its GSM, media and technology and cable businesses. The GSM activities include mobile telecommunications operations in Egypt, North Korea and Lebanon. The media and technology division consists of OT Ventures/Intouch Communications Service and the OT Ventures Internet portals and other ventures in Egypt, including LINK Development, ARPU+ and LINKonLINE. The cable business focuses on the management of cable networks.
Categories