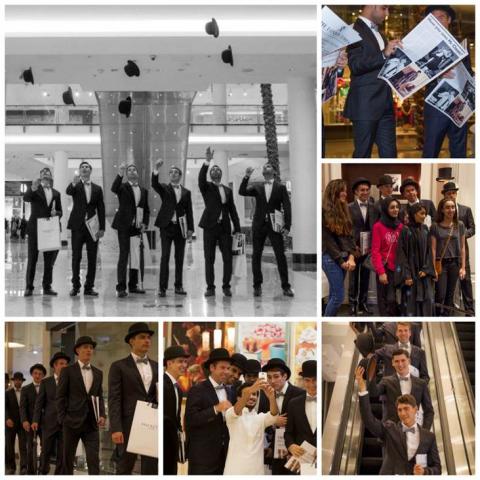 Bahrain- November, 2014
The leading men from
Hackett London
took over Bahrain City Center in perfect unison twirling their umbrellas in one hand and carrying 'The London Times' in another. The gentlemen embodied the quintessentially British spirit with polish and flair of proper Englishmen as they extended a personal invitation to mall patrons for an even grander brand experience.
Dressed to the nines in signature suits, bowties and vintage bowler hats, six upstanding gentlemen took shoppers by surprise as they made their way through the mall -they were surely a sight for sore eyes!

What better way to receive an invitation to a British affair than from a gentleman escorting you to a high tea party at the Hackett London boutique! As the boutique filled with curious guests, many enjoyed the charming kid's attire from the Little Britons collection to the men's quintessential British Mayfair collection not to mention the live music from a guitarist and saxophonist who serenaded the crowd!
Bahrain was truly treated to big slice of Britain, a la Hackett and just as the British came, they disappeared like The Great Smog of London.
For more information, please contact Heba Dajani:
Heba.dajani@havasprme.com
Categories