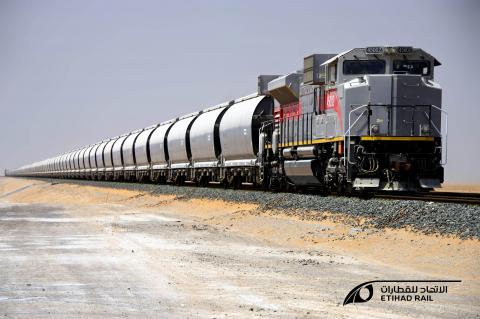 September 3, 2014 - Globe Express Services (GES), one of the region's leading logistics companies, has announced the signing of a Memorandum of Understanding (MoU) with Etihad Rail, the developer and operator of the UAE's national railway network.
GES has had an impressive growth in the region, especially in the UAE where its growth has been attributed to key developments such as the expansion of Jebel Ali operations and the opening of a new office in Abu Dhabi. The company has also had a strong presence in Saudi Arabia and with its direct operations in Jeddah, Riyadh and Dammam, GES will utilise Etihad Rail's 1,200 km network to further develop its market leading position.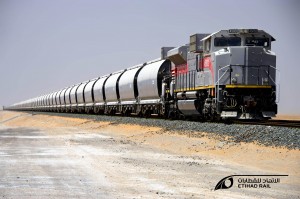 Once completed, Etihad Rail network will extend across the UAE, connecting the Emirates to the Kingdom of Saudi Arabia and Oman. The railway will run from Ghweifat to Abu Dhabi, Dubai and the Northern Emirates, with major connecting points including Al Ain and Madinat Zayed.
Eng. Faris Saif Al Mazrouei, Acting CEO, Etihad Rail, said, "We are delighted with this agreement with GES, a well-established logistics company in the GCC region. We are committed to delivering a safe and efficient mode of transport and look forward to offering GES the best possible means to transport their customers' goods across the region."
Mustapha Kawam, managing director for Gulf States, GES, said, "The presence of the new Etihad Rail system represents a myriad of opportunities, and ultimately gives us a more sustainable and cost-efficient way of moving goods. The signing of this MoU demonstrates our eagerness to be part of this major project and remain true to our commitment to provide world-class logistics services to our clients."
Once completed, the UAE rail network for passengers and freight will cover a distance of approximately 1,200 km across the UAE, connecting residential urban communities with the other surrounding areas and helping to facilitate commercial traffic, in addition to opening channels of communication, and promoting economic development all over the UAE. The UAE network will also be a vital part of the GCC rail network, which will connect the country with the Kingdom of Saudi Arabia through Ghuwaifat from the west and with the Sultanate of Oman through Al Ain from the east.
About Globe Express Services® (www.globeexpress.com)
Globe Express Services® offers a robust, well-rounded suite of logistics services to companies doing business in Asia, Europe, the Middle East, North America, Latin America and around the world. Since 1974, we have enabled our clients' supply chain success through ocean & air freight forwarding, overland transport, Customs brokerage & compliance consulting, cargo consolidation, warehousing & distribution, specialty cargo handling, and project logistics. Our state-of-the-art technology platform provides outstanding visibility, flexibility and customization potential, while our highly trained personnel share a commitment to providing the ultimate customer service.
About Etihad Rail (www.etihadrail.ae)
Etihad Rail was established in June 2009 under Federal Law no. 2, with a mandate to manage the development, construction and operation of the UAE's national freight and passenger railway network. Being built in three stages, the railway network will link the principal centres of population and industry of the UAE, and will form a vital part of the planned GCC railway network across the six countries of the GCC.
Construction on Stage One is well underway, with services between Habshan and Ruwais already operational on a testing basis since September 2013, and the sleeper factory in Mirfa fully functional. Tendering is in progress for Stage Two, which will connect the railway to Mussafah, Khalifa and Jebel Ali ports and will see the railway extend to the Saudi and Omani borders.
To date, Etihad Rail has signed more than 20 Memorandums of Understanding with a number of customers throughout the Emirates – in industries ranging from petrochemicals and agriculture to aggregates and waste – all of whom recognise rail as the preferred mode of transport for their goods.
Built to international standards, Etihad Rail's state-of-the-art network will span approximately 1,200 km, acting as a catalyst for economic growth and sustained social development. Upon completion, the railway will redefine logistics and transport in the region, providing a modern, safe, efficient and sustainable mode of transport that will connect all regions of the UAE to its neighbouring GCC countries.
For further information, please contact:
Globe Express Services:
Orient Planet PR and Marketing Communications
P.O. Box: 500266
Dubai, United Arab Emirates
Tel:  00971 4 456 2888
Fax: 00971 4 454 9528
Email: media@orientplanet.com
Website: www.orientplanet.com
Etihad Rail:
Baiba Upmale
Four Communications
Mob:+971555688761
Tel: +97143625129
Email:Baiba.upmale@fourcommunications.com
Categories