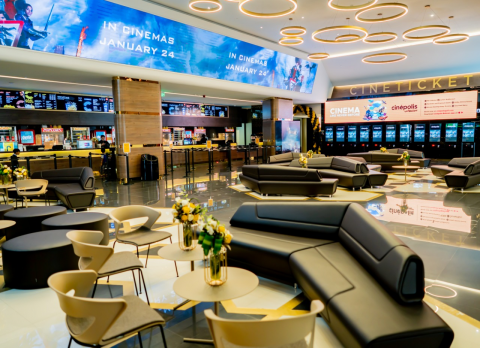 Cinépolis, the largest cinema exhibitor in Latin America and fourth largest exhibition circuit in the world, has announced the locations of six new movie theatres in the Kingdom of Saudi Arabia.
The six cinemas will be rolled out across the Kingdom over the next two years, with the first due to open in Lulu Mall, Dammam, at the end of this year, four scheduled for 2020 and the sixth for 2021.
The expansion into Saudi Arabia marks a huge milestone for the global cinema chain and has been made possible by the Kingdom's Vision 2030, which aims to diversify the country's economy by leveraging non-oil sectors and promote culture and entertainment.
The Saudi General Commission for Audiovisual Media (GCAM) issued the fourth Exhibitor License for Cinema Operation to Cinépolis International under the entity Luxury Entertainment LLC, which has partnered with Al Hokair Group for expansion in KSA along with its regional partner, Al Tayer Group, in August 2018.
Mr. Mishal Al Hokair, Chairman Luxury Entertainment LLC and CEO of Al Hokair Group,    Mr. Miguel Mier, Global COO Cinépolis; Mr. Javier Sotomayor, Managing Director Asia Cinépolis and Mr. Ashish Shukla, CEO Cinépolis Gulf, has announced the six new cinemas in partnership with leading developers. Over the next 5 years, Cinépolis intends to be a leading exhibitor in the KSA region.
Cinépolis opened its's first cinema in Bahrain in January 2019. Since then it has seen an ever increasing following from the local community in Bahrain and Saudis alike. The opening of the brand's six cinemas in the Kingdom will help to boost the economy through the recreational spend. A recent study by PwC[1] revealed that the Kingdom's cinema market could potentially generate 60 to 70 million admissions and the box office market could be USD 950 million in 2030.
A spokesperson from Cinépolis Gulf, says: "Cinépolis' launch into the Saudi Arabia entertainment market is a key milestone in our expansion strategy over the next five years.
"We are proud to be contributing to the Kingdom's Vision 2030 as it goes through this historic period of transformation and hope to provide movie-goers with unrivalled experiences as Saudi Arabia increases its culture and entertainment offering."
Cinépolis will introduce its world-class cinema-going experience through high-touch theatre concepts, including Luxury, Premium, Macro XE, 4D Emotion and kid-approved Cinépolis Junior auditoriums to the country that is home to over 39.5 million potential moviegoers. The new cinemas will provide movie-goers with an unrivalled level of service, food, technology and the latest movies from around the world.
The new openings will be located in Lulu Mall in Dammam, Al Hokair Time in Jazan, Obhour Mall in Jeddah, Cordoba Mall in Riyadh, Najran City Center and Al Massarh Mall, with a total of 63 screens across all six locations.
The new cinemas will feature Junior. The first of its kind in the Kingdom, Junior theatres in Saudi Arabia are set to be a huge hit with parents and youngsters, and have been designed to allow families to enjoy their favourite movies in a welcoming and fun space that expertly caters to their needs. The Junior Theatre features a colourful Jungle Gym, complete with slide and ball pit, as well as fun bean-bag seating.
Luxury auditoriums are another format that will be featured in Saudi Arabia. They will include 180 degrees, super relaxing leather reclining seats with personal amenities, Maitre d' call buttons, personal bag storage and adjustable tables. Every seat allows the guests to be immersed in the best viewing experience and to enjoy Cinepolis' luxury service.
Macro XE auditoriums will also provide Dolby Atmos sound that creates a powerful audio experience thanks to the high-tech combination of the latest generation of audio speakers located throughout each of the venue's premium auditoriums. The screen is triple the size of an ordinary cinema screen and makes you feel like you are part of the movie. 
Visitors to Cinépolis' KSA cinemas will be able to enjoy a premium range of delicious movie treats including buttered popcorn and nachos or opt for a hot drink expertly prepared by in-house baristas at the speciality coffee shop, 'Coffee Tree'. A full menu of gourmet snack items and concessions is also available to movie-goers, including paninis, flatbread pizza, crêpes and speciality smoothies.
Categories