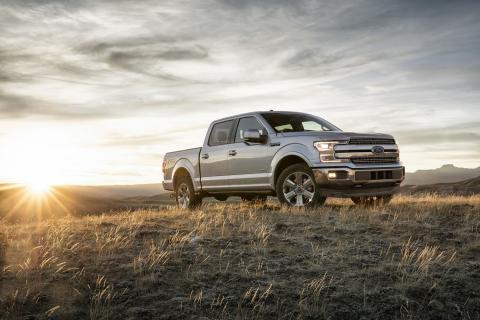 Ford reveals new, even tougher, smarter and more capable F-150, featuring segment-first technology, including Pre-Collision Assist with Pedestrian Detection and Adaptive Cruise Control with Stop-and-Go, embedded 4G LTE modem, SYNC® 3 and B&O PLAY audio
All-new Ford Ranger midsize pickup truck will be reintroduced to the North American market in 2019
Rugged all-new Ford Bronco midsize SUV returns in 2020 as a global vehicle; both Bronco and Ranger to be built at Ford's Michigan Assembly Plant
Ford-owned Chariot – the app-based, ride-sharing service in San Francisco and Austin, Texas – will expand this year to eight cities, including at least one global city
Ford presents a vision for the "City of Tomorrow" to inspire innovation and assist cities in solving mobility challenges to help people move more easily today and in the future
Ford's expansion to an auto and mobility company gains momentum today, as the company unveils the new F-150 pickup, announces the return of the Ranger pickup in North America and Bronco globally, and presents its vision for the "City of Tomorrow."
Ford's news at the North American International Auto Show – including expansion of its Chariot ride-sharing service to eight cities – underscores the company's drive to strengthen its core automotive business while aggressively expanding in growing mobility services.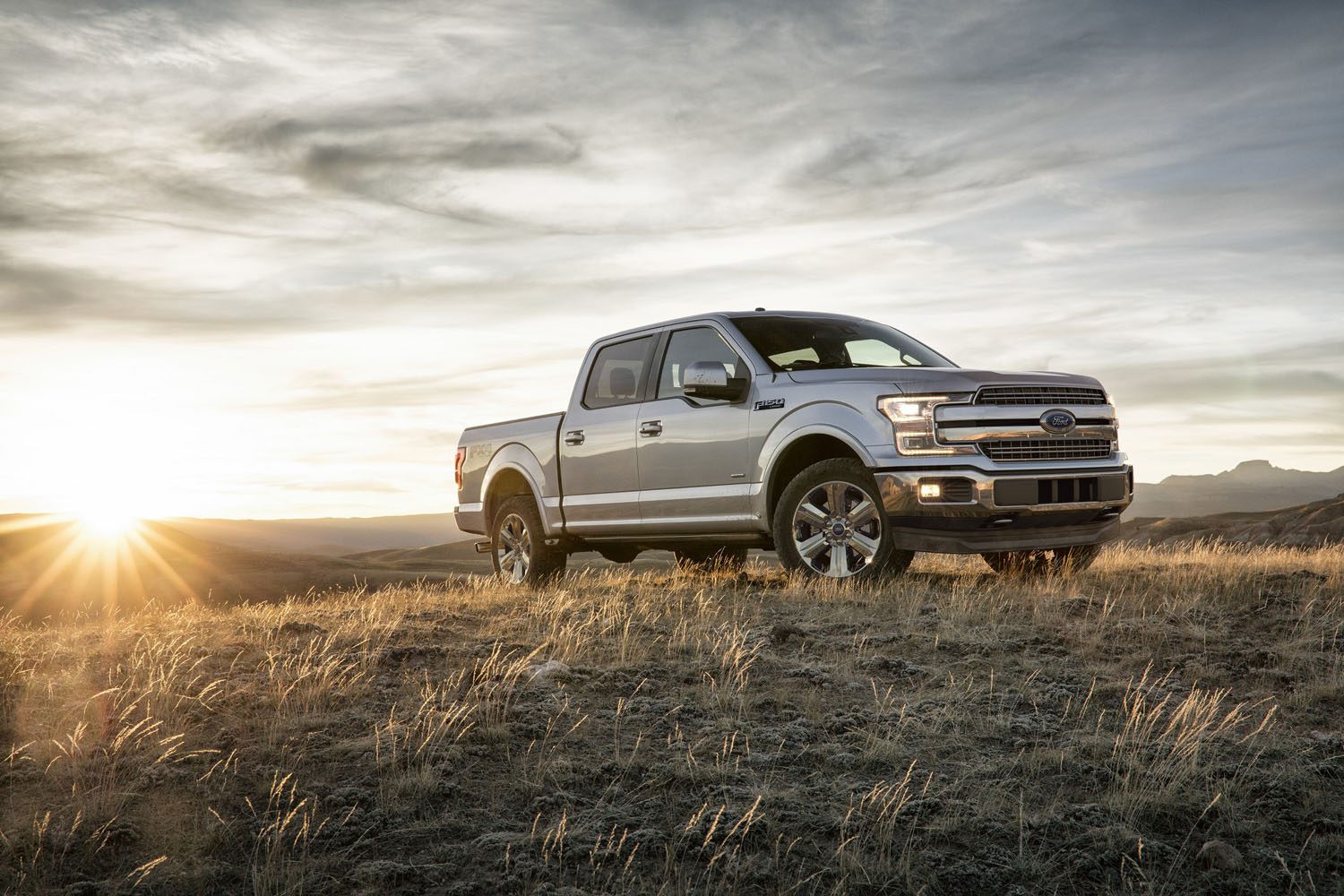 "This year, the expansion of our business as an auto and mobility company moves into even higher gear," said Mark Fields, president and CEO. "We're introducing even more new vehicles and technologies to make life better for millions of people in the near term, plus we're presenting a vision and partnering with cities to move more people even more efficiently in the future."
Today's news follows other announcements about Ford's business expansion:
including a hybrid version of the F-150 and Mustang, two pursuit-rated hybrid police
vehicles, a Transit Custom plug-in hybrid, a fully electric small SUV with an estimated range of at least 480 kilometres and a high-volume, fully autonomous SAE level 4-capable vehicle – with no steering wheel, accelerator or brake pedal – in commercial operation in 2021 in a ride-hailing or ride-sharing service.
congestion issues and help people move more easily, today and in the future.
Ranger and Bronco Return
Ford is bringing back the Ranger midsize pickup truck to its North American vehicle lineup in 2019 and Bronco midsize SUV to its global vehicle portfolio in 2020. Both vehicles will be manufactured at Ford's Michigan Assembly Plant in Wayne, Michigan.
"We've heard our customers loud and clear. They want a new generation of vehicles that are incredibly capable yet fun to drive," said Joe Hinrichs, Ford's president of The Americas. "Ranger is for truck buyers who want an affordable, functional, rugged and maneuverable pickup that's Built Ford Tough. Bronco will be a no-compromise midsize 4x4 utility for thrill seekers who want to venture way beyond the city."
City of Tomorrow
Beyond vehicles, Ford is working with cities around the world to help address growing mobility challenges in urban environments, including gridlock and air pollution.
Ford's City Solutions team – the only one of its kind in the auto industry– is working with cities around the world to propose, pilot and develop mobility solutions. The team also is beginning to collaborate with Bloomberg Philanthropies and its global coalition of mayors.
"This is an issue that goes far beyond congestion. It is one that represents a massive challenge to mankind, one that affects our well-being and access to health care, clean drinking water, food, a safe place to live and even the ability to find work," said Bill Ford, executive chairman, Ford Motor Company. "By solving the mobility challenge, we have the chance to create a better world for future generations. It's both an exciting opportunity and a big responsibility."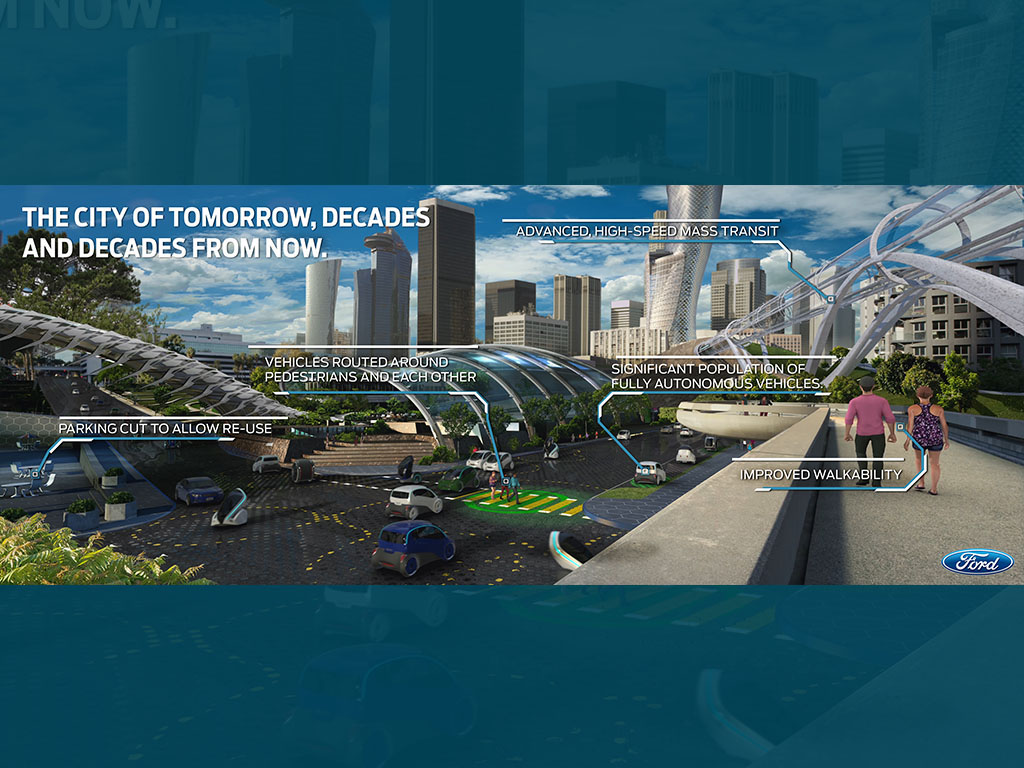 Ford today presented its vision for the "City of Tomorrow."
Ford's City of Tomorrow looks at how near-term mobility advancements – including autonomous and electric vehicles, ride-sharing and ride-hailing and connected vehicles – interact with urban infrastructure and create a transportation ecosystem.
For example, Ford is imagining a world in which reconfigurable roads fluidly respond to commuter needs and traffic flow. Bikes and drones provide last-kilometre solutions for both people and goods.
The Future: Near Term
Within the next five years, Ford expects autonomous vehicles will be introduced in cities around the world. This includes Ford's first fully autonomous vehicles in 2021.
At the same time, the company expects continued growth in electrified vehicles – with global EV industry offerings eventually outnumbering petrol-powered offering in the next 15 years.
Shared modes of transportation will continue to gain popularity, such as the Ford's Chariot app-based, crowd-sourced ride-sharing service, which is expanding globally.
Chariot, which currently operates in San Francisco and Austin, Texas, is growing its operations to eight cities this year, including at least one city outside of the U.S.
In Ford's vision of the near-term future, connected communications between vehicles and infrastructure also will grow:
Vehicles will be capable of connecting with other vehicles and cities' transportation operating systems. Ford alone will equip 20 million cars globally with built-in modems in the next five years.
As these vehicles and other connected vehicles are introduced into cities around the world, cities themselves will change. Large-scale innovations likely, including wireless charging and enhanced connectivity.
These changes could give city transportation managers all-new operating systems, which allow them to manage multiple aspects of their city transportation system centrally, including traffic flow and vehicle emissions.
The Future: Long Term
Further out, Ford sees the City of Tomorrow with significant concentrations of autonomous vehicles, most of which will be electrified.
Mass transit will improve for the largest cities with new technologies like advanced high-speed public transit. Other innovations could include:
Drones that will play many roles. For example, they could be quickly deployed to survey and map the hardest-hit areas following earthquakes, tsunamis or other major disasters
Advanced transportation operating systems that more robustly and seamlessly integrate data from all aspects of the ecosystem. This includes vehicles, bikes, drones and mass transit as well as street lights, parking meters and charging infrastructure
Large-scale implementation of advanced technologies for flexible traffic management coupled with autonomous vehicles – eliminating traffic jams, reducing emissions and bringing traffic accidents to nearly zero
Converting road space into green space and parks, allowing for higher quality of life and healthier communities
"For more than 100 years, Ford has been part of the community and the trusted source for automotive transportation," Fields said. "Now, we want to work with communities to offer even more transportation choices and solutions for people – for decades to come."
City of Tomorrow Symposium
As part the North American International Auto Show, Ford is hosting a symposium on the City of Tomorrow at Detroit's Joe Louis Arena. Together with partners TED, The New York Times and VICE Media, Ford has created sessions with thought leaders, mayors and prominent leaders to discuss the mobility challenges, opportunities and emerging solutions that will shape the City of Tomorrow.
Categories