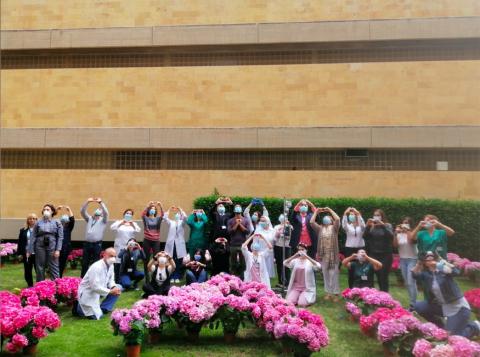 Joyful tunes resonated through the central garden of the LAU Medical Center-Rizk Hospital on Friday the 24th of April when Joy Fayad and Oliver Maalouf from "Ahla Fawda" NGO delivered a live music performance as a generous and considerate act of kindness to all the medical care unit and the patients battling COVID-19.
Respecting the guidelines of social distancing, the duo delivered their performance high in the sky, on a winch provided by Auto Khaled, while Salon Bou Khalil provided the necessary equipment to allow the melodies to echo through every corner of the hospital.
This selfless initiative had for objective to show appreciation and gratitude to the medical care unit of the LAU Medical Center-Rizk Hospital, which includes all health workers and everyone working at the medical center. It truly lifted the spirits of everyone listening and raised the moral of the COVID-19 patients and medical team.
Categories