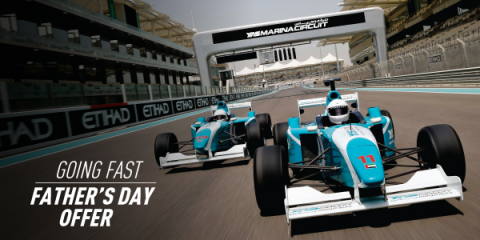 Struggling for ideas for Father's Day? Don't worry, Yas Marina Circuit has got your back. We all know there are a million ways to celebrate Dad this Father's Day, but as we all know, his favorite way to enjoy it would be spending the day with you. So, be sure to take advantage of the 20 percent discount on bookings this weekend (June 20th – 22nd) on the following experiences at Yas Marina Circuit.
Yas Kartzone
With a new 1-kilometre track, this is your chance to put the pedal to the metal and finally get one over on Dad! Bring the whole family down for some competitive fun and race either in parallel or as a combination. The choice is yours. Just make sure to give Dad a head start. It's his special day after all!
Summer timings are as follows:
4pm – 2am (Weekends – Thursday, Friday and Saturday)
4pm – 12am (Weekdays – Sunday, Monday, Tuesday and Wednesday)
Yas3000
For the true F1® fans wanting an authentic taste of what it's like to pilot a single-seat racer around the iconic track, give Dad a day to remember with a Yas3000 driving experience. It's the closest thing to an F1® car that most people will ever drive. A high speed, adrenalin-filled drive that is sure to make Dad's day.
For more information on the range of experiences and bespoke packages at Yas Marina Circuit, please visit: https://www.yasmarinacircuit.com
Categories