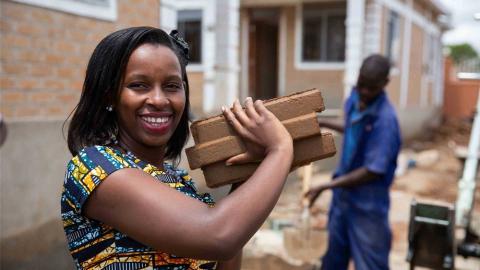 Expo 2020 demonstrates commitment to social entrepreneurship as Expo Live completes Cycle Five of its Innovation Impact Grant Programme.
An Australian organisation providing work opportunities for refugees, a dementia breakthrough from Malta, an environmentally-sustainable Indian packaging company, and an app changing the lives of construction workers in Palestine: These are just four of 23 new social innovators improving lives in their communities as part of Expo 2020's global innovation and partnership programme, Expo Live.
The Expo Live Innovation Impact Grant Programme (IIGP) was launched in 2016 and has since expanded from 29 Global Innovators in 22 countries to 142 grantees across 76 countries, with each offered funding of up to AED 367,000 (USD 100,000), plus expert advice and the opportunity to share their ideas with a global audience.
With more than 4,000 applicants from 170 countries, Cycle Five continues to prove that meaningful innovation to tackle some of the world's greatest challenges can come from anywhere, to everyone.
Some of these challenges, including rising levels of unemployment, inequality and poor access to quality healthcare, have been exacerbated by the current global health crisis, demonstrating a greater need than ever for collaborative solutions.
Expo 2020 will offer all grantees a unique, global platform to showcase their solutions – encouraging cooperation, sparking ideas and inspiring further positive change.
The programme supports numerous social entrepreneurs hailing from Arab nations, such as the UAE, Egypt, Saudi Arabia, Jordan and Lebanon, while 35 per cent of all Global Innovators – and more than half of Cycle Five grantees – are led by women, highlighting Expo Live's commitment to female-led entrepreneurship and building on the major contribution of women in the delivery of Expo 2020.
Source: www.expo2020dubai.com