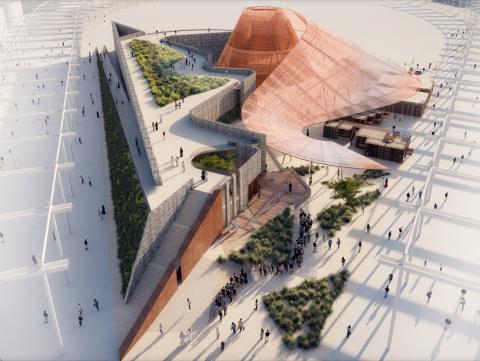 Thematic Pavilion is last major design element to be revealed for next World Expo
Gaming and decision-making experiences will enable visitors to play an active role
4,500 sqm pavilion to be built from natural materials such as wood, rope and stone
Millions of people from around the world will have the chance to make meaningful contributions to global development goals at Expo 2020 Dubai's Opportunity Pavilion, the final major design element to be unveiled ahead of the next World Expo.
Complementing Expo 2020's two other Thematic Pavilions, which are inspired by the subthemes of Mobility and Sustainability, the Opportunity Pavilion will form a key part of the immersive visitor experience. It has been designed to bring together people of all ages and backgrounds to celebrate global progress towards achieving the United Nations' 2030 Agenda for Sustainable Development.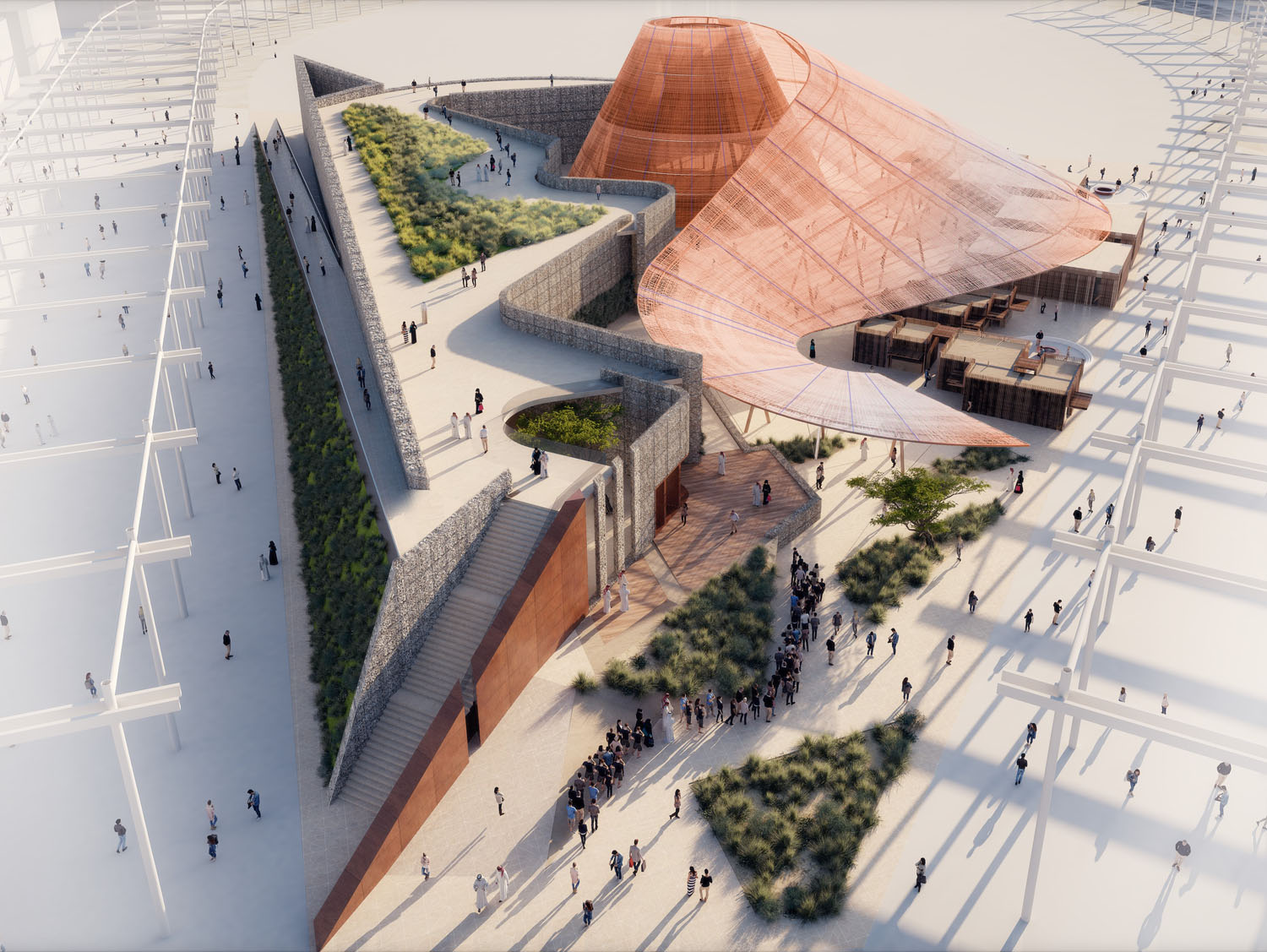 The Pavilion is expected to be a magnet for Expo 2020 visitors, who will be taken on engaging and interactive journeys that will feature decision-making and gaming components. They will be encouraged to explore how individual choices and actions can make a positive, collective contribution to global causes.
At 4,500 sqm, the pavilion will be built from natural and organic materials such as timber, rope and about 2,500 tonnes of stone. All of the materials are recyclable and no concrete will be used in its construction. The pavilion's distinct, spiral shaped canopy will be made from around 111 kilometres of woven rope and aims to draw visitors into an interior space that will emphasise the importance of people connecting to achieve common goals.
Her Excellency Reem Al Hashimy, UAE Minister of State for International Cooperation and Director General, Dubai Expo 2020 Bureau, said: "In line with Expo 2020 Dubai's theme of 'Connecting Minds, Creating the Future', global development goals call for collective action to enable greater opportunities for human progress, beginning with access to basic amenities that provide an enabled environment in which we can all thrive. 
"Expo 2020 Dubai will bring the world together, encouraging people to share and explore ideas that will contribute to further human development. The Opportunity Pavilion is the ideal platform to enable every participant, partner and visitor to learn how they can make positive changes." 
Expo 2020 Dubai will work towards opening new opportunities to help people achieve their needs today and inspire them to pursue their future aspirations.
Expo believes Opportunity is the driver of development and by sharing new technologies and thinking, individuals and communities around the world will be enabled to fulfil their potential, and shape their future.
Expo 2020 has recruited a world-class team of architects, designers and curators to develop its Opportunity Pavilion, with Australia-based Cox Architecture and UK company Event Communications winning an international bidding process to design the building and curate the exhibition respectively.
Surrounded by a landscaped area that includes food and beverage, retail and entertainment offerings, with paths that provide access to seating and grassed areas for informal meetings, the building aims to spark people's curiosity by allowing them to explore, collaborate and share ideas.
Steve Woodland, Principal Director at Cox Architecture, said: "The Opportunity Pavilion is a welcoming space that draws people together and sets them on a fun and engaging journey that progressively immerses them as active participants in a mind-awakening experience. 
"The pavilion will feature a 'rope-and-light' theme throughout, with intertwined ropes reflecting the coming together of people to contribute to human progress, giving them a sense of fulfilment and encouraging further action."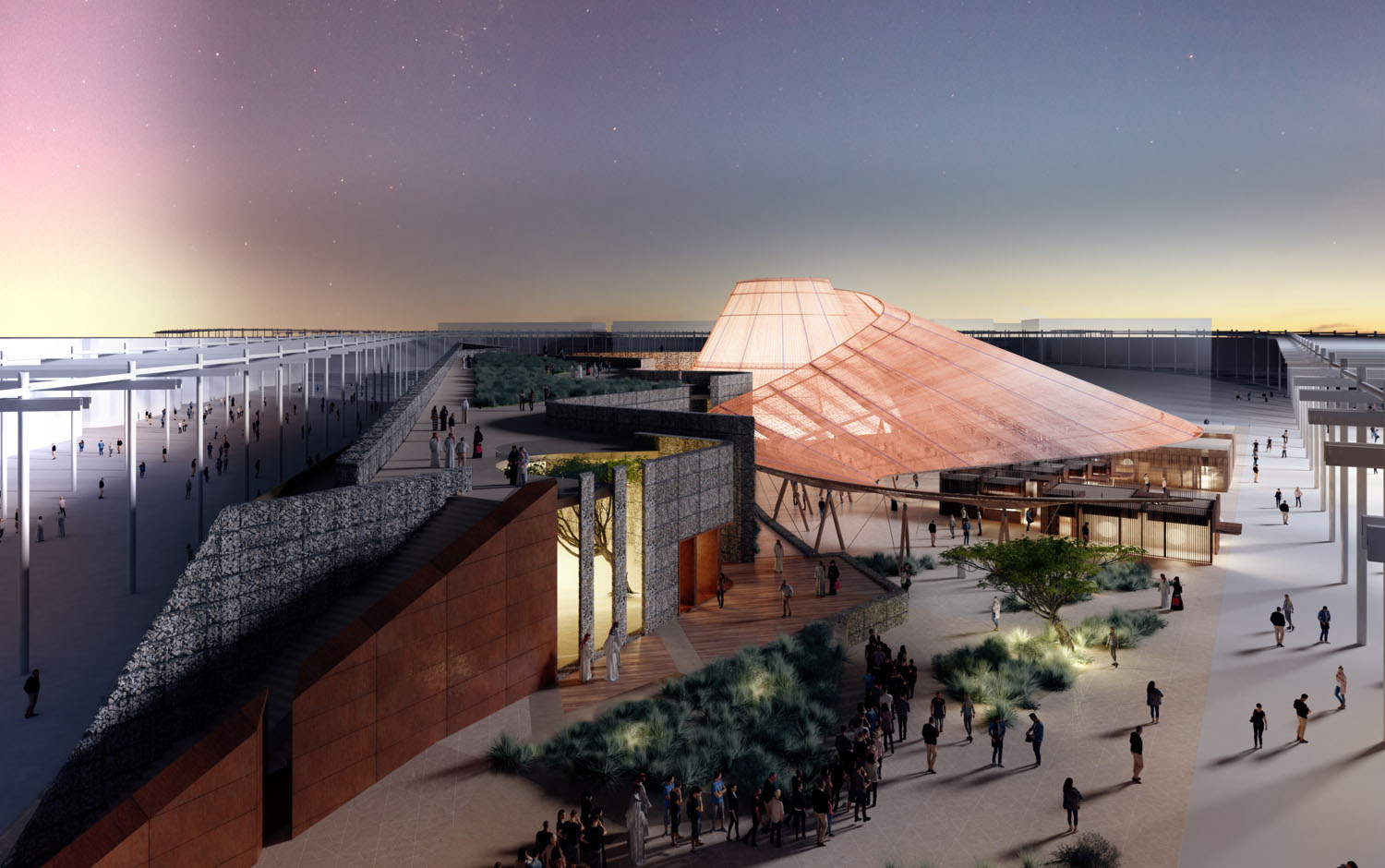 The Opportunity Pavilion will also house 'Small Steps, Big Leaps', Expo 2020's Global Best Practice Programme. Introduced by the Bureau International des Expositions (BIE), the body that oversees the running of World Expos, the initiative calls for every World Expo to showcase successful and impactful solutions to the world's biggest challenges.
Simple yet impactful, these solutions can be developed and implemented by nations, businesses, international organisations, educational institutions, communities or even creative individuals. 
Maha Al Gargawi, Director, International Participants at Expo 2020 Dubai, said: "At Expo 2020, we believe small changes can have a big impact, so we are working to ensure our visitors have the opportunity to learn how their individual actions can play a role in solving issues that are faced by people in every corner of the world. 
"We want the Opportunity Pavilion to leave people feeling engaged and inspired about how they – like everyone else – can become a force for change that will help to make the world a better place."
Pavilion designer Cox Architecture is currently working on two other regional projects: the Dubai Sentinels and the Oman Across Ages Museum. The company is also involved in the construction of The Green Spine project in Melbourne, which is set to become Australia's tallest building.
Expo 2020 Dubai, the first World Expo to be held in the Middle East, Africa and South Asia (MEASA) region, will run for six months from 20 October, 2020 to 10 April, 2021. It is expected to attract 25 million visits, with an unprecedented 70 per cent of visitors projected to come from outside the UAE – the largest proportion of international visitors in the 167-year history of World Expos.
Opportunity Pavilion factsheet 
The Opportunity Pavilion will place millions of visitors at the heart of human development and celebrate the progress made towards achieving the United Nations' 2030 Agenda for Sustainable Development
Visitors will be taken on engaging and interactive journeys that will feature decision-making and gaming components
They will be encouraged to explore how individual choices and actions can make a positive, collective contribution to global causes
The Opportunity Pavilion will be 4,500 sqm in size
It will be constructed from natural and organic materials such as timber, rope and stone
All of the materials are recyclable and no concrete will be used in the pavilion's construction
Its spiral-shaped canopy will be made from approximately 111 kilometres of woven rope
About 2,500 tonnes of stone will be used in the construction of the pavilion
The pavilion's surrounding area will feature food and beverage, retail, seating, entertainment and grassed areas
It will feature a 'rope and light' theme throughout, with intertwined ropes reflecting the coming together of people to contribute to human progress
The Pavilion is designed by Australia-based Cox Architecture, and UK company Event Communications will curate the exhibition
Categories