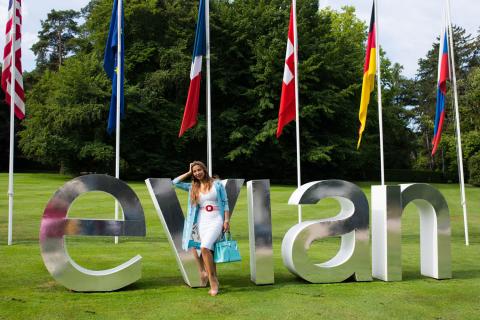 In a Step that Complements its "Live young" Spirit
evian®, the worldwide leader of natural mineral water has appointed Middle East's renowned Dubai-based beauty expert Joelle Mardinian as its brand ambassador in the Middle East region.
Joelle is a highly influential award-winning beauty consultant, TV host, and founder of Maison De Joelle beauty salons and Clinica Joelle aesthetic clinics across MENA. In the region, she began her TV journey on MBC with "The Joelle Show" where she realised her passion for beauty and in living a healthy lifestyle. Through her beauty empire, Joelle offers a line of skin care & hair care products under the umbrella "Joelle Paris", and has a whopping 7.9 million followers on Instagram.
"Joelle Mardinian signifies what evian®'s "Live young" spirit represents," said Franck Escudier, Marketing Director for evian Volvic International of Danone. "Joelle is an inspirational figure for many across the region. Her determination and focus on adopting and living a healthier lifestyle perfectly resonates with our brand. Complimenting evian®'s "Live young" spirit which is about being able to reconnect with one's youthful spirit to have a fresh, optimistic and open attitude towards life, Joelle is surely the right fit to further leverage our presence in the region." Escudier added.
"I'm very excited and happy to be a part of the evian® family. I do my best to educate, inspire and help individuals to realise the inner beauty within themselves and with evian® going by the same values, believe I have found the perfect match to help pass on the message of living a well-balanced and successful lifestyle." said Joelle Mardinian.
evian® natural mineral water traces its roots to the birth of the millennial French Alps among the mountains and the glaciers. Each drop of evian® begins as rain or snow high in the pristine peaks of the French Alps, and then travels through a vast mineral aquifer deep within the mountains before being bottled directly from the unique source in Evian-Les-Bains. This 15-year journey is the secret to evian®'s original purity and preserved quality giving it her constant mineral composition and taste.
True to its essence as best choice for healthier hydration and well-being, evian® natural mineral water has always been an embodiment of a playful and fresh attitude towards life through its "Live young" spirit.
Categories