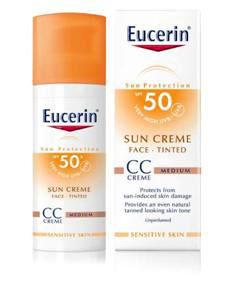 An effective sunscreen and unified complexion that instantly gives you a healthy, radiant look – Eucerin® Sun Creme Tinted CC combines these two essential elements. 

The good news: More and more people know about the risks of sun exposure and sun-caused cell damage. This had been shown by a study conducted in Hamburg and Cologne (Germany) and Santiago de Chile (Chile).1 With today's detailed knowledge about the risk of UV exposure people feel more and more that they have to protect themselves. There is an increasing number of women who use sunscreen products daily and all year long.
Awareness of sun risks increases
Although they long for the vitalizing and relaxing effects of the sun, overexposure can also be a risk associated with skin aging, cell damage and even skin cancer. Culturally, in the past decades, the focus has shifted from the joy of intense sunbathing and deep tans to a higher awareness of the risks of the sun, the need to protect oneself and finding a moderate and sensible approach to enjoying the sun. But that doesn't mean women want to say goodbye to looking fresh and healthy. Particularly after the winter they want that tanned look again. However, when winter ends is when the risks of sunburn and photoaging are highest, especially for sensitive skin types.
Complexion correction for a fresh look
Does avoiding the sun and thoroughly protecting skin have to mean giving up the natural tanned looking skin that many women love so much? Not anymore. Now Eucerin® has a solution: the new and improved Eucerin® Sun Creme Tinted CC "Medium" with SPF 50+, also suitable for sensitive skin. The CC cream combines the sun protection effect with an immediate complexion correction for an even and natural-looking tanned skin tone. It also covers uneven complexions like skin prone to acne or blemishes and hyperpigmented skin areas. And the high SPF prevents the pigmentation spots from getting darker and the appearance of new ones.
In addition to superior photo-protection, the Sun Creme Tinted CC also contains color pigments that the skin absorbs instantly, and do not accumulate in fine lines or wrinkles. The content of color pigments is lower than in common foundations, allowing both nuances to better adapt to the individual skin color and resulting in a natural, unified complexion. Thanks to the soft pigmentation, you needn't fear harsh lines or an unsmooth transition along the jaw line.
1 "Psychology of Sunbathing", Rheingold Institut GmbH & Co. KG, April 2015
Two benefits in one product: a very high SPF and an even complexion
The new Eucerin® Sun Creme Tinted CC SPF 50+ combines the dermo-cosmetic skin care expertise of Eucerin® with the trend of BB and CC Cremes. In fact, the trend has started in Germany and shows no signs of slowing down. BB creams were developed to protect the very sensitive skin of patients after an operation. When the creams reached the Asian market, people began using them as beauty products because they offered a natural but improved complexion. CC creams focus on the same aspect – they correct the complexion ("CC") for a unified and even look.
The product has a pleasant light texture, yet highly effective and photostable. UVA/UVB filters combined with their unique Biological Cell Protection actively protect against sun-induced skin damage: Licochalone A, a powerful antioxidant, protects skin cells against damage caused by free radicals and prevents the further darkening of pigment spots. Liquorice extract provides natural antioxidant protection. Glycyrrhetinic Acid, which is also nature-derived, supports to protect the DNA in the cell nuclei that can be damaged by solar radiation and it helps to even promote its repair. The light cream texture is non-comedogenic and perfume-free. Dermatological and clinical studies have proven the efficacy and high skin tolerability on sensitive skin of Eucerin® Sun Creme Tinted SPF 50+ CC.
The product can be combined with all other Eucerin® products.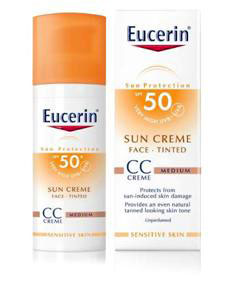 Eucerin® Sun Creme Tinted CC SPF 50+ "Medium" for sensitive skin
Warm shade for a medium to olive complexion 50 ml is available in leading pharmacies in Lebanon for approximately 50,000 LBP
About Beiersdorf AG 
Beiersdorf AG is a leading provider of innovative, high-quality skin care products and has over 130 years of experience in this market segment. The Hamburg-based company has over 17,000 employees worldwide and is listed on the DAX, the German benchmark equities index. Beiersdorf generated sales of €6.7 billion in financial year 2015. NIVEA, the world's No. 1 skin care brand*, is the cornerstone of the company's brand portfolio, which also includes brands such as Eucerin, La Prairie, Labello, and Hansaplast/Elastoplast. Beiersdorf's wholly owned affiliate tesa SE, another globally leading manufacturer in its field, supplies self-adhesive products and system solutions to industry, craft businesses, and consumers.
* Source: Euromonitor International Limited; NIVEA by umbrella brand name in the categories Body Care, Face Care and Hand Care; in retail value terms, 2014.
Categories