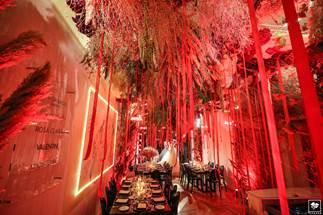 A boutique in the heart of Beirut, celebrates "Love" and "Joie de vivre", in style. Amidst a love-rekindling atmosphere, Esposa Privé partnered with jewelry brand Laurence & Gerard Tufenkjian to celebrate Valentine's in its transformed flagship store in Downtown, Beirut.
Held on February 12, the love event gathered celebrities and VIPs, in the presence of Esposa Group owners, around a fancy seated dinner catered by Cat & Mouth. The warm ambience was beautifully instilled by the Valentine-themed touch of Marwan Hamza adorning the store's interior with cages, hearts, and love neon signs, while the main show was hosted by Lebanese famous stylist Cedric Haddad.
Starring the night, Cedric delighted the guests with carefully-chosen looks of fashion from Esposa Privé's bridal and evening collections. Bridal creations from Esposacouture, Viktor & Rolf, Marchesa, and Monique Lhuillier, as well as evening dresses from Isabel Sanchis and Yolancris were showcased by models, not only dressed in luxurious fabric, but also in sublime diamond sets by Laurence and Gerard Tufenkjian to complete the looks of love.  
Amidst a beautiful evening ambience, guests had the chance to witness an emotional harmony between textile, cuts, colors, craftsmanship, and innovation, as demonstrated by Cedric Haddad, but mostly a night where fashion, art, and love combined beautifully to unveil an explosive synergy of local and international talents.
The models were embellished by Mounir's hairstyle art and Fady Kattaya's makeup, jazzing up the event under the lens of Parazaar Production.
Categories