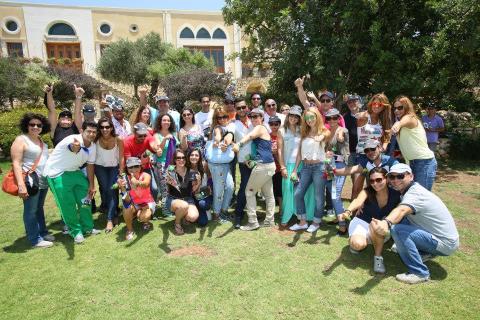 Audi - June 2014
Beirut June 2014:. Kettaneh F. A and Castrol organized a tour under the title "Escape the busy" city 2014 on Saturday, June 28 for the owners of Audi Q3 cars in Lebanon which is available in three engines and all-wheel drive.
The participants dashed towards the Batroun region where they spent an entertaining day in Karaon village during which they took part of various activities and recreational games.
This event comes as part of the various activities and the continuous efforts made by the company in order to introduce the lebanese market to the new models of Audi cars being unique and stylish vehicles in terms of design and outstanding performance.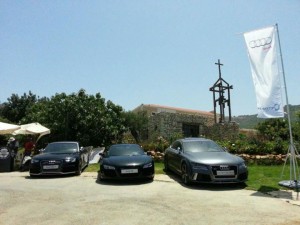 More about Audi: The Audi Group delivered approximately 1,575,500 cars of the Audi brand to customers in 2013. As one of the most successful models, the Audi A3 has been awarded the title of "World Car of the Year 2014" by an international jury of journalists (combined fuel consumption in l/100 km: 7.1 – 3.2; combined CO2 emissions in g/km: 165 – 85). In 2013, the company reported revenue of €49.9 billion and an operating profit of €5.03 billion. The company operates globally in more than 100 markets and has production facilities in Ingolstadt and Neckarsulm (Germany), Győr (Hungary), Brussels (Belgium), Bratislava (Slovakia), Martorell (Spain), Kaluga (Russia), Aurangabad (India), Changchun (China) and Jakarta (Indonesia). Since the end of 2013, the brand with the Four Rings has also been producing cars in Foshan (China). In 2015, Audi will start production in São José dos Pinhais (Brazil), followed by San José Chiapa (Mexico) in 2016. Wholly owned subsidiaries of AUDI AG include quattro GmbH (Neckarsulm), Automobili Lamborghini S.p.A. (Sant'Agata Bolognese, Italy) and Ducati Motor Holding S.p.A. (Bologna, Italy), the sports motorcycle manufacturer. The company currently employs more than 73,500 people worldwide, of which more than 52,500 in Germany. Total investment of around €22 billion is planned from 2014 to 2018 – primarily in new products and sustainable technologies. Audi is committed to its corporate responsibility and has anchored the principle of sustainability for its products and processes in its strategy. The long-term goal is CO2-neutral mobility. AUDI AG's commitment to the region was confirmed through the foundation of its fully owned subsidiary in 2005. The current Middle East model range comprises the Audi A1, A3 and S3 Sedan, A4 and RS 4 Avant, the A5 Coupe, Sportback, Cabriolet and RS 5, the A6, S6 & RS 6 Avant, A7, S7 & RS 7, A8 L & S8, the Audi Q3, Q5 and Q7, the Audi TT Coupe/Roadster and TT RS Coupe, the Audi R8 Coupe and R8 Spyder as well as R8 V10 plus.
Categories