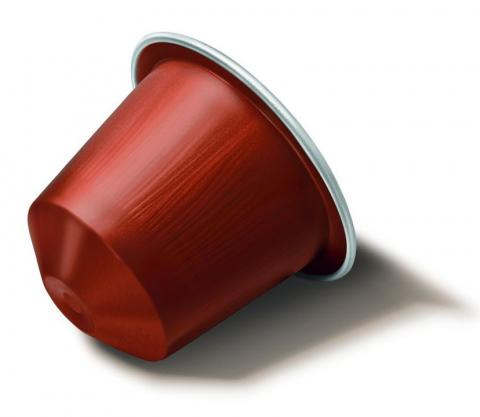 Introducing the intense Lungo to make the pleasure of your morning coffee last
The first sip of coffee in the morning is a blissful moment of sheer pleasure. Inviting coffee lovers around the world to savour this moment for longer, the coffee experts at Nespresso have created a new permanent addition to their range – introducing Envivo Lungo. An intense Lungo to enliven the senses and help start the day right.
New Envivo Lungo (intensity 9 on the scale from 1 - 12) is the most intense of the Nespresso Lungo range with a sumptuous and unique flavour. This dark roasted coffee is a blend of distinctive Arabica from India with a Robusta from Mexico, with roasted notes and rich scents reminiscent of aromatic woods and gingerbread.
Alexis Rodriguez, Head of Coffee Development at Nespresso commented, "We carefully crafted Envivo Lungo with a high proportion of Robusta coffee beans to produce a strong, full bodied coffee. We specifically use washed Robusta which gives a more refined taste to deliver a final product that is intense but without any harshness on the palate."
The Nespresso intensity scale has been created to help consumers differentiate between their favourite Grands Crus. The intensity is defined by looking at three aspects – an evaluation of the roasted notes, the bitterness and the body. Envivo Lungo is ranked towards the top of this scale at intensity level 9 meaning that those who enjoy a long, intense cup of coffee in the morning now have the perfect option that offers delicious caramelised notes. When creating the new Grand Cru, the Nespresso coffee experts were inspired by the traditional morning coffee that many consumers savour with milk in a longer serving size so Envivo Lungo also marries perfectly with milk, maintaining its distinctive intense flavour for a deliciously rich and full-bodied start to the day.
Envivo Lungo joins the range of five existing Nespresso Lungos, all designed to be enjoyed at a 110ml serving size:
Fortissio Lungo – Intensity 8 – Rich and full-bodied
Linzio Lungo – Intensity 4 – Round and smooth
Vivalto Lungo – Intensity 4 – Complex and balanced
Bukeela ka Ethiopia – Intensity 3 – Floral and wild (Pure Origin)
Vivalto Lungo Decaffeinato – Intensity 4 – Complex and balanced (Decaffeinato)
ENVIVO LUNGO FLAVOUR PROFILE
Envivo Lungo is a long cup that stimulates the senses through its intense and generous character, high intensity and high body. Delight your senses with aromatic dry wood, gingerbread and caramelised notes followed by an intense and pleasant after taste.
Intensity: 9
Serving size: Lungo (110ml)
Envivo Lungo will be particularly appealing to the intense espresso lovers that are searching for an intense long cup. Those who prefer coffee with milk can also delight as Envivo Lungo is equally delicious with milk, becoming rounder in flavour and maintaining its intense character.
Savoured as a Lungo Macchiato, with a touch of milk froth, Envivo Lungo becomes rounder while keeping its intense character. Enjoyed as a Latte Macchiato, combined with the smoothness of milk froth, the Envivo Lungo Grand Cru expresses softened woody notes while developing round, indulgent and buttery aromatics.
Envivo Lungo is a permanent addition to the Nespresso range which now consists of 24 Grands Crus, will be available as of Mid of June 2016  from Nespresso boutiques in ABC Achrafieh (Level 0) and ABC Dbayeh (Level 3), as well as via the Nespresso Customer Care Centre by calling (+961) 5 953 700 and online at www.buynespresso.com
Cinnamon Speculos Delight
Spicy Viennois
Banana Caramel Dessert
Envivo Old Classic Cocktail
Categories