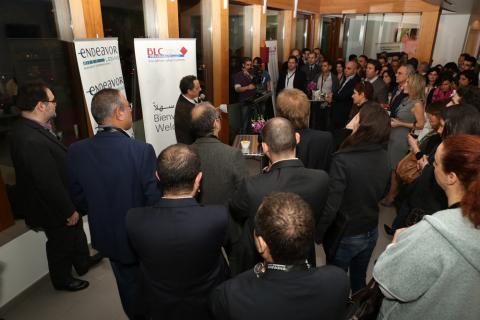 Endeavor Lebanon and BLC Bank Announce Partnership to Launch a Workshop Series program for Endeavor Entrepreneurs in Lebanon
Endeavor Lebanon and BLC Bank announced a new partnership to support Endeavor Entrepreneurs in Lebanon. With a tailored workshop program, the partnership aims at enabling the entrepreneurs to better weather the challenges of growing their businesses. The partnership marks a first-of-its-kind program, tying a leading financial institution in Lebanon to the country's high-impact entrepreneurs. "Our vision serves to continuously support SMEs by extending comprehensive business solutions that include financial as well as non-financial services to nurture their growth. This collaboration with Endeavor is a natural part of BLC Bank's genuine commitment to SMEs in Lebanon" said Raoul Nehme, General Manager of BLC Bank. Delivered by expert business leaders in various fields, the program consists of a series of workshops on topics relevant to the challenges faced by entrepreneurs as they grow and expand their businesses. Leadership development, corporate governance, leadership best practices, human resources management, employee retention and change management are some of the workshops already lined up for 2015. The workshops are also open to Endeavor Entrepreneurs from around the region, namely, Jordan, Egypt, Dubai, Morocco and Saudi Arabia. "Endeavor and BLC have collaborated on a number of initiatives in the past that promote the growth of Lebanese entrepreneurs", said Tarek Sadi, Managing Director of Endeavor Lebanon. "With this particular program, Endeavor Entrepreneurs will benefit from personalized training in areas where they need it most, which will certainly have an impact on their organizations and on the economy.  In addition to the We Initiative and the Brilliant Lebanese Awards, this BLC initiative is another way the bank is demonstrating its leadership in the SME sector". Through different initiatives and programs, BLC Bank has proven its commitment to supporting the growth of successful SMEs in the country. The BLC Brilliant Lebanese Awards has become an annual date and platform that recognize the country's most talented entrepreneurs, and establish nationwide role models across all industries.
For Endeavor Lebanon, the partnership with BLC Bank is the organization's 9th partnership established with private sector companies, to support its entrepreneurs across the spectrum of business functions. Endeavor Entrepreneurs are additionally mentored by the country's top private sector leaders. In 2014, more than 800 local mentorship hours have been dedicated by more than 50 mentors to Endeavor Entrepreneurs in Lebanon.
Categories