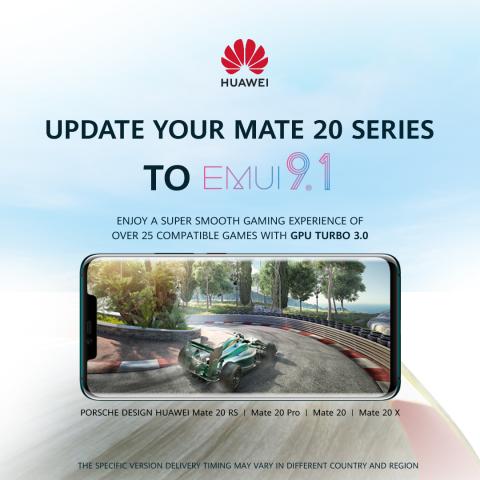 As of June 2019, the new EMUI 9.1 will be available for Huawei Mate 20, Mate 20 Pro, Mate 20 X, and Porsche Design Mate 20 RS. Users of these four flagship models can sign up for the upgrade.
EMUI 9.1 features EROFS, a new super file system with improved file compression and 20% higher random read performance. EMUI 9.1 also upgrades GPU Turbo into version 3.0, supporting 25 games. It improves performance further while reducing device power consumption, bringing you a more stable gaming experience and a high frame rate. The upgrade also brings "moon mode" to the Mate 20 Pro and Mate 20 X, helping you take better moon photos through the super zoom capability of Leica triple cameras. The new "incoming call video show" feature replaces the traditional monotonous system ring tone and interface. Users can set different self-made or third-party videos as the incoming call displays for different contacts.
What are you waiting for? Sign up for EMUI 9.1 now!
EMUI 9.1 is available for Huawei Mate 20, Mate 20 Pro, Mate 20 X and Porsche Design Mate 20 RS as well as P20 lite and Y9 2018.Starting July 2019 it will be available in for Y6 Prime 2019, P20 Pro, Mate10, Mate10 Pro, nova 3i and nova 3, while for P30 lite P10, P10 Plus, Mate9 Pro, Mate9, Y9 Prime 2019 and Y9 2019; it will be available in August 2019.
Stay tuned for announcements.
Before signing up for the upgrade, please read the following precautions:
1. Some third-party apps are incompatible with Android 9.0 and may not work properly after the upgrade. Specifically, crashing, freezing, and faster battery draining may occur. To avoid these issues, ensure that all of your apps are updated on Google Play Store.
2. Ensure that your phone is not rooted.
3. Ensure that your phone has more than 6 GB of internal storage space. Otherwise, the upgrade may fail. To check the remaining storage space on your phone, go to Settings > Storage.
4. Ensure that the current mobile phone version is the baseline version (original software version). (To check the EMUI version your phone is using, go to Settings > System > About phone. If the EMUI version is not the baseline version, update it by going to Settings > System > Software update > CHECK FOR UPDATES.)
If your phone meets the above-mentioned criteria, visit HiCare to sign up for the new EMUI 9.1 experience.
Upgrade application steps:
HiCare App à Apply
EMUI 9.1: Enjoy a higher quality of life
With the convergence of digital life and real life, smartphones and phone operating systems need to provide consumers with an efficient, balanced, and personalized experience. EMUI 9.1 features redesigned themes and icons, improved performance, as well as cutting-edge technologies, bringing you a colorful all-scenario AI experience and a higher quality of life.
Cross-generation cutting-edge technology
1.      New EROFS file system
Huawei has been constantly innovating in operating systems, optimizing Android from the bottom layer up to improve performance. Back in 2016, Huawei pioneered the F2FS file system to replace the EXT4 file system in EMUI 5.1, which was released simultaneously with the Huawei Mate 9. This new file system improved response speed by 20%. The traditional EXT4 file system used by the Linux kernel is suitable for old mechanical hard disks, while the F2FS file system is customized for flash memory. This means that even after over a long time, the read and write performance of the flash memory stays strong.
F2FS only changed the user partition (equivalent to the D disk of the computer) of the Android system. In EMUI 9.1, Huawei innovates in the file system again, becoming the first to use EROFS in the system partition (equivalent to the C disk of the computer). This change brings the following improvements in mobile phone performance:
2.      GPU Turbo 3.0 brings an amazing gaming experience
The P30 series is the first to support GPU Turbo 3.0, which optimizes gaming experience in an in-depth manner and supports 25 popular games, meeting the requirements of the vast majority of players. It supports almost-full-frame running for mainstream games. In addition, AI image scheduling smoothens jagged edges in images, improves clarity in dark environments, enriches image details, and further improves visual experience for players.
Categories