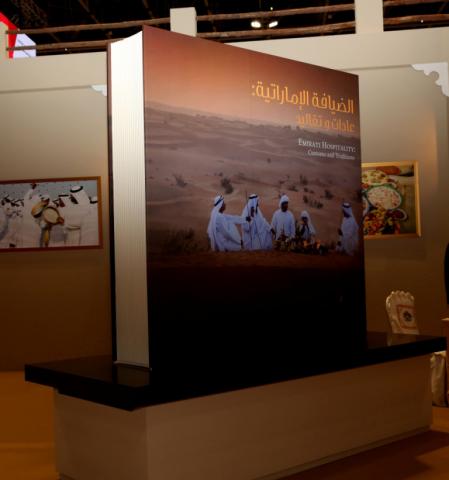 On the second day of "Dubai World Hospitality Championship"
The book allows its readers to taste the distinctive tastes of Emirati cuisine
It unveils the genuine traditions and rituals of Gulf hospitality
Ahmed bin Hareb: The book aims to documenting the elements of Emirati hospitality
Alia' Al Shankiti: The book is considered a reference for young generations
[UAE, 31 October, 2014] – On the sidelines of Dubai World Hospitality Championship, Zaabeel Palace Hospitality launched a book documenting the local heritage under the title "Emirati Hospitality: Customs and Traditions". The book demonstrates principles of Emirati Hospitality, from Bedouin-style welcoming, desert-influenced drinks, cooking instruments, wedding clothes, and other genuine Emirati customs. Talking about the different eras of Emirati heritage, the first edition of the book was signed by H.H. Sheikh Mansoor Bin Mohammed Bin Rashid Al Maktoum.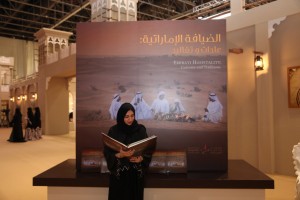 Commenting on the launching of the unique book, H.E Ahmed bin Hareb, President of DWHC, stated that the traditions of UAE's unique hospitality has been carried on from one generation to the following for centuries, deep-engraved customs and families food recipes have been inherited verbally to memorize them, and thus the "Emirati Hospitality: Customs and Traditions" book has managed to document these crucial aspects to demonstrate the essence of original Emirati hospitality and share it with the world.
The Dubai World Hospitality Championship, which was launched under the patronage of His Highness Sheikh Hamdan bin Mohammed bin Rashed Al Maktoum, Crown Prince of Dubai, has been established to celebrate and preserve our traditions, and at the same time, improve the innovation in hospitality sector, added bin Hareb. We hope that the book would achieve its goal in documenting the elements of Emirati hospitality through its texts, photographs, and illustrative and informative drawings.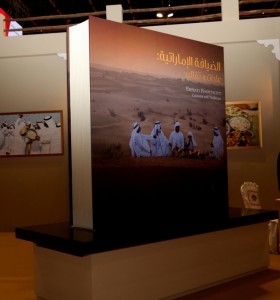 H.E. bin Hareb assured that collaborated efforts of hospitality sector in the UAE has achieved a lot, as the number of chefs and restaurants is increasing and hotels are competing on providing Emirati hospitality, to give food enthusiasts a chance to taste the unique flavors of Emirati culinary and enjoy the warm and generous Emirati hospitality.
"Emirati Hospitality: Customs and Traditions" reviews hospitality traditions in the Arab Gulf, pointing the different historic, cultural and geographic connections between Arab Gulf states (United Arab Emirates, Kingdom of Saudi Arabia, Kuwait, Qatar and Sultanate of Oman), including language, religion and identity of each, however, they share many similarities regarding their culture, justified partially by the life of their ancestors as Bedouin tribes in the region. The book, therefore, relates the traditions of Gulf hospitality to a complicated group of rituals and courtesies that are based on ancient tribal customs.
Alia' Rashed Al Shankiti, Events Manager at DWHC, noted that the book is considered a reference for young generations to learn about the customs of our ancestors and to revive it in them, particularly within the rapid changes in hospitality sector. Al Shankiti reviewed the contents of the book, which are divided into three chapters (Emirati hospitality, Emirati culinary, and chefs and kitchens). The first chapter points to Emirati families receiving their guests with genuine customs that originate to previous times when most families had very few belongings to enable them to prepare a generous meal even to one guest. Nevertheless, these families managed to give their guests a very warm welcome and offer them all possible means of comfort, regardless of the social status or geographic location of the hosting Emirati family. They were hospitable and received their guests with Arabic coffee, Fuala, aloes and frankincense.
Modern Emirati family reflects the balance between tradition and modernism, where many local houses now consist of a "Mabrez" (Majlis), a reception room equipped with traditional Emirati seating, where guests can relax and lean on "Tickee" (pillows), and has chairs and Matareh (matresses).
The book assured that some customs and traditions still exist as before, such as drinking coffee and eating fresh Fuala and desserts at the beginning of each visit, where such customs are considered an essential element of local manners and permanent symbol of Emirati hospitality. Neighbors, families and friends still exchange food dishes and drinks as presents, and rich families still donate food generously to mosques and charities, especially in Ramadan. Public water fridges are a common sight in front of local homes to ease the thirst of passersby and workers on the street. These practices and other are vivid evidence to the traditional and generous Emirati hospitality realized in modern everyday life.
Frankincense and Fuala
The first chapter of "Emirati Hospitality: Customs and Traditions" discusses frankincense, Fuala, Majlis and traditional clothing. The book gives an explanation and the history of inventing frankincense and their uses. The natural scents of sandalwood, rose, henna, saffron and musk are thousands of years old, however they are still present in the UAE and in other areas in the Arab Gulf. They are an integral part of hospitality, as they are used not only in special occasions, but also in everyday life. Aloes and frankincense are part of every social meeting. Women pass a tray of frankincense amongst them in their gatherings to perfume their guests when they leave.
Fuala demonstrate the originality and authenticity of Emirati hospitality. Fuala are a diversity of miniature plates that are given to guests as they arrive, and they are a symbol of hospitality and honoring of the guest. Before fridges, microwaves and heat-preserving Tupperware where invented, Emirati families used to keep the flames under food for a long period, so they can offer their guests a warm fresh Fuala whenever they come.
"Emirati Hospitality: Customs and Traditions" talked about the Mabrez (Majlis), and described it as a main element in Emirati hospitality. The Mabrez is both a location and a social institution, and a milestone in such culture. It is taken as social, intellectual and administrative institutions, that give chance to Emiratis to speak directly to their elderlies and sheikhs, and contributes in reinforcing unity amongst the community by hosting public discussions for many generations.
In the current political system of the UAE, governors still open the doors of their Majalis for the public, especially in general occasions, and as such act many Emirati families. Emirati homes usually consist of two Majalis, one for males and the other for females, and able to host large numbers of guests. Whether they are luxurious or humble, these Makalis reflect an authentic past and remain as the backbone of local community hospitality.
Traditional Clothing
Traditional clothing are one of the most vivid external manifestations of Emirati culture and national identity, whether they worn in public or private locations, daily or on special occasions. These clothing does not only reflect the principles of Islam through their reserved looks, but are also a commitment to local heritage and national pride. The book also demonstrated the stitching details and ancient embroidery of these clothes.
Emirati Culinary
The second chapter of "Emirati Hospitality: Customs and Traditions" discusses the Emirati culinary art with the absence of modern technologies, such as electricity, flowing water, A/Cs and other home appliances. Cooking a meal for a whole family in the past was a challenge to all women across the Arab Gulf. In many occasions, humble homes did not include an independent kitchen, women used to cook in their home's yard using char coal kitchens (Tanur) and barbeque stoves. It was a very difficult mission, especially during summer, as temperatures and humidity are high. Sometimes, food elements were absent from the market for weeks, or people could not afford them. Food used to be distributed amongst neighbors, families, friends and even strangers, and to charity.
The second chapter of the book includes traditional cooking equipment, traditional recipes, Emirati drinks and local commodities. The book notes that Emirati culinary is a fascinating lens, through which portions of the UAE history are displayed. The existence and absence of certain equipment reflects the economic and social development in the region. The absence of such old tools from Emirati kitchens refers to the rapid changes that occurred in the State, but in order to preserve such history, each culinary tool deserves to be documented according to individual Emirati hospitality, as it is a main tool in presenting hospitality as required.
Traditional Recipes
"Emirati Hospitality: Customs and Traditions" highlighted a selection of traditional Emirati plates that reflect part of the flavors and cooking methods adopted in local culinary. The list includes main dishes such as, Fokat Lahem, Matban Lahem, Jasheed, Salounat Lahem, Al Maleh, Fokat Samak, Khameer, and Khanfaroush, in addition to salads and desserts.
Emirati Drinks
The book discussed Emirati drinks in details, as fresh drinks, cold and hot, are considered an integral part of local culinary and hospitality. Emirati coffee is offered all day long, in addition to some salty and sweet snacks. Popular hot drinks include sweetened tea, various types of flavored milk and Namlet, as well as added herbs for their health benefits (Pleases refer to the informative drawing in following pages). During hot summer days, the popularity of fresh fruit juice is not a surprise, as small stores offer a wide selection of colorful fruit juices.
Amongst the most famous juices is "Sharbat", which is an old Arab name for drinks. Other famous juice names were borrowed from English and from trademarks of concentrated juices, such as "Vimto" (produced in 1908) and "Tang" (produced in 1957) and is highly popular, especially in Ramadan. These names are not only highly famous in Arab Gulf states, but in also in all Arab states.
Traditional Products
The Section of traditional products in "Emirati Hospitality: Customs and Traditions", includes some essential long-living food products that Emirati chefs tend to prepare and store in large amounts, to use them later in a wide selection of plates. These products arrange from spices to dried and fatty elements. These Emirati food supplies have been used in local culinary for several generations even before fridges were sold in the region, especially that they are made of simple components, are easy to store, have a long expiry period that lasts for months. These are essential attributes for food used by ancestors and nomads.
Preserving these products as supplies for long trips was a matter of life and death to those who crossed desserts and sailed in sea when food becomes scarce and weather gets dry. Nowadays, these products still exist and are used in most Emirati homes. 
About Dubai World Hospitality Championship 2014:
Under the directives of His Highness Sheikh Hamdan bin Mohamed bin Rashed Al Maktoum, Crown Prince of Dubai, Za'abeel Palace Hospitality organises the Dubai World Hospitality Championship 2014, an initiative that seeks to spotlight Dubai amongst the finest multicultural culinary destinations of the world.
In its second edition, the Dubai World Hospitality Championship 2014 will take place from 30 October to 1 November at the Dubai World Trade Centre. The event comprise of four main competitions: The International Competition, The Emirati Competition and The Hospitality Sector Competition. The GCC Products Competition. The championship will witness12 globally renowned culinary masters, Emirati professional and amateur chefs and more than 700 chefs vying for top honours through showcasing their creativity, mastery and professionalism in crafting international and Emirati cuisine. More importantly, DWHC is the first and only event of its kind that highlights the rich and intricate traditions of Emirati cuisine and hospitality to the world.
Supported by the World Association of Chefs Societies (WACS), the Emirates Culinary Guild (ECG) and Dubai World Trade Centre, as well as the support of the strategic partners "Emaar Properties" and "SME", the diamond partners "Dubai Mall" and "At the Top Burj Khalifa", the Official Airline Carrier
"Fly Dubai", the Official Media partners "Dubai Press Club" and "DMI" and the Official Hospitality partner "The Meydan Hotel", in addition to CPI, DIWA and Dubai World Trade Center. The debut edition of the championship will host a culinary museum and a model heritage village displaying traditional handmade products and offering popular Emirati food for sampling. The event will offer free access to the public.
Categories