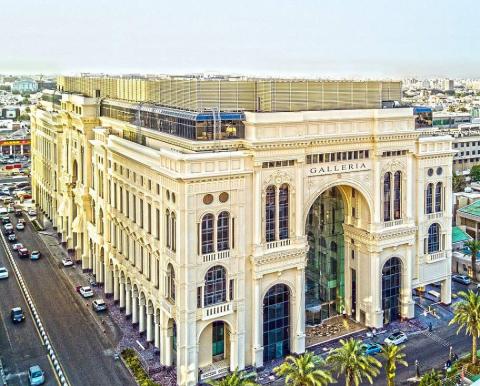 Soft opening of Elaf Galleria further solidifies Group's leading presence in Saudi Arabia
The Elaf Group, a SEDCO Holding Group company and a leading provider of travel, tourism and hospitality services, recently opened a new five-star city hotel in Jeddah. The soft opening of Elaf Galleria is part of the Group's strategic expansion plans aimed at further solidifying its leading presence in the Kingdom of Saudi Arabia's flourishing tourism and hospitality sector. The initiative complements the goals and objectives of Saudi Vision 2030 to support the national economy by promoting tourism.
The Hotel Galleria by Elaf is a landmark inspired by the famed Galleria Vittorio Emanuele II in Milan, Italy, designed in 1861 and built by Giuseppe Mengoni. The hotel has 364 rooms spread across 7 floors on two separate wings enclosed by a vaulted glass and metal roof. The property also features banquet and luxurious events facilities, an Executive Lounge and other recreational facilities including a health club and spa. Restaurants providing fine dining inside the hotel include The Kitchen, El-Vaquero, The Birdcage, Milano and Aqua.
Ziyad Bin Mahfouz, CEO, Elaf Group said: "The opening of Hotel Galleria by Elaf in Jeddah is in line with ongoing efforts to strengthen our leading presence in the KSA and the rest of the GCC. The country's booming tourism industry, as reflected by its continuous year-on-year growth, allows room for such developments. We remain committed to our goal of supporting Saudi Vision 2030's objective of reinforcing the national economy with non-oil revenue sources by providing the highest quality of hospitality services to our guests."
Established in 1981, Elaf Group is widely considered as a leading travel and tourism brand within the region. It is a pioneering and innovative market leader that greatly continues to provide premier regional travel and tourism services in collaboration with major airlines.