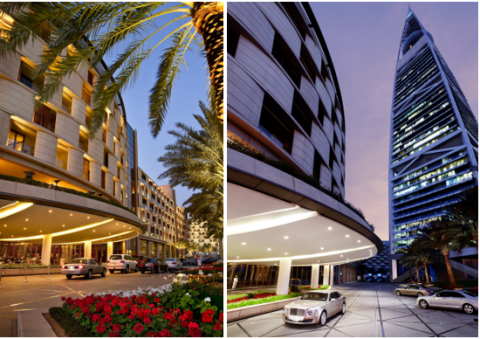 Riyadh's most sought-after property is offering guests exclusive packages for Eid Al-Fitr as well as for the upcoming summer months.
Eid Al-Fitr
Al Faisaliah Hotel Riyadh is spreading the warmth of Eid-Al Fitr with its festive culinary celebrations. Join us this Eid as we celebrate the hotel's extensive breakfast offers at La Cucina.
The elegant Italian restaurant La Cucina will be serving an extensive breakfast buffet on the second day of Eid Al-Fitr, while also opening its doors for lunch and dinner. The hotel's dramatic three-storey dome and world class restaurant 'The Globe', , will also be serving its exceptional à la carte menu for dinner from 8pm onwards. The experience will be open for lunch and dinner from 11am onwards.
Make this year's Eid Al-Fitr holiday a memorable experience for all members of the family with a dining experience at Al Faisaliah.
Rooms and Suites Summer Packages
There is nowhere better to escape the summer heat than with a family getaway at the luxurious Al Faisaliah Hotel. Conveniently located in the heart of Riyadh, the hotel is renowned for its elegant, oversized rooms and suites as well as its high-end amenities – all underpinned by excellent service.
With a separate spa, fitness centre and swimming pool for both women and men, the whole family can indulge in some downtime to make the most of a relaxing break in the Kingdom. Guest booking 10 days in advance from now until August 31 can avail of the hotel's special offer which includes early check-ins, late check-outs and a 10 per cent discount at all of their noteworthy restaurants.
Additional offers are also available when you call directly to book which include special rates, free cancellations until 15:00 on the same day and complimentary access to 'The Globe' experience.
Spa Packages during Eid-Al Fitr and Summer
Guests checking in this Eid-Al Fitr and throughout the summer months will receive complimentary ESPA products when they book a one-hour massage. Couples booking treatments will also receive a 15 per cent discount with treatments for ladies taking place at in Al Faisaliah Spa by ESPA, while men enjoy their treatments at Al Faisaliah Men's' Spa.
Categories