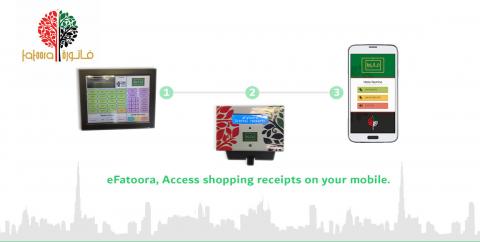 Digital adaptable technology with seamless integration
Newly launched app supports environmental sustainability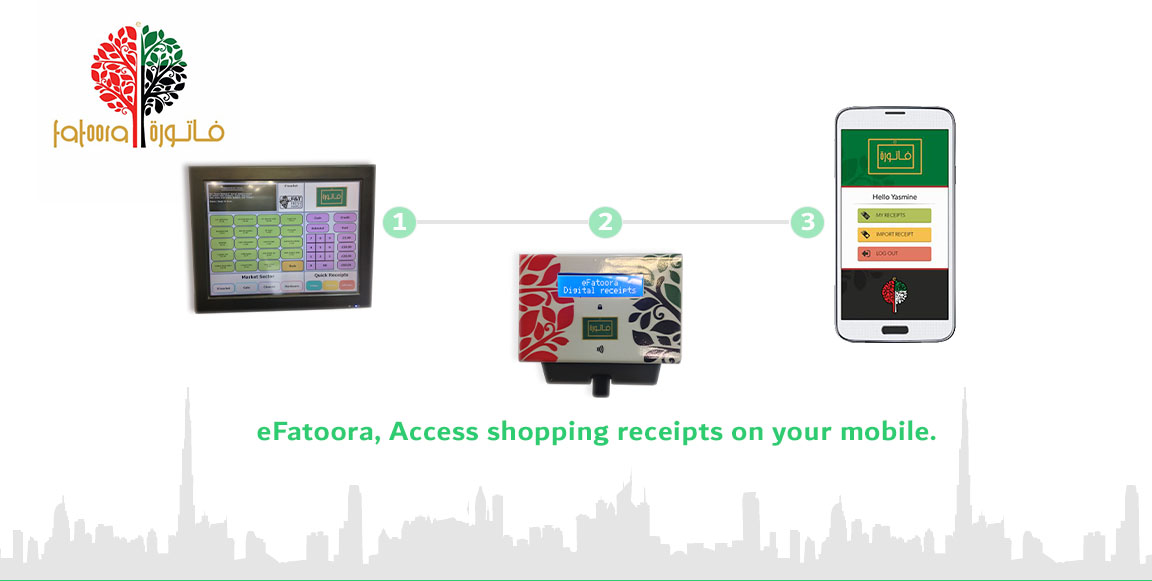 eFatoora, a smart and sustainable solution, is being launched in Dubai following lab testing and pilots with key partners in the UAE. eFatoora offers an effortless, non-disruptive experience to consumers. The launch of eFatoora complements the Smart Dubai initiative, which is a visionary effort undertaken by the Emirate to transform it into the world's smartest and happiest city by ensuring the sustained happiness of its citizens, residents and visitors by 2021.
Modern technologies continue to transform retail in order to address consumers' demand for more convenience and improved experience. Moreover, retailers are ready to spend on their consumer experience teams and technologies to develop a better understanding of their customers and pacing to fulfil the expectations of an increasingly digital customer base. Aligning the latest technological advancements in digital receipts, eFatoora offers a comprehensive range of engagement modules which allow retailers to communicate with customers in a fresh and interactive manner. It captures all itemized real-time transaction data, which is easily accessed by retailers allowing them to provide bespoke offers to a specific customer according to their shopping behaviour. The rich data captured can then be seamlessly converted into customer-specific incentives such as rewards, promotional offers, and loyalty points. Retailers can also partner with the eFatoora app with their existing loyalty schemes allowing them to add the extra benefit of a paperless receipt without disrupting their relationships with customers.
Yasmine Khan, CEO, eFatoora, said: "In the last five years, there has been a robust development in concepts for the capture, management and storage of digital receipts and documents. With the goal to minimise environmental footprint, eFatoora offers a ready, tried solution that can reduce paper waste in any environment, taking into consideration block chain technology that we have readily available here in the UAE. eFatoora offers a digital receipt via our mobile application, and for those without a smart phone, digital receipts can be uploaded to the dedicated web portal or existing NFC, QR or bar code loyalty cards. More commonly there is also an email version. eFatoora is a turnkey management system, that compliments the efforts of HH vision 2021."
The eFatoora app will contribute significantly in reducing the carbon footprint as millions of tonnes of paper is wasted in unwanted receipts and documents. Interestingly, the paper and pulp industry is the single largest consumer of water and third largest emitter of greenhouse gases – with each tonne of paper produced generating 1.5 tonnes of carbon dioxide equivalent as well as massive deforestation. Since paper production has surpassed 445 million tonnes in recent times, the use of eFatoora will contribute towards environment sustainability.
"eFatoora is a 'plug-and-play' system that offers seamless integration for retailers, government departments, the hotel industry, healthcare and the security sector; it is easy to install without additional signups, cards or alterations to point-of-sale systems or existing privileges programs. eFatoora is not resident on any POS.  Capable of working with blockchain and equipped with its own crypto currency, e-check ins for hotels, and edocuments, it is adaptable and can provide quick bespoke solutions. We are currently in final stage discussions with key partners for the implementation of the eFatoora platform. As 2017 is the year of giving, eFatoora has also dedicated funds to planting new trees in the UAE on a monthly basis as part of the initiative to try and increase the awareness of environmental sustainability.
At a time when more enterprises are adopting green methods, re-aligning basic practices in information technology can play a driving role in making us environmentally responsible and eFatoora is one such way," concluded Khan.
The solution is a simple, adaptable and seamless process that not only enhances the retail experience, but is also quick, convenient and frictionless. The process of deploying eFatoora is fast and can be completed in four simple steps. After downloading the app, consumers can browse all retailers available on the app. Immediately after the first purchase, a unique tag ID is sent to the customer and used to register on the app. Following registration eFatoora can be used at any eFatoora station effortlessly. eFatoora is a highly-secured app that ensures consumer privacy and protects them from fraud, scams and unsolicited marketing.
Categories