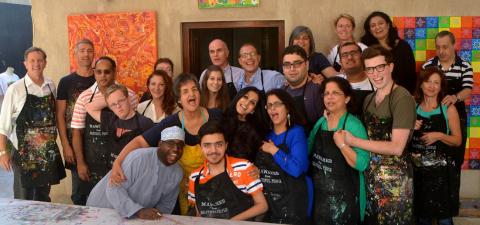 DuPont Community Fund Program gives back to the local community
UAE, December 14, 2014 – DuPont recently visited Mawaheb from Beautiful People, an art studio for adults with special needs as a part of its DuPont Community Fund [DCF] Program. DuPont has demonstrated a strong sense of community and social responsibility since the company was founded in 1802. The DCF Program addresses one or more components of community sustainability including social progress, economic success and environmental excellence.
Collaborating with Mawaheb from Beautiful people, DuPont engaged in a fun and exciting activity themed "What are you thankful for?" where the teams reflected on what makes them grateful. The responses were then crafted creatively in a joint art masterpiece on a large canvas.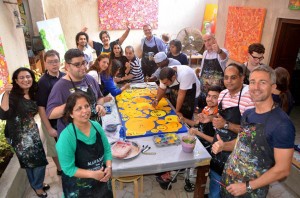 "At DuPont, we care for our communities. As a part of our core values, we respect the society where we operate and believe in empowering individuals to build their self-advocacy skills to gain independence. We were honoured to collaborate with Mawaheb From Beautiful People. Engaging with the talented student artists was truly an enlightening experience and we hope that DuPont contribution can further foster their growth and development. The magnificent piece of art proudly adorns our office wall," said Amin Khayyal, General Manager, DuPont United Arab Emirates.
"The concept of Mawaheb From Beautiful People is to promote positive development in adults with special needs and to make valuable contributions through art and creativity. We would like to thank DuPont for their support. The event has proven to be a positive experience for everyone involved, while especially motivating our students to enhance their creativity. We feel that through these activities, we are really achieving our objectives, which is to integrate people with special needs amongst our society," stated Wemmy de Maaker, Managing Director, Mawaheb from Beautiful People.
The 2014 DuPont Community Fund has awarded nearly 76 projects worldwide, 12 of them in 9 countries of Europe, Middle East and Africa [EMEA] region, including United Arab Emirates [UAE].
DuPont (NYSE: DD) has been bringing world-class science and engineering to the global marketplace in the form of innovative products, materials, and services since 1802. The company believes that by collaborating with customers, governments, NGOs, and thought leaders it can help find solutions to such global challenges as providing enough healthy food for people everywhere, decreasing dependence on fossil fuels, and protecting life and the environment.  For additional information about DuPont and its commitment to inclusive innovation, please visit http://www.dupont.com.
Categories