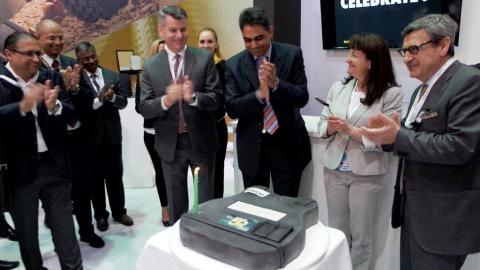 UAE, March 10, 2015 –
DuPont Protection Technologies celebrated the 50th anniversary of Kevlar® at the recently concluded International Defence Exhibition and Conference (IDEX) held in Abu Dhabi, UAE. An advanced, high strength fiber for ballistic and cut protection, Kevlar® was invented by DuPont after its scientist Stephanie Kwolek discovered the first liquid crystal polymer in 1965. An advanced material synonymous with strength, durability and performance in extreme conditions, the polymer has been used in applications ranging from space suits and body armor to sporting equipment and cell phones.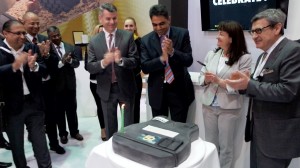 Products made from DuPont™ Kevlar® for the defence sector such as Military Soft Body Armor, Ballistic Police and Military Helmets, Tactical Vests, and Vehicle Amour were displayed at IDEX 2015. "As IDEX is one of the world's most important and strategic tri-service defence exhibitions, we wanted to use it as a platform for exhibiting our solutions for the region's defence sector" said Maher Emil, Regional Manager, DuPont Protection Technologies. "At the same time, we wanted to celebrate the 50th year of continuous innovations with Kevlar
®
which was attended by senior officials and decision makers from the region and the world. As we successfully complete five glorious decades of DuPont™ Kevlar
®
in offering superior protection along with comfort and mobility, we want to reiterate that we will continue to innovate and provide defence organizations with solutions that challenge boundaries and defy limits." Our recently announced Dare Bigger™   brand campaign for Kevlar® represents the breadth and versatility of the Kevlar® technology platforms that enables customers, engineers and scientists to Dare Bigger™ with their product designs and tailors Kevlar® to their needs and make a difference when performance and safety are crucial. Best known for its use in ballistic and stab-resistant body armor, Kevlar
®
has helped to save the lives of thousands of people around the world that Dare Bigger™ every day. The use of Kevlar® technology has been extended to everything from fire fighter and industrial protective clothing to vehicles, fiber optic cables, mining belts, commercial aircraft and city roads. Kevlar
®
fiber is also used in many consumer products such as mobile phones, tires, sporting apparel and equipment. DuPont Protection Technologies is a leader in technologies and products that protect people, the environment and critical assets worldwide. For additional information, please visit
DuPont Protection Technologies
. For media information on the Kevlar 50
th
anniversary, please visit the
DuPont™ Kevlar® Media Center
. DuPont (NYSE: DD) has been bringing world-class science and engineering to the global marketplace in the form of innovative products, materials, and services since 1802.  The company believes that by collaborating with customers, governments, NGOs, and thought leaders we can help find solutions to such global challenges as providing enough healthy food for people everywhere, decreasing dependence on fossil fuels, and protecting life and the environment.  For additional information about DuPont and its commitment to inclusive innovation, please visit
http://www.dupont.com
.
Forward-Looking Statements:
  This news release contains forward-looking statements which may be identified by their use of words like "plans," "expects," "will," "believes," "intends," "estimates," "anticipates" or other words of similar meaning.  All statements that address expectations or projections about the future, including statements about the company's growth strategy, product development, regulatory approval, market position, anticipated benefits of acquisitions, outcome of contingencies, such as litigation and environmental matters, expenditures and financial results, are forward-looking statements.  Forward-looking statements are not guarantees of future performance and are based on certain assumptions and expectations of future events which may not be realized.  Forward-looking statements also involve risks and uncertainties, many of which are beyond the company's control.  Some of the important factors that could cause the company's actual results to differ materially from those projected in any such forward-looking statements are: fluctuations in energy and raw material prices; failure to develop and market new products and optimally manage product life cycles; significant litigation and environmental matters; failure to appropriately manage process safety and product stewardship issues; changes in laws and regulations or political conditions; global economic and capital markets conditions, such as inflation, interest and currency exchange rates; business or supply disruptions; security threats, such as acts of sabotage, terrorism or war, weather events and natural disasters; ability to protect and enforce the company's intellectual property rights; successful integration of acquired businesses and separation of under performing or non-strategic assets or businesses and successful completion of the proposed spinoff of the Performance Chemicals segment including ability to fully realize the expected benefits of the proposed spinoff .  The company undertakes no duty to update any forward-looking statements as a result of future developments or new information.
Categories