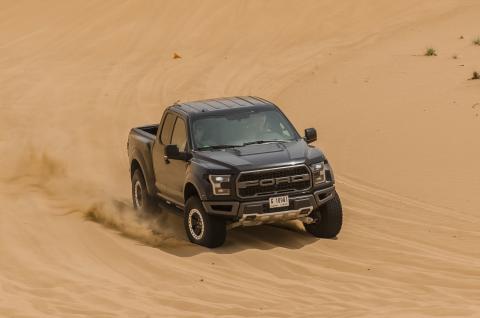 Ford's intensive hot weather testing for the toughest, smartest, most capable F-150 Raptor ever ensures the best performance is returned from ideal calibrations
Rigorous tests tackle numerous issues created by loose, hot sand, dust, and extreme temperatures before releasing the product to market early next year
Ground clearance, approach and departure angles, vehicle toughness, cooling systems, tractive capability and passenger comfort are all scrutinised during desert testing
The F-150 Raptor is the pinnacle of Ford's off-road performance line up, but to get to the top takes a lot of hard work. Engineers from around the world put a great deal of time into making sure the vehicle passes stringent tests, such as those performed during hot weather testing.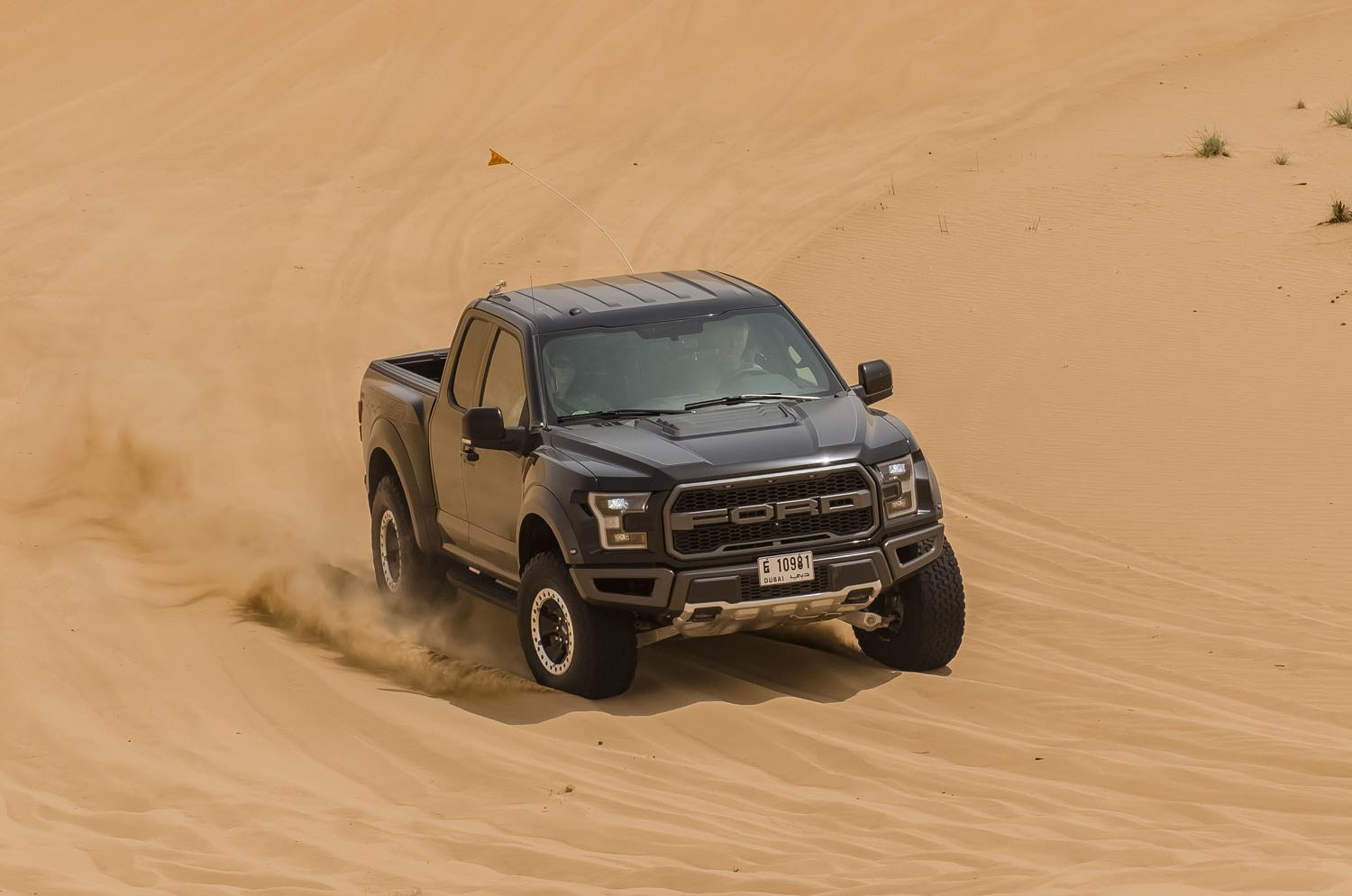 The harsh climate of extreme heat in the Middle East dictates the need for such rigorous tests, and as well as helping to determine the Gulf specification of the vehicle, information is shared from the region's team of engineers that can help to improve the vehicle globally.
Ground clearance, approach and departure angles, and vehicle toughness with regards to the terrain are looked at closely. Have the engineers got the correct angles in place to avoid damage as the Raptor pulls off a dune, and has Ford used the right materials to withstand the vehicle punishment associated with off-roading? Answering these questions, and rectifying problems if necessary, allows Ford to validate that it has produced a vehicle that can proudly wear the 'Built Ford Tough' badge.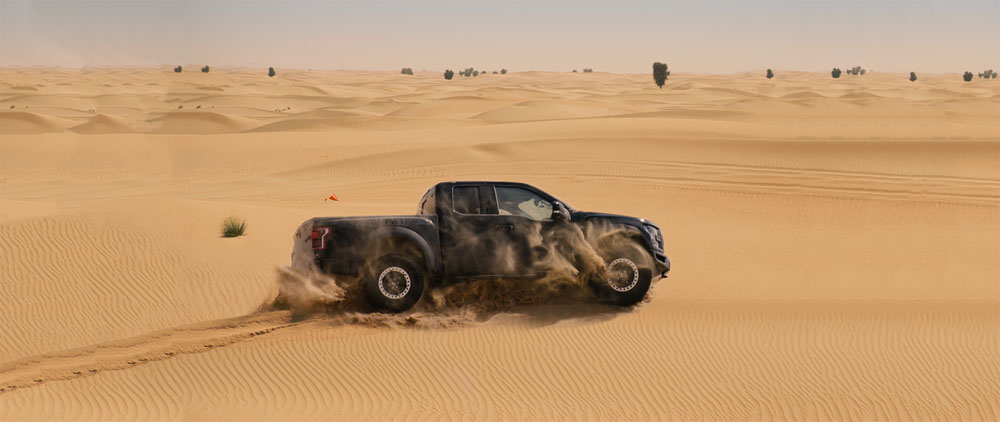 Having optimum power distribution and traction is vital for desert-driving enthusiasts and is another area where real world testing is the only way to comprehensively assess the vehicle's capability. Another crucial element to hot weather testing is cooling. "We're looking to confirm that our cooling system, our engine, our transmission, our driveline systems, and also our passenger comfort are all robust to temperatures like this – 50 degrees Celsius – out here", said Don Ufford, director of vehicle engineering, Ford Motor Company. "We want to make sure the air conditioning system is operating at full capacity, and is keeping the customer cool as well as keeping the cabin free of dust."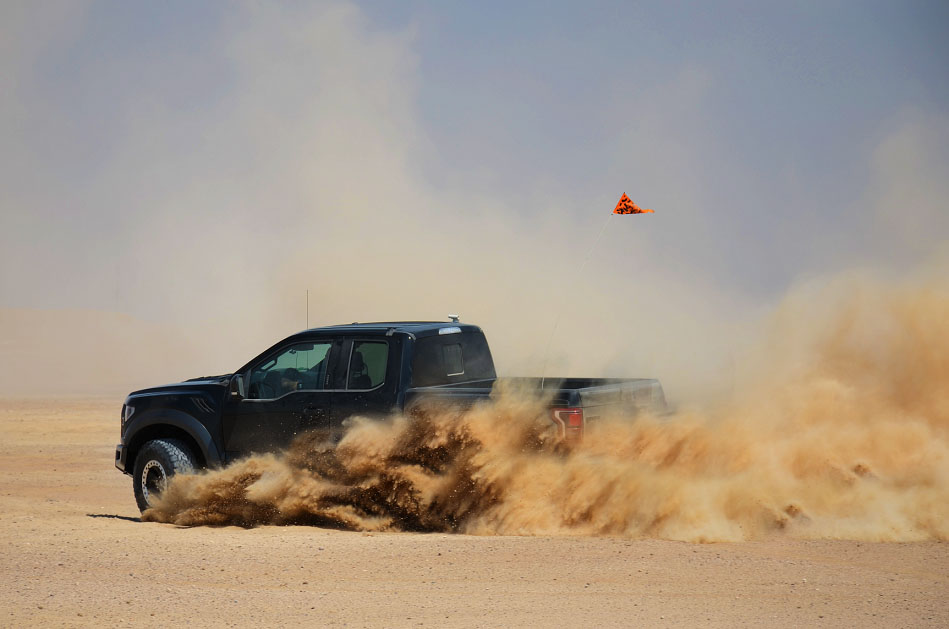 "The Raptor is important for our brand, with the tough capability we deliver with our trucks. It has Ford Motor Company's heritage: it's rugged, it's tough, and it's very capable – the most capable off-road truck we have," Ufford continued. "Customers want the best hardware, the best vehicle, they want to prove they're the best driver, and that's what the Raptor offers." Equipped with the all-new 3.5-litre twin-turbo high-output EcoBoost engine, the recently announced horsepower and torque ratings* for the all-new 2017 F-150 Raptor – 421 PS and 678 Nm respectively – continue to position Ford's ultimate high-performance off-road pickup truck in a class of its own.
Categories