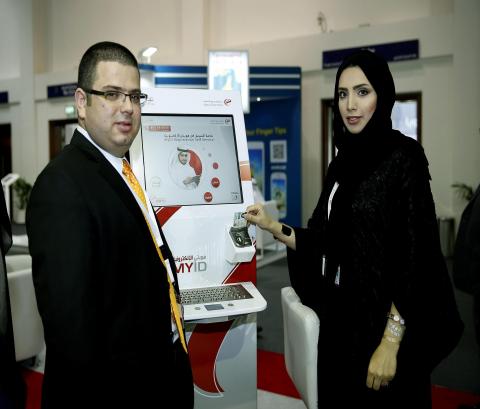 34,000 users are registered in MyID service
UAE, October 14, 2014 - The MyID service provided by Dubai Smart Government Department to the public for single sign-on to Dubai government entities' services and integrated with the Emirates ID card issued by the Emirates Identity Authority is witnessing a great registration response during the Gitex Technology Week 2014.
Dubai Smart Government has designed this service in implementation of the initiative of His Highness Sheikh Mohammed Bin Rashid Al Maktoum, Vice President and Prime Minister of the UAE and Ruler of Dubai, to shift to smart government. The Service also follows the directives of HH Sheikh Hamdan Bin Mohammed Bin Rashid Al Maktoum, Crown Prince of Dubai and Chairman of Dubai Executive Council, to provide a single PIN to each customer in line with his "Dubai Government Towards 2021" initiative, enabling customers to have a single sign-on to all government services and interact with them on smartphones or via the Internet.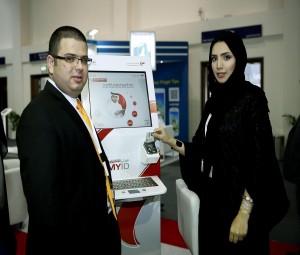 Customers of 10 major local government entities can now register in the service to obtain a single sign-on (username and password) related to MyID, which gives them access to more than 250 services provided by these entities and complete their transactions electronically. The service also provides the same entities with a reliable and secure electronic method to get the updated basic data of their customers. H.E. Ahmad Bin Humaidan, Director General of Dubai Smart Government said: "Dubai Smart Government strives to provide the infrastructure and shared services to enable government entities to give the public smooth access to their services round the clock wherever they are, thereby contributing effectively to Dubai becoming the world's smartest city. Due to the overwhelming response from the public and the many calls that we received to inquire about the service and the best way to benefit from it, and based on our keenness on providing a 5-star service, we responded to their requests and are constantly seeking to add new government entities that are considerably associated with the transactions of the public and are of concern to customers."
Bin Humaidan added: "To ensure easy and seamless registration, we have provided 18 electronic kiosks all over Dubai including the customer halls in government entities and some shopping malls like the Dubai Mall, Etihad Mall in Muhaisnah, Aswaaq centres in Al Warqaa and Umm Suqueim and many other areas. These entities are fully co-operating with us for supporting Dubai's transformation into a smart city and bolstering public-private partnerships in a move to promote the use of government services offered to the public due to the overwhelming response received by these entities from the individuals of the society. Add to this the registration devices we have provided at our stand at Gitex."
The website (www.myid.dubai.gov.ae) allows all customers of Dubai government entities participating in the service to register in MyID and leverage various features from the unified login to all the electronic and smart services provided easily and seamlessly by government entities through single username and password.
MyID adheres to robust security measures based on standard technologies which comply with the standards of Dubai Government's Government Service Bus, thereby giving customers enhanced confidence and security.
The overwhelming response to the service is attributed to its real benefits that the customers themselves experienced in terms of saving their time and effort and seamlessly interacting with it on smartphones. According to the latest statistics announced by DSG, as many as 34,000 users have so far registered in MyID to be able to easily access hundreds of services provided by the 10 government entities currently participating in the service; namely, Dubai Department of Economic Development (DED), Dubai Electricity and Water Authority (DEWA), Roads and Transport Authority (RTA), Dubai Municipality, Dubai Public Prosecution, Dubai Health Authority (DHA), Mohammed Bin Rashid Housing Establishment, Dubai Police, General Directorate of Residency and Foreigners Affairs-Dubai and DSG.
The service allows those who possess card readers to complete registration from home or office without the need to register through the kiosk.
In addition, DSG offers round-the-clock support to all MyID customers through its unified contact centre – AskDubai on 600 560 000 or via help@dsg.gov.ae. 
About Dubai Smart Government:
Dubai Smart Government is a pioneering initiative in the region to provide government online services across the spectrum of corporate and community life in the emirate. Dubai Smart Government officially directs and supervises the implementation of the process of eTransformation in over 30 government entities and is one of the world's only governments to have established an official eGovernment branch in the capacity of an independent department.
Dubai Smart Government utilizes multiple innovative electronic channels to facilitate interaction and transaction with government services for citizens, residents, visitors and businesses with the goal of making the life of people much easier in their dealings with the government. The official Dubai Government public portal (www.dubai.ae) highlights government initiatives and facilitates the customers' access to more than 2000 service from the services of several government departments, while the official corporate portal of Dubai Smart Government (www.dsg.gov.ae) provides information on the strategy, goals and achievements of the department.
Categories